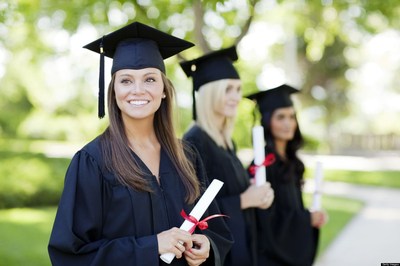 The month of May will be filled with "goodbyes:" to teachers, professors, friends, and the college campus that has been your home. And it is also an incredible time for "hello's." New experiences, job opportunities and connections are waiting for you out in the "real world." As an experienced world traveler and business woman, I have some insights on ways to take your next meaningful steps.
Research your next steps:
Whether you are taking a gap year, going to graduate school, moving to a new city, or starting your career, understand the next step. Take time to understand yourself, what you want in your career and in your personal life, and the steps you need to take to get there.
Make Decisions:
Recent research shows that your twenties are an exciting time in your life but not your happiest. Happiness actually peaks in your late 50's and increases through your 80's. Although these years may not be your happiest, your twenties will define you more than any other decade. For example, getting a job in a certain industry may reveal it's not for you. That happened to me with "the law." Moving to a new city may present you with opportunities you never believed were possible. Don't just think about all the ways you can grow and the things you want to accomplish. Get out there and make it happen. You have time and flexibility to meet people, change paths, and gain experience in all different facets of life.
Make Connections:
Whatever your next steps may be, start building your relationships and network. Reach out to professionals in your field for informational interviews. Sit down with professors at potential schools. Apply for internships across the world and create friendships wherever you may find yourself. Be sure to bulk up your LinkedIn profile. Clean up your Social Media profiles as these are reviewed during recruiting.
Start Saving Now:
Having fewer responsibilities allows you to save your money. Your first job will generally have a 401k matching program. Start saving as soon as possible to help build your savings from an early age. The founder and editor-in-chief of The College Investor website, Robert Farrington advises; "The younger you are when you start, the more powerful compounding interest works for you. By starting at 22 versus 30, you could add hundreds of thousands of dollars more to your retirement account."
Put your best foot forward:
Your undergraduate degree has come to a close and now it is time to figure out how to secure your dream job. Refine your resume, adapt your cover letter, and invest in a quality suit to make the best impression during job interviews. Use our interview tips to help you get your dream job when the time comes.
Be a lifelong learner:
Continuous learning reaps rewards. Read titles such as the "Defining Decade," to help you make the most of this time. Learn about investing and budgeting early on to help you in the future. Explore new areas! Now's the time to learn a new language or give rock climbing a go.
Take some time:
If you aren't sure what your next steps are, take some time to figure it out. Get some global experience. Work in a position that intrigues you to gauge your interest. Taking some time to travel at this point in your life can also help you to decide what you want, gain some perspective and blow off some steam after your laborious college career.
Find your passion:
This is the first time in your life where you are free to explore independently, personally and professionally. Take time to volunteer for different causes such as Nature Conservancy, the Peace Corps or International Volunteer Headquarters, do informational interviews with professionals in all fields, and find your own voice.
Sharon Schweitzer, J.D., is a cross-cultural consultant, an international protocol expert and the founder of Protocol & Etiquette Worldwide. She is accredited in intercultural management, is a regular on-air contributor and has been quoted by BBC Capital, Investor's Business Daily, Fortune, Inc., The New York Times, The Vancouver Sun, The Bangkok Post and numerous other media. She is the best-selling, international award-winning author of Access to Asia: Your Multicultural Business Guide, which was named to the Best Books of 2015 by Kirkus Reviews.
Support HuffPost
The Stakes Have Never Been Higher
Related
Popular in the Community