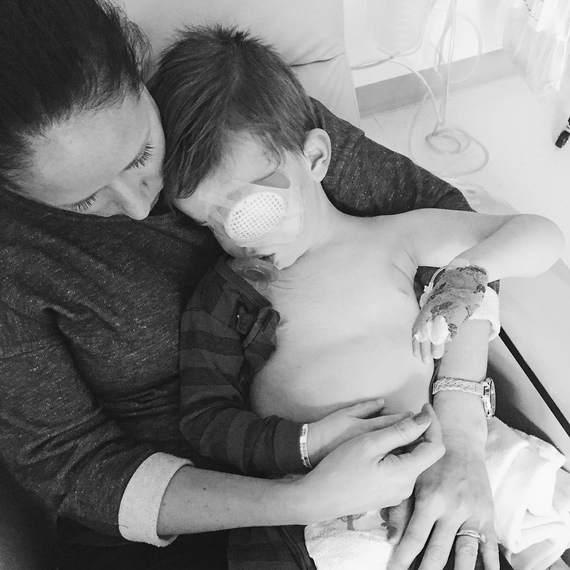 A newborn baby opens the gate of joy for every parent. Parents bend over backward to entertain their child. Holding a sleeping child is nothing less than a divine experience.
Simple gestures of warm, heartfelt contact leave blessed, lifelong memories. Even the small activities of babies - like sticking out tongue -bring tremendous joy to parents.
But, Ben and Laura went through a series of mixed emotions after their son's birth.
Just hours after birth the doctor gave them the shocking news:
Their son, Jonas, has now undergone 21 surgeries before his 3rd birthday.
Like other parents, they were expecting a healthy child. But despite his special needs, the birth of Jonas proved to be a blessing for them and thousands of other families.
Unknowingly, Jonas gave birth to Jonas Paul Eyewear, which revolutionized the kids eyewear care industry by focusing on helping children feel beautiful and confident in their glasses.
Today, more than 15000 kids in developing countries have received corrective eyeglasses, cataract surgeries or blindness preventing medications.
While 15,000 is an awesome number, picture the one child that can now see, can now participate in school, or can live a life without fear of impending blindness.
Just imagine the countless smiles of those kids and their family members.
I had the conversation with the couple who transformed the lives of countless other people by responding positively to an incredibly difficult personal struggle.
When and why did you make the move to step in the eyewear industry?
Ben: When the doctors told us our blind son might have the potential for sight through surgery, we scoured the internet to find glasses that were fashionable and would help our little guy look like a stud-muffin.
We were disappointed with the available cartoonish styles. We decided that if there were no stylish eyeglass options for kids, we should create a line of kids glasses in which children would feel beautiful and confident.

As a mother, it would be difficult to see your child in pain. How did you get the strength to use this personal pain for transforming so many lives?
Laura: I recognized early in Jonas' development that I was missing out. I was so focused on how he was "different" than other children that I was missing out on his individual successes.
Ben and I decided that we had to come to full acceptance of Jonas' condition so we could enjoy and celebrate his development, and also to ensure that he never feels a sense of disappointment from us.
We became aware of how he could identify our voices in a crowded room, the way he relaxed in our arms recognizing our familiar smell, the way he explored our faces and textures with his tiny hands.
There is so much pressure as a mother today to ensure that your child is meeting all the milestones. Unfortunately, it puts too much pressure on mothers. They can't even enjoy and celebrate the successes of their developing child, regardless of the pace.
Have you ever felt like withdrawing? Share some of your struggling moments while building your business.

Laura: It can be common to withdrawal when a family member has special needs, and we don't fault anyone for those feelings.
It is incredibly difficult to see people stare at your loved one or make naive comments. In our situation, we felt that it was important that we didn't treat our son any different from a "normal" child.
I'm confident that the more people grow accustomed to seeing those with special needs the sooner they will learn to accept those with differences.
Walk me through the ideal path you take to convert your small and sweet clients into loyal customers.
Ben: We believe that today's consumers are more informed, empowered and ethically minded than ever. Consumers want their purchases to make a difference.
It introduces a new reality to brands in which making a difference is not a matter of choice, but a matter of survival.
Jonas Paul Eyewear exists for a purpose:
To help children feel beautiful in their glasses and provide sight to children in need with every purchase. We are an honest brand making an impact, so our customers instantly become loyal customers.

What are the pleasures and perils of running a business with your spouse?
Laura: We have been entrepreneurs for ten years now. It hasn't been easy, but we learned this lesson very quickly in our entrepreneurial career:
Establish roles early on and give one another freedom to "own" those roles.
With any career, individuals desire trust and autonomy in the areas they feel competency. It's especially critical to the success of married entrepreneurs.
If you could time travel back to your initial business days and have some time to communicate with your former self, what advice would you give yourself?
Ben: Profit should not be the only goal. There is far more fulfillment in making an impact in the world and leaving a legacy.
We had great success in our previous business ventures, but they pale in comparison to the daily comments from moms telling us "thank you" for helping their child feel beautiful.

What is the reason for donating 10% of your sales to CBM International?
Ben: We know first-hand how helpless we felt when our son was born blind, and we can only imagine how helpless those in developing countries feel when they have children with visual impairments and no access to doctors that can help them.
We knew that we wanted to pass along the blessing of improved sight to those without the same access or resources.

If you had one piece of advice to married couples just starting out, what would it be?
Laura: Work on strengthening your relationship before having children. Children are an incredible blessing, and the love you have for them is incomparable.
But to be great parents, and to be able to weather the storms of the challenges you may face with children, you need a strong foundation of love, teamwork, and consistency.