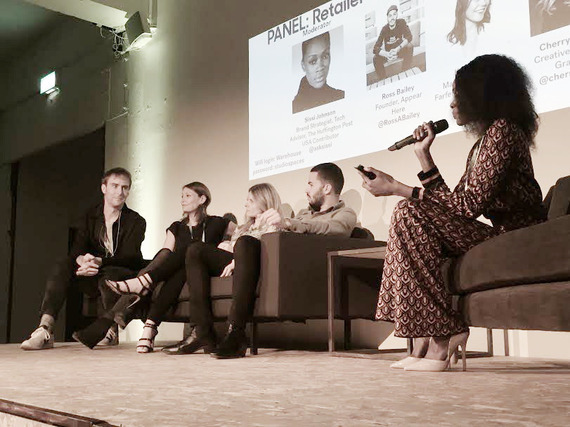 "Retailers Won't Be The Only Ones Retailing" panel - from left to right: Nick Lisher (Depop), Kelly Kowal (Farfetch), Cherry Collins (Grabble), Ross Bailey (Appear Here) and Sissi Johnson (Moderator) - Photo credit @Codinghandbags
Are you still gushing over the MET Gala 2016 red carpet ?
Speaking of, if you want to put some fire into the belly of an overwrought industry like fashion, you'd do well to keep an eye on London.
Mid-April, in collaboration with Condé Nast Digital, Alex Semenzato, CEO and Founder of FashTech hosted a three-day "anti-conference" on the future of fashion technology (moderated by yours truly).
The inaugural London FashTech Summit featured the likes of Drew Elliot, the mastermind behind Kim Kardashian x PAPER Magazine's #BreakTheInternet PR coup, and Amy Congdon, fashion designer and biotechnology scientist.
How can the world of data & science inform the work of app-happy retailers and designers on the front line of fashion ?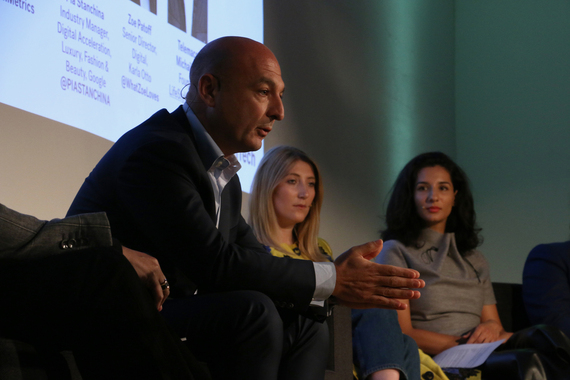 "More Luxury in the Digital Space-Now!" panel: Michael Jais (Launchmetrics), Zoe Patoff (Karla Otto), Pia Stanchina (Google)
When industries communicate across the borders of their disciplines, they identify gaps in their knowledge. Serena Guen, founder of SUITCASE Magazine took part in a panel discussion on what retailers can learn from the tourism industry.
The takeaway was that online travel is, in many ways, more developed that online retail. Indeed, Guen pointed out that many retailers have focused their energy into creating cool, creative flash websites and have fallen short of providing a top quality user experience.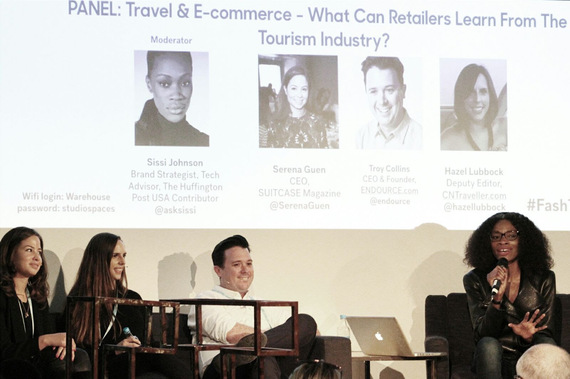 From left to right: Serena Guen (Suitcase magazine), Hazel Lubbock (Condé Nast Traveller), Troy Collins (Endource), Sissi Johnson (Moderator)
As consumers move towards a nomadic culture and a sharing economy, how can retailers keep up with our ever-diminishing attention span ?
Ross Bailey is the CEO and founder of Appear Here, "the Airbnb of retail pop up", where entrepreneurs and brands can source locations for events and concept stores in less time for less money. The pop-up model is a more accurate reflection of our digital outlook on things: think of it as a tab in your internet browser, it gets closed down once you've clicked "pay now". By embracing the impermanence of retail, Appear Here builds a strong bridge between physical and digital branding, and gives retailers the chance to keep up.
Branding, of course, reigned supreme across the board and many panelists were relieved to be working with technology that now enables entrepreneurs to truly engage with consumers. Thought leaders were talking deciphering data algorithms as though they were commonplace as the television, but what it really came down to was developing finely tuned content that resonates by maintaining an authentic dialogue with consumers.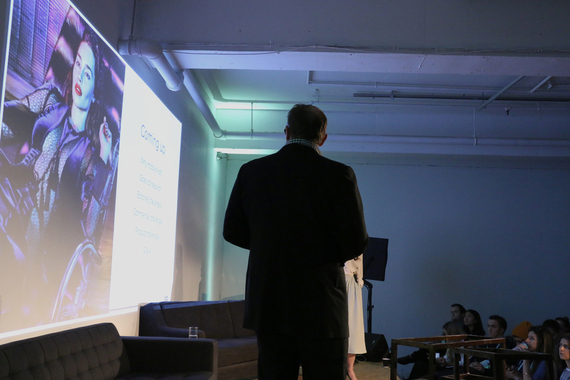 Discussing the relaunch of GQ.co.uk: Wil Harris, Head of Digital, Condé Nast Britain and Jessica Matthews, Growth Hacker, Condé Nast Digital
Cherry Collins, Creative Director of Grabble who have been experimenting with messenger bots for over a year, is always seeking to innovate: "in terms of interactions, there's an ongoing adoption curve for UX based retail interaction and the only way to nail it is by continuously iterating and seeking perfection." Panelists were, of course, keen on working with influencers to keep branding relevant and personal.
A need for speed was felt here with Wil Harris, head of digital at Condé Nast, delivering a case study on the re-launch of GQ Magazine, emphasizing the need to work with journalists to produce snappier content in greater quantities. It is remarkable that fashion has pre-mapped a route for journalism to follow in a bid to keep up with consumers. This is testament to the power of the fashion industry, and perhaps not to the media machine.
Can STEM make fashion more sustainable ?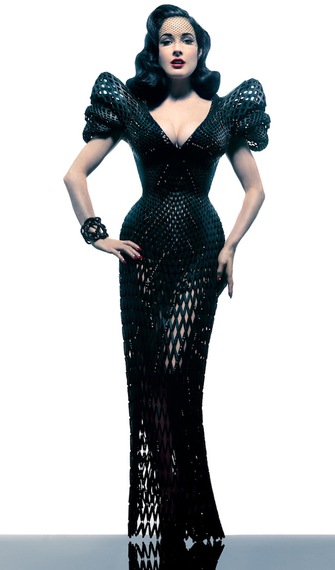 There are quite a few exciting things happening in textile science. Debera Johnson, Executive Director of the Brooklyn Fashion + Design Accelerator, delivered a thrilling presentation on the future of design: "Will the Next Alexander McQueen be a Biologist ?"
Johnson took us through a whistle stop tour of 3D printing and then of the technologies that will soon make this technique look like Windows '95. What emerged was the potential of biotechnology to foster a more sustainable approach to making clothes.
Amy Congdon talks of "growing materials to order, in the colour and shape required, with minimum or no waste and that decompose on your compost heap at the end of their life", whilst Debera Johnson presented the summit audience with images of a leather jacket grown in a lab.
Granted said leather jacket would melt were it toted on a rainy London day, but it is proper to think big and take small steps towards these ideas.
Dita Von Teese in a 3D printed dress by Michael Schmidt. Photo credit: Albert Sanchez
When the planet's supply of drinking water is being so quickly diminished by the textile industry's thirst for poisonous dyes and lust for leather, we must widen our peripheries of thought and look for solutions outside of the box.
Founder of sustainable clothing company SuCo and fashion brand consultant Sasha Ternent is well positioned to check the practicality of these new technologies. Ternent is sure that the "key to sustainability is to eliminate the negative output while carefully managing the resources for the input. Whatever technologies can do this while still delivering a fashionable and affordable product will win."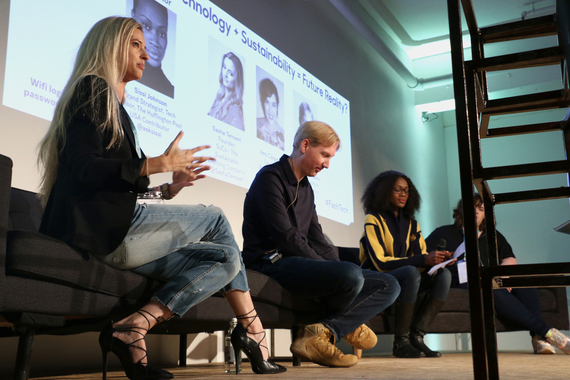 Sasha Ternent (SuCO), Matthew Drinkwater (Fashion Innovation Agency), Sissi Johnson (Moderator), Amy Congdon (Designer)
Ternent is particularly holding out hopes for 4D printing, currently in its infancy in a lab at MIT, being the technology to deliver significantly more output than the input needed. Ternent expects that the technology used will be on the "nano & micro scale and able to build programmable materials that can build themselves to adapt and change." Again, it's a case of two small steps.
In contrast to the circus of content and retail, those from a scientific or sustainable fashion background could not emphasise enough the need to slow down. A lot of talk was focused on educating designers on sustainable practices and the opportunities available to brands to adopt better methods of producing and selling clothes.
The overriding rule to be learnt from the FashTech Summit 2016 was the value to be gained from interdisciplinary discussions between industries. The dialogue is promising; one can't help but feel that this movement might fill a fashion void that's been gaping for a few years now.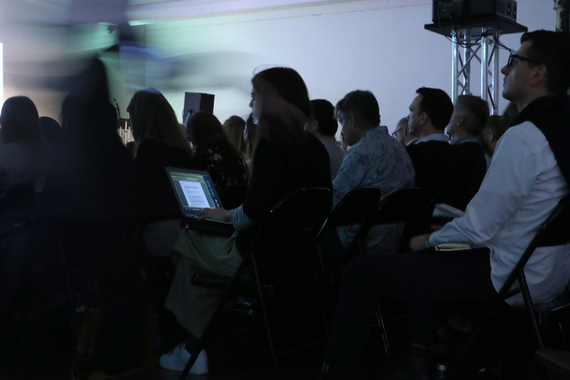 Photos courtesy of FashTech
Related
Popular in the Community