We're all constantly hearing about new cool sites, apps, and products on the market. Most of us forget 90% of these within a few hours of hearing about them...and for good reason. There's no way to keep an eye on everything that's out there.
It's almost tragic that the market is so flooded with good ideas (as well as bad ones) that there's no way all of them can survive. Many of the things that we hear about today and download tomorrow won't be around in a year.
Creating a successful product is more than just having a cool idea. It takes a combination of a great concept, good design, clever marketing, a reason to keep coming back...and funding. In good economic times, finding investors who will commit their money to a new idea is an impressive feat; in our current climate, it can be downright amazing. To stand out from the buzz, blogs, and clutter, while being a company that sticks is a true victory in the digital world.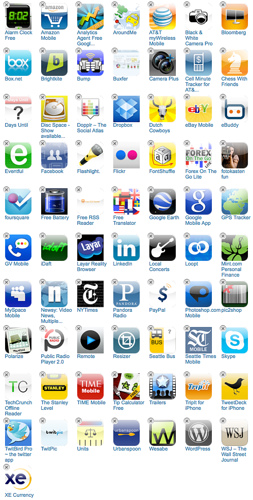 Photo Credit: Bart Claeys
Staying fresh and interesting is one of the main ways to remain in a consumer's mind, as well as in their newsfeed. Below are 10 companies that are doing just that. You may be familiar with some of them, but their new initiatives make them worthy of extra attention. Others are start-ups that have received impressive funding, buzz, and user acquisition. Not only do I think these guys will still be around in a year, I would expect major growth and expansion from them:
Beachmint: Parent company of new online shopping destinations Jewelmint, Stylemint, and Beautymint.
What's interesting about them: Beachmint has created a more engaged shopping experience. Members create an account then fill out a quiz which identifies their style and taste for customized recommendations. In each of its ventures, Beachmint has partnered with celebrities with a unique voice and style. For Jewelmint, it's Kate Bosworth. For Stylemint, it's the Olson Twins and their t-shirt line. For soon-to-be-launched Beautymint, it's Jessica Simpson. It's a strong concept, and growing quickly.
Booktrack: Creating soundtracks for e-books.
What's interesting about them: They make soundtracks for e-books on iOS. Booktracks matches text with music, sound effects, or other audio to turn e-book reading into a multi-media experience. Booktracks have been created for a number of classics (Sherlock Holmes, Peter Rabbit, etc.) as well as for a few new novels.
Fanhattan: App that allows you to easily find and stream movies and TV shows from a variety of services.
What's Interesting About Them: iPad users download the free app to easily find and watch movies and TV shows from the most popular digital services: Hulu, ABC, iTunes, Netflix and Vudu. Fanhattan allows users to access content from all these sources in one location, rather than having to check each of the sites individually. In the future, Fanhattan will be launching on more platforms, including Android devices, TV and the web.
iHeartRadio: Clear Channel's Radio App
What's Interesting About Them: The large terrestrial radio giant, Clear Channel, commits to the personalized radio experience. Until recently, iheartradio was merely an app that aggregated the internet streams of most Clear Channel's local radio stations around the country. The new version of the app incudes a personalization feature that allows users to create personalized radio stations, based on a specific genre or radio station. They've also done a deal to add the streams of Univision's portfolio of Spanish language radio stations. This could become the standard platform for the radio industry.
Maker Studios: Studio created for YouTube celebrities by YouTube celebrities.
What's Interesting About Them: In their own words, Maker Studios is the United Artists for the new millennium. A very successful company started by YouTube vets and partnered with YouTube channels and their subscribers, creating a network that receives around 500,000,000 views per month. By working with brands and advertisers, Maker has leveraged its highly engaged audience into a successful marketing and promotions tool.
Root Music: Company that builds artist/band fan pages on Facebook.
What's Interesting About Them: You may not have heard of Root Music or their BandPages platform for artists, but you've probably seen them. If you go to the official fan page of your favorite artist on Facebook, it's likely you'll be looking at a page designed through Root. They've created simple, good-looking, affordable pages for artists that include a player, links to purchase songs, and tour dates. They're the go-to company for any band looking to have a good Facebook fan page.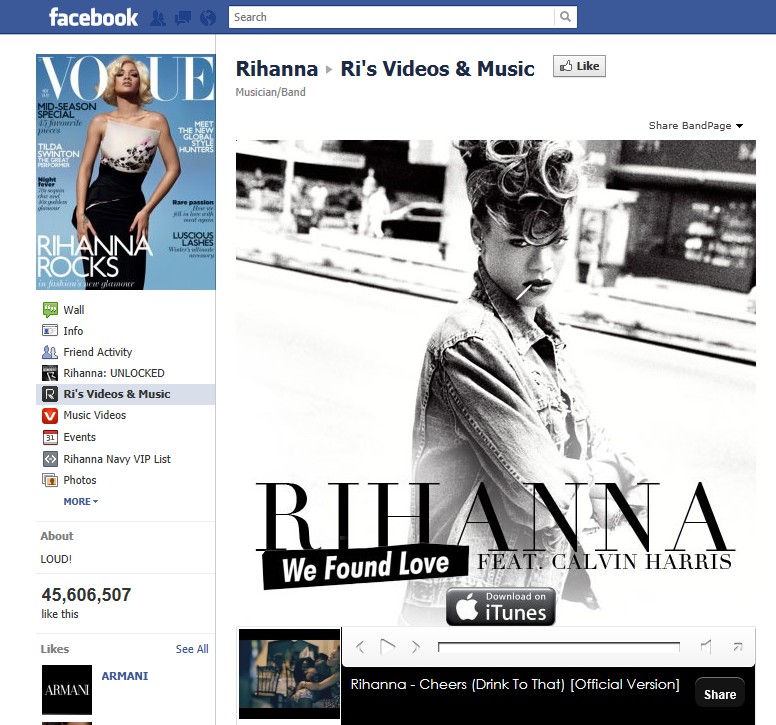 Photo Credit: Julia Moonves
Soundtracking: Location-based music identification app.
What's Interesting About Them: Most of us have our music identification app of choice, whether it be Shazam, or SoundHound, or possibly this newer app: Soundtracking. It sets itself apart by combining the location-based technology of companies like Foursquare with music identification software. Soundtracking allows you to search for music in three ways: you can simply type in what you're listening to, you can let the app tell you what's playing on your phone's iPod application, or you can allow it to listen to whatever song is playing around you and identify it for you. It then locates you and allows you to post both what you're listening to and where you're listening to your social networking pages.
Ticketfly: Multipurpose ticketing and promotions website
What's Interesting About Them: Ticketfly is one of the few independent ticketing companies that have been able to exist and thrive ...probably because they're thinking outside the box. Not only do they provide a means for promoters and venues to sell their tickets, they also offer a site-building kit featuring calendars, social networking plugins, blogging tools, etc. Most recently they announced their partnership with Facebook that allows users to post what shows they are attending to their wall and newsfeed in one click.
Topspin: Company that provides e-commerce and marketing tools, services, and software for bands/artists.
What's Interesting About Them: Topspin's concept is based on what most of us already know, something that's second nature in modern media: you need to have an online presence and connect with your fans. The difference with Topspin is that they help bands, filmmakers, and authors do it better than just about anyone else. Topspin has helped their clients embrace the disruption of the Internet by accepting the changes and adapting to them. The NY Times recently wrote a piece on how Topspin helped The Pixies sell out 1200 tickets to a show in less than an hour. I'd say they're doing something right.
Turntable.FM: Platform that allows you to listen to music and DJ with friends (and random listeners) online.
What's Interesting About Them: There are tons of different sites and platforms that allow you to stream music, but none have nailed the social aspect as well as Turntable. Users enter rooms based on where their friends are and what type of music gets played in the room, or they create their own. If there's an open DJ spot (5 per room), they get to DJ. If not, they're just in the room listening to what other users select. When a DJ picks a song from the multi-million track library, they get to see who likes it and who doesn't. As much as we all like to discover new music online, Turntable also lets us be the expert curators.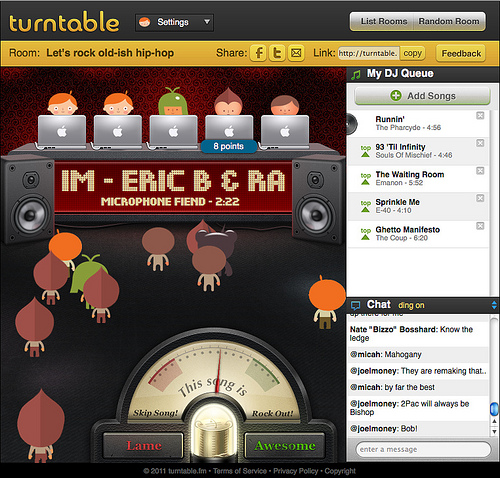 Photo Credit: Justin Davis

Check these out and let me know which ones you think I left off. We can check back in 2012 and see how we did.
Popular in the Community