In the lead up to Darwin's fortieth Lions Beer Can Regatta, locals around town encouraged their party guests to set aside the stubbies and chug tinnies. While trading glass bottles for aluminum cans does nothing for environmental impact, this slightly odd behavior came with a reasonable rationale: collect hundreds, if not thousands, of beer cans, then use them to construct stream-lined flotilla with quirky designs and race the boats in crocodile and box jelly fish infested waters for charity.
The Lions Club Beer Can Regatta is an annual boat race organized by a local division of Australian community service organization the Lions Club to raise funds for local aid ventures SIDS for Kids, Life Education, and Victims of Crime. Held every year in July at Mindil Beach, the regatta draws around 15,000 spectators who, beer in hand, contribute to the boisterous melee with rowdy guffaws, funky costumes, and accounts of saltie (saltwater crocodile) sightings. It's one of the rare times of year that people in Darwin can actually swim in these waters due to the threat of venomous stingers.
Masking a rotund beer gut, one man marched through the Mindil Beach Market wearing a loose-fitting t-shirt that read, "I used to have a six pack." The graphic accompanying the words: a six-pack of beer with one can missing. A number of people duct taped beer cans to their chests while others wore pirate costumes or outfitted their babies with beer brand hats.
Offshore, a gargantuan pontoon boat throbbed with twangy country music. People on the beach hiked up their shorts, waded toward it, and climbed aboard its crowded platform.
Comprised of around 40,000 cans, the Grogmonsta maintains the title, World's Largest Beer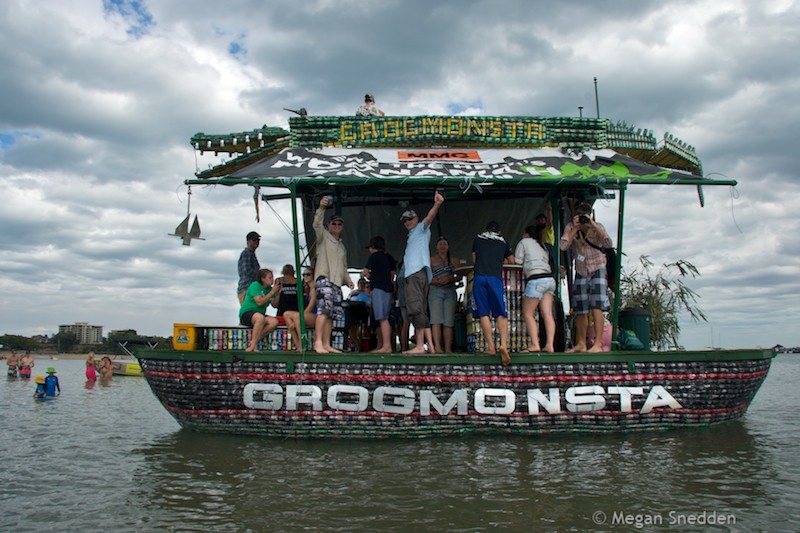 Can Ship. Chicken wire holds together the boat's double hulls and from the top deck a metal crocodile's face juts out the bow, a rubber human arm dangling from its mouth.
Onboard, a dueling banjos of sorts took place off and on during the day -- someone on the roof would spray a high-power hose at challenging jet ski riders who revved a heavy streams of water at the boat in return.
Outside the water, crowds gathered on the sand to observe rounds of flip-flop toss and tug-of-war as well as sand castle building and kayak races.
Lions Club President Des Gellert said the event began in 1974 as a venture to clean up the city. While Northern Territory Recycling Service combs through the event premises to sort out trash every year, the environmental benefit hangs in question as locals purposefully increase their beer consumption ten fold to garner enough cans last minute.
A Boat of a Different Color

Beer cans, soda cans, milk jugs; hulls fitted with PVC pipe and bamboo: everything is fair game as long as they follow the Ten Can-Mandaments. This includes "thou shalt build thy craft of cans, "thou shalt not drown," and "thou shalt not commit adultery."
Teams that don't conform to the can-mandments, however, land in the "novelty" category and cannot qualify in the races. When it comes to attire, however, there are no rules.
Team Sitzler wore neon vests, pink construction gloves, and yellow hard hats stacked high with XXXX Gold cans.
Brendan Dance, a site engineer with Sitzler Baulderstone Joint Venture (a construction contractor firm) explained that the team put together their boat, named Bonnie and Clyde, with a fiberglass hull found at the dump, 962 cans, and other unique features. Dance's team came up from Alice Springs where they are building a jail.
"We outfitted the boat with things to attack people like a sling shot on the back to launch water bombs filled with tomato sauce or corn flour," Dance said. "We're probably going to end up smelly and more gross than the people we hit."
Ian Morrissey and his wife (both of the UK) arrived in Australia for their honeymoon three weeks prior to the regatta and began drinking beer among friends. They quickly gathered the hundreds of cans needed to build their big red boat, "London to Darwin Celebrity Bus Tour." It was outfitted with a brilliant red exterior to look like London's popular double-decker tour buses. Photos of celebrities like Ozzy Osbourne, Tom Cruise, and Obama hung from the top deck. They had received royal endorsements from the Queen and Prince Charles as well as a Letter of Marquee to protect them from being hanged were they captured by pirates.
Other teams also followed suite on the event's light-hearted nature.
Sailors aboard Wimbeertin swatted at each other with tennis rackets from either side a net that ran along an Astroturf-covered barge. They tucked white polos into white shorts and wrapped their foreheads in sweatbands.
Meanwhile, crocodile shaped boat Croc of Ship spent most of the time prior to the race on the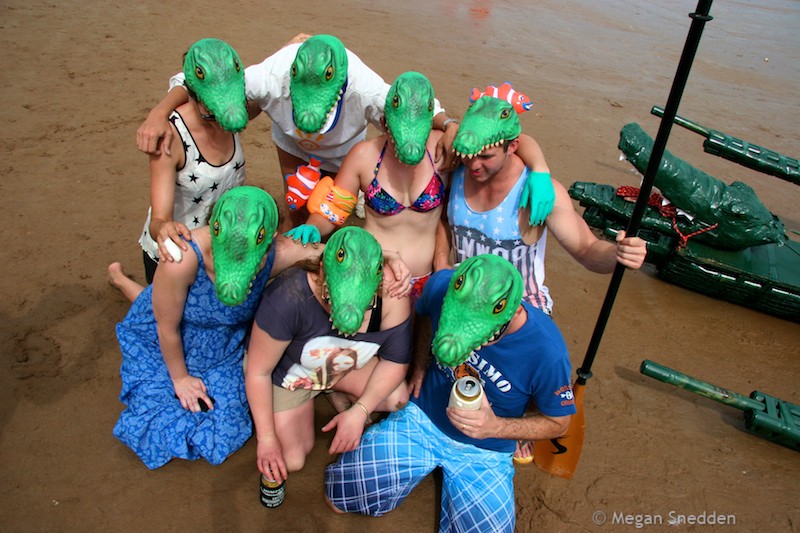 sand. The boat's captain, Jenna Gray, and her teammates bounced around it in crocodile hats, growling at each other during photo ops.
To construct the floating crocodile, Gray said she glued together around 600 cans, all gathered within the last week. She named the boat Bruno and admitted that drinking during boat construction can be problematic.
"In the last two days we've been intensive drinking and boat building, hence why some of the cans are really straight and some of them not so straight in the lines," Gray said. "[Because of the glue] some people stuck themselves to their sandals or beer can. It's been fun."
While onlookers enjoyed sporadic races throughout the day, most clung on for the main event -- the Battle of Mindil. During this final race, Gellert explained, the boats paddle out to sea in search of treasure.
"This is the part of the event where it gets piratical because people will jump off their boats and steal the treasure," Gellert said.
While it all may seem like tomfoolery and binge drinking, the event does benefit charity. This year, the regatta raised $45,000, which will benefit SIDS and Kids, Life Education, and Victims of Crime.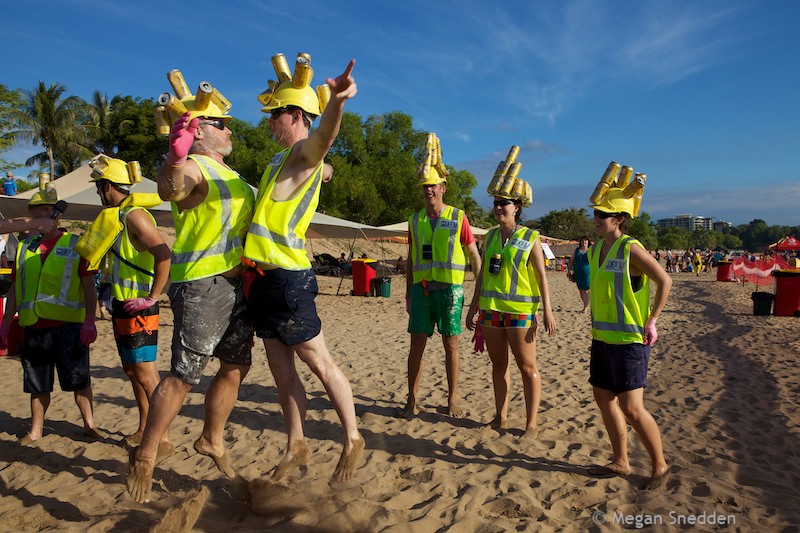 Filmmaker David Joshua Ford directed the video for this story. Follow him on Twitter @davidjoshuaford