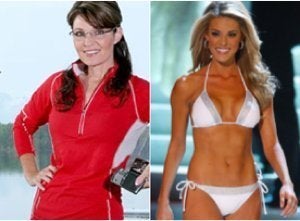 The Republican Party of Minnesota's fifty-sixth Senate district is out with a new web video firing an unusual line of attack: women affiliated with the GOP are hotter than their Democratic counterparts.
The nearly five-minute long spot is set to the tune of Tom Jones' "She's a Lady" and touts the physique of ex-Alaska Governor Sarah Palin, along with that of Rep. Michele Bachmann (R-Minn.) and other familiar female conservative faces.
Following a montage of images hyping the Republican looks, the music transitions to Baha Men's "Who Let the Dogs Out?" before distorted snapshots of House Speaker Nancy Pelsoi, former Secretary of State Madeleine Albright, and Rosie O'Donnell's head photoshopped onto 9/11 mastermind Khalid Sheikh Mohammed's body flash across the screen.
(First Lady Michele Obama and Secretary of State Hillary Clinton are also among the Democratic figures highlighted in the web ad.)
Minnesota Democrats strongly condemned the video, which was uploaded to Youtube, as well as to the local Republican Party's website before reportedly being removed on Wednesday morning.
"This video is sexist and offensive," said Brian Melendez, State Chair of the Minnesota Democratic Farmer Labor Party. "The day when a woman was judged by her looks rather than her competence and intelligence should have passed three generations ago. But apparently Republican leaders in the year 2010 still think of that bygone era as the good old days, and want to bring it back."
Melendez added, "It probably wasn't lost on the Republicans who posted this video that Senate District 56 is represented in the Legislature and in Congress entirely by women."
On the Republican side, Minnesota State House candidates Kathy Lohmer and Andrea Kieffer -- who are both backed by the 56th Senate district GOP -- came out and criticized the video.
Lohmer went as far as to call for the resignation of Randy Brown, the local Republican Party's webmaster, for posting the video.
When the Minnesota Independent caught up with Brown, he said of controversial web video: "[I]ts only intention was to bring a smile to a few peoples faces, and possibly irritate a few others. Is it fair? Does that matter? It wasn't intended to be fair. It was intended to be funny."
Popular in the Community