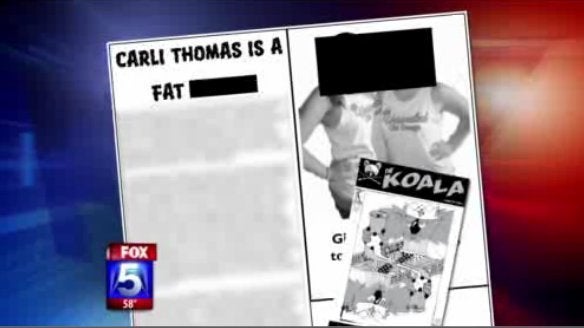 Although UC San Diego student publication the Koala is known for pushing the envelope with questionable content, some think the paper crossed the line when it attacked UCSD student leader Carli Thomas with an article (NSFW PDF) titled "Carli Thomas is a Fat Whore" -- and accompanied by an image of Thomas shoddily doctored to include male genitalia over her face.
The ensuing story, written by Koala "editor-in-queef" Kris Gregorian, is highly offensive, calling Thomas a "square chinned, thick-necked uppity skank," among other things. Thomas believes that the personal attack stems from her decision as associate vice president of student organizations to cut the newspaper's funding -- a suspicion supported by this line in the article: "it's kind of ironic that we're spending the $450 allocated to us to print thousand (sic) upon thousands of copies of paper that basically say, 'Carli Thomas, while a homely unf---able bovine before, isn't even worth a drunken sport-- now.'"
In response to the incident, the university told 10News it does "not endorse, condone, or approve of the material the Koala publishes; however, the First Amendment protects their speech, even though we find it objectionable. Under the First Amendment, the University is severely limited in the actions it can take in response to content published by students"
Gregorian refused to speak with 10News unless the station provided him with a case of beer, which 10News said was against policy.
Fox 5 Reports that Thomas plans on suing the paper for defamation. Check out their coverage below:
What do you think of this story? Let us know in the comments section.

Related
Popular in the Community