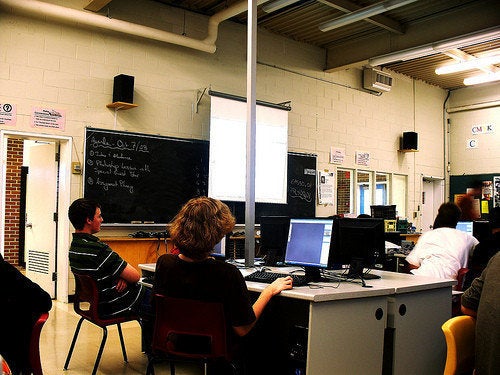 The study shows that in 2009, the average high school student graduated with a GPA of 3.0 and completed 27.2 credits overall, up from an average GPA of 2.68 and overall course load of 27.2 credits in 1990.
The report, titled "America's High School Graduates" (PDF), uses results of the NAEP's 2009 high school transcript study to assess the accomplishments of a nationally representative sample of 37,700 high school graduates from around 610 public and 130 private schools.
The study looked at the educational achievement trends of students between 1990 and 2009 overall, as well as in terms of race and gender. Although the report's findings indicate progress over the past thirty years, National Assessment Governing Board Chair David Driscoll said that there is room for improvement, according to Reuters. "Rigor in high school is closely linked to success afterward, and this study confirms that we need higher secondary standards across the board," Driscoll said. "In particular, we need stronger requirements in math and science."
Key findings from the study include:
•In 2009, female students earned GPAs of 3.1, while male students graduated with GPAs of 2.9 on average.

•25 percent of students graduated from a curriculum below the standard of at least 4 credits in English and 3 in social studies, math and science, while only 13 percent graduated from a rigorous (4 credits in English and math, and 3 in social studies, science and a foreign language) program.

•39 percent of students who graduated from a substandard program were only missing credits in science classes

•In 1990, 60 percent of students graduated from below standard programs and 5 percent graduated from rigorous ones.

•Female students took more biology, chemistry, algebra II and pre-calc classes than male students, but males earned more credits in physics and engineering

•Although the average GPA of students of all races and ethnicities increased, that of Asian/Pacific Islander students increased the most, with a .38 point jump.
Check out the full report (PDF) for more findings and details on methodology.
Where you a star student in high school? Share your experience in the comments section.

Related
Popular in the Community