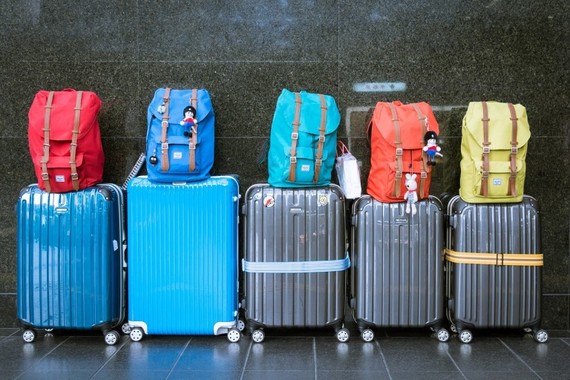 As the entire mid-Atlantic battles Winter Storm Jonas, I find myself fantasizing about heading someplace warm. Ecotourism. Adventure travel. Volunteer tourism. So many options to consider! But this winter, I'm especially thinking about vacations that celebrate loved ones.
Author Hope Edelman and I put together this kind of trip not too long ago. We took 16 of our readers to Peru. We hiked the Andes and Machu Picchu, and most essential to our time away, we volunteered at an orphanage. Edelman and I joined forces with the nonprofit Trekking for Kids to make this adventure happen. We called it "Turning Loss Into Service: Motherless Daughters & Parentless Parents Unite to Help Orphans in Peru." Each participant had lost their mother or both parents. I wrote about this life-altering experience, here.
What do we call a trip that speaks to the desire to celebrate loved ones in the company of like-minded people? Let's call it Commemorative Travel.
Nearly every culture has a unique way to remember and celebrate loved ones who have passed away. Below are my top five travel destinations where you can weave acts of remembrance into an already awesome and fun vacation.
Mexico - Día de los Muertos, or Day of the Dead, is celebrated in Mexico and throughout Latin America (and many cities in the USA) on November 1 and 2. Despite its name, the festival is fun-filled and family-friendly. It is a national holiday marked by an entire population breaking away from its normal routine to honor the dead. Communities host boisterous and vibrant parades; amusement parks put on extravagant events. And children eat all sorts of themed candy--skulls and coffins made out of sugar, and lollipops in the shape of skeletons. There are reflective aspects to the celebration, too. Families routinely create small altars in their homes with offerings to those they've lost. Items vary, but generally include food, photos, and mementos. Large altars are often erected in parks and public squares.
Japan - One of the most spectacular rituals you'll see during Obon happens at the end of this deeply moving three-day festival. Thousands of candlelit lanterns are set adrift onto rivers and lakes across the country. It's believed the spirits of the dead return home during Obon; when the celebration ends, the flames guide them back to the afterlife. Obon takes place during the summer, making it a wonderful addition to a vacation. While it is a time to honor the dead, it is not a wholly sad occasion: there are street fairs, carnivals, and plenty of traditional music and dancing.
Hawaii - Every year on Memorial Day, the island of Oahu welcomes more than forty thousand people for Lantern Floating Hawaii. Started in 1999, this massive gathering began as a means of introducing Americans to the Japanese custom of floating paper lanterns. Organizers say Memorial Day was chosen because Americans were already in the mindset of honoring their dead. The celebration is a chance for anyone who has ever lost a loved one to remember and honor that relationship in the presence of community.
Israel - The Western Wall in Jerusalem is considered by many to be Judaism's most sacred place. It's also one of the most important cultural sites in the world, one where tourists of every nationality and faith engage in a private spiritual expression: writing a prayer on a piece of paper and tucking it in between the Wall's ancient stones. It's estimated that more than one million notes are placed in the cracks and crevices of the Western Wall every year. The slips of paper contain messages asking for virtually anything--peace, love, health, forgiveness, and strength. Prayers can be for yourself or others.
The Bahamas - Junkanoo (also known as Jonkonnu or Jankunu) is a mammoth cultural celebration that roars through many Caribbean countries. It's perhaps biggest, loudest, and grandest manifestation takes place in Nassau, capital of the Bahamas. There the Junkanoo parade winds through city streets throbbing with participants dancing, beating drums, playing trumpets and trombones--all wearing elaborate costumes and headdresses in a riot of feathers and colors. The parade takes place overnight twice every year: on December 26 (Boxing Day), and again on New Year's Day. While the roots of Junkanoo are debated, it is largely viewed as being steeped in African tradition, having been kept alive--indeed, having flourished--on slave plantations in the eighteenth and nineteenth century. Today, Junkanoo is an adrenaline-charged expression of folk culture and a major tourist attraction.
There are certainly dozens of other examples, and I offer more in my forthcoming book Passed and Present (coming April 12). Edelman's next Trekking for Kids adventure is coming up in May. The destination: Ecuador. You can sign up here. I'd love to hear your Commemorative Travel ideas. Please share them in the comments below.
For those of you (like me!) bracing for the snow -- stay safe and warm!