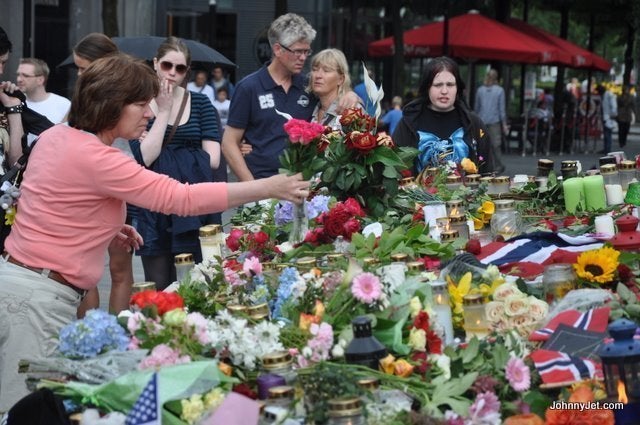 I landed in Bergen 36 hours after the horrible tragedy in Oslo. The pilot on my Lufthansa flight set the tone when he said Norway was a very depressed country, but that he hoped our visit would bring some happiness to the people. As you can imagine, all the papers and most of the TV stations (including CNN) have nonstop coverage of this tragedy and there's at least one makeshift memorial in each town I've visited.
Grief is ubiquitous.

In Bergen there was a massive gathering with flowers, candles, flags and notes. To see people - young and old - come together and mourn is really moving. In the city of Molde, I visited a statue alongside a church where there were hundreds of fresh cut roses and notes. It was raining, so only a few people were out, including a distraught Norwegian man who came up to my girlfriend and hugged and kissed her on the cheek. I thought it was one of her long lost friends until he did the same to me.
He had tears in his eyes when he said, "I'm sorry - this is a very tough time to be traveling in Norway."
It really is a difficult time for everyone, but just like 9/11 and the Oklahoma City bombing, this senseless act has brought out the best in a place and its people.
Yesterday, our tour guide said that all Norwegians are in a state of shock. He said that Norway is normally a very safe and peaceful place and they never thought anything like this would ever happen here. On Monday, the entire country observed a moment of silence at noon - no one made a peep. I urge you -- if you haven't already -- to please say a prayer for Norway and its people. They need all the love they can get.