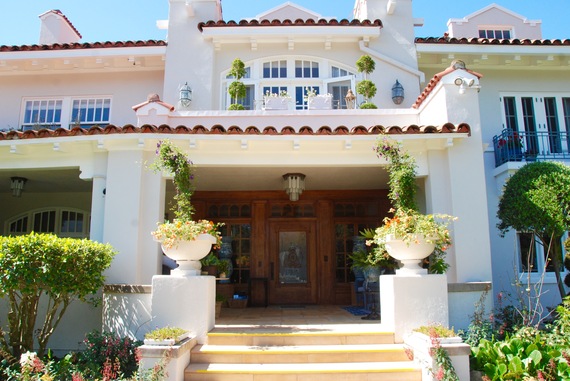 A group of people can be in the same space at the same time and all notice something different. In the case of the 2016 Pasadena Showcase House of Design witnesses to the scene of this year's design will walk away with inspiration and ideas uniquely suited to their experience -just like me.
Yes, I thrilled to the grandeur of the 16,000 square foot, 1918 prairie-style main house, the stunning pool and beautifully designed guest digs; swooned over artwork, and marveled at the catering kitchen, butler's pantry, and tile work -but in this humble, home voyeur's opinion, it's attention to detail that makes a space stylish, no matter what the size.
On a recent visit one perfect morning in May, the following were a few of my favorite things: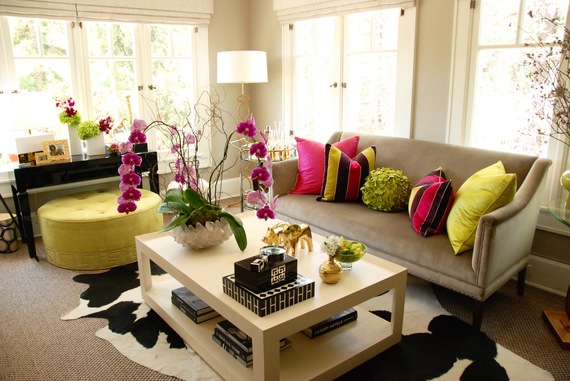 Layers of color and texture
Designer Cathy Arkley of Lemmon Hill created a stylish en-suite sitting room that incorporates classic shapes with modern shots of color and texture. Neutral color choices for walls, window treatments, sofa and tables balance bold accessories and a whimsical cowhide rug. The flowers, of course, are fabulous.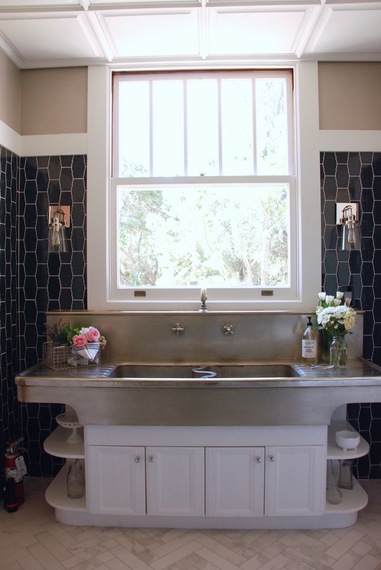 Something old...

In the butler's pantry, the design team of GH Wood Designs shows admirable restraint and style in their decision to leave the original stainless steel sink in place. It was a welcome surprise to come across this vintage charmer in the portal space between the formal dining room and the main kitchen.
An S-shaped partition divides the trough sink and twin candlestick pipes that provide drainage.
As much as I adore a vintage find, on the flip side I was enamored with the new trough sinks GH Wood Designs chose for the main kitchen. Featuring clean lines and interior ledges, the sinks can be fitted with a variety of interchangeable accessories to assist with food prep. Nifty!
Hexagon-shaped tiles with varying designs of subtle texture were installed like layered shingles above the kitchen countertops.
On the ceiling of a spacious, exterior porch inexplicably dubbed, The Smoking Lounge (really?), designer Michael Wrusch commissioned a hand-painted mural by artist Shari Tipich. Also in this space, an oversized, framed garden of succulents by Eiji's Florist of La Canada.
Designer Erica Islas of EMI Interior Design worked her magic on the cloakroom and lavatory and didn't play small. In a nod to tradition, she installed period-appropriate wainscoting, then added whimsical hooks, dramatic light fixtures and contemporary wallpaper.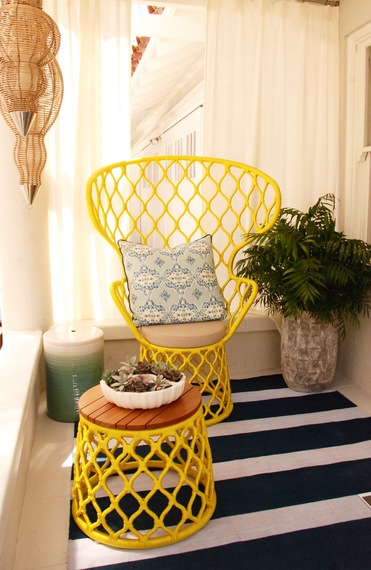 Seat Mate
A sunshine yellow Peacock Chair with a contemporary feel sits happily on the porch of the guest house, a cleverly maximized space designed by Maria Videla-Juniel of The Art of Room Design.
Let me know what your favorite things were in the comments below, and happy touring.
Photography: Bonnie McCarthy