Whether or not the mail runs on time has never been more important.
Tuesday was the last day the U.S. Postal Service would guarantee that a mailed ballot would arrive at election offices by Nov. 3. With 28 million absentee ballots still outstanding, that means the Postal Service has been entrusted to deliver a record number of mail-in ballots.
Fears are rampant that the post office will fall short. Delivery has not fully rebounded since the summer, when the coronavirus and new policies from Postmaster General Louis DeJoy, an appointee of President Donald Trump, created rippling delays in deliveries.
A single day can make a difference — most states, including many swing states, won't count ballots that arrive after Election Day — and voters know it. A recent HuffPost/YouGov poll found that about half of the people who plan to vote in person are doing so in part because they don't trust the mail. And there are widespread warnings that first-class mail service, which is how ballots are classified, is taking much longer compared with pre-pandemic days.
But new data suggests that in many parts of the country, the Postal Service is moving ballots faster than regular first-class mail.
This weekend, for the first time, the Postal Service released a limited snapshot of how fast ballots, not just all first-class mail, are reaching their destination. The picture is reassuring, if very broad and incomplete. During the week ending Oct. 10, the post office delivered 95.6% of voter ballots to election offices on time and 96.7% of blank ballots to voters on time, USPS data shows. That inbound delivery rate, of 95.6%, was the highest it has been all fall. For the weeks of Sept. 12 and 19, the on-time delivery rate for ballots was 86.6% and 91.9%, respectively.
"Even with our deep concern about the decline in service under Postmaster General DeJoy's leadership and other factors, such as COVID, that's generally not affecting the question of mail ballots. They are being given beyond first-class attention."
A different tracker, Ballot Scout, has found that in early October, 95% of ballots were reaching election offices in one to five days, with an average delivery speed of two days. The remaining 5% of ballots were mostly mailed from out of state.
To be clear, ballots mailed later than Tuesday may arrive too late. Voters who haven't mailed in their ballots yet should explore using ballot dropboxes in states that have set them up, delivering their ballots to voting centers or voting in person. Each state has its own set of options, so state and local voter information sites can be the best sources of information. Those who mailed their ballots should also check to see if they counted.
Overall, what this shows is ballots are not plagued by the same rolling delays dogging first-class mail. This reality could change at any moment. The data is not comprehensive, it doesn't reflect problems in specific regions and even a single percentage point dip in on-time service could translate to delays for tens of thousands of ballots. In 2016, the winner of Wisconsin was decided by roughly 22,000 votes.
But the limited data that's available suggests that if DeJoy intended to slow the mailed ballot process, he failed.
"Even with our deep concern about the decline in service under Postmaster General DeJoy's leadership and other factors, such as COVID, that's generally not affecting the question of mail ballots," said Mark Dimondstein, the president of the American Postal Workers Union, which represents mostly workers in processing plants. "They are being given beyond first-class attention."
The same data set that showed 95.6% of ballots arriving on time showed most first-class mail had an overall on-time score percentage in the mid- to high 80s. In swing states such as Wisconsin and North Carolina, it's taking first-class letters up to 10 days to be delivered.
What's likely making the difference is that the post office and postal workers are taking multiple steps to separate out ballots from the general mail stream and expedite them. Starting Thursday and running through Election Day, letter carriers are being told to visit every address on their stop, whether or not they have mail to deliver, to ensure any ballots in residents' mailboxes are picked up. Processing plant workers are supposed to make multiple daily sweeps to look for ballots that are just sitting around.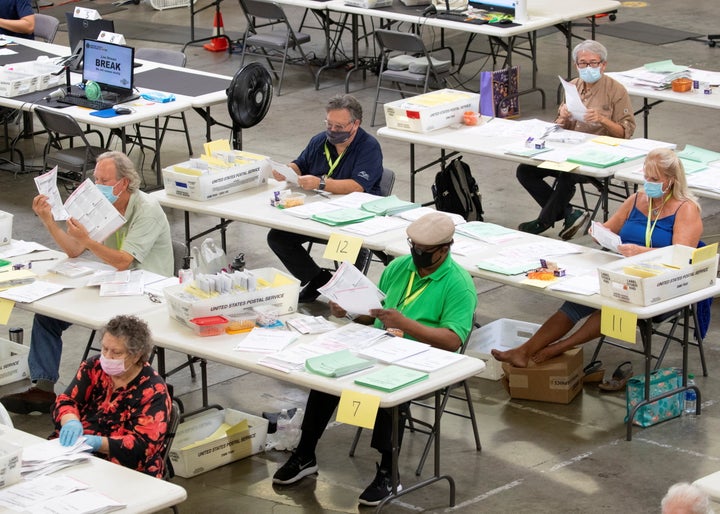 Some of these areas are overstretched but are working hard to ensure ballots move quickly. In Philadelphia, mail carriers are suffering from exceptionally high turnover rates, and the overtaxed remaining workforce will likely struggle to carry out the agency's special instructions for expediting ballots. Late last week, postal workers found multiple pallets of hundreds of pieces of campaign mailers for both Biden and Trump sitting idle inside Philadelphia-area mail processing plants, said Nick Casselli, president of the city's American Postal Workers local.
"But I didn't see ballots sitting around," Casselli said. "When we see a ballot, we handle it like gold."
Retail locations are urged to separate ballots out from the mail pile, postmark them and deliver them directly to boards of elections rather than sending them to faraway processing plants with the rest of the mail. They are encouraged to set up special lines for customers mailing ballots and temporarily dedicate other staffers to ballot sorting.
The USPS and postal unions are also urging rank-and-file postal workers to report any problems up the chain, a process that is actually yielding solutions, Dimondstein said: "The workers reporting back to us are not going to whitewash anything. What we've seen is generally it's working smoothly, and where there are problems, they're being resolved."
"When we see a ballot, we handle it like gold."
A week ago, a top postal union official who spoke to HuffPost expressed worry that some of the agency's election-related directives, which came from the top of the U.S. Postal Service, were just for show. This week, though, after hearing from members in hundreds of locations, he said the whole process is "frankly going quite well."
"In general, people are pretty upbeat about the situation," the union official said.
There are limits to what the data shows. Those figures for ballots aren't broken down by region. And they only measure the time between the ballot's first and last interaction with a processing operation, meaning, they don't reflect any delays that happen when the ballot is waiting in a mail slot for the mail carrier or after being loaded onto a truck for its final ride to the election office.
The agency only has specific data on ballots in places where election officials affixed ballots with a special USPS tracking code. Election divisions with better funding or a longer history of running vote-by-mail operations are more likely to use these tracking codes.
And voting by mail can backfire for reasons unrelated to mail delivery speeds. Ballot printers can misprint addresses. Election officials can fail to mail ballots in time. A ballot arrived doesn't mean a ballot counted: States can make overly harsh rules that disqualify many ballots. Voters could simply wait too long.
Some regions are still suffering from severe delivery problems, including Democratic strongholds in key swing states. In Detroit, mail carriers recently told The Washington Post that they were receiving instructions to prioritize package delivery at the expense of other mail, including election mail. Some carriers were secretly doing the opposite in order to ensure ballots arrive on time.
The new attention being paid to ballots can't fully overcome problems created by the summer slowdown.
"Clearly, steps are being taken to expedite election mail," said the anonymous union official. "But you still have short staffing in some areas, COVID issues. There is still an emphasis in a lot of areas on trucks leaving on time, even if they're empty," as opposed to holding trucks until they have mail to deliver. "No matter how hard you try, that's going to impact election mail, and we're definitely seeing that."
We want to know what you're hearing on the ground from the candidates. If you get any interesting ― or suspicious! ― campaign mailers, robocalls or hear anything else you think we should know about, email us at scoops@huffpost.com.
Popular in the Community