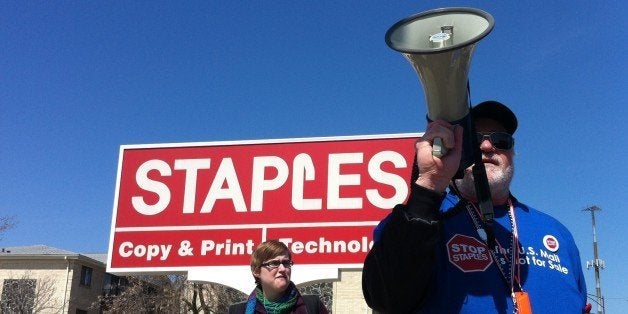 ELMWOOD PARK, Ill. -- On a recent Saturday morning, 500 protesters poured out of a parade of school buses, signs and megaphones in hand, and tried their best to shame a single Staples store just outside Chicago. Among them was Mike Suchomel, a 20-year veteran of the U.S. Postal Service, who traveled all the way from New Jersey for a nearby labor conference.
What has infuriated Suchomel and many of his fellow postal union members is a new arrangement struck between USPS and the office supply retailer. Under the premise of a pilot program, a limited number of Staples locations are now offering most of the same services provided at post offices, to be handled by Staples employees rather than postal workers.
"It's just a big step toward privatization," said Suchomel, who hopped a bus to the protest from the Labor Notes conference, a biannual gathering of labor activists held in Chicago. "I think it's a terrible thing that the postmaster general would even think about this."
In recent years the Postal Service has lost an eye-popping amount of money, largely due to retiree health prefunding requirements imposed on the agency by Congress. In an era of falling first-class mail, the red ink has kicked off a postal reform discussion that's pitted the postmaster general against the various postal unions. The latter insist that the service cuts being considered, including the end of six-day delivery, will send the institution into a death spiral.
Union representatives say the Staples program is proof agency management would be happy to spin off basic postal services to the private sector, further shrinking what's long been a bastion of well-paying, public-sector union jobs. After a series of sporadic demonstrations against Staples in recent weeks, the American Postal Workers Union, which represents 220,000 postal employees, is planning protests from coast to coast on April 24, and it expects broad backing from other public-sector unions.
The Postal Service insists the Staples move isn't an effort toward privatization, only toward providing more convenience to postal customers and getting a bigger piece of the growing parcel-delivery business.
"It's an attempt to tackle a bigger market share," said Darleen Reid-DeMeo, a postal spokeswoman. "It's never been about privatizing or closing postal offices. It's never about taking work away from postal employees. What it's about is expanding our services to the American public."
Staples didn't respond to a request for comment.
Mark Dimondstein, president of the American Postal Workers Union, told HuffPost in an interview that the union doesn't care if the Postal Service wants to expand into Staples locations. What the union objects to is low-paid Staples employees performing what have traditionally been postal worker duties. The mail should be handled by trained postal workers who are under oath, Dimondstein said.
"We're not opposing the pilot program per se. We believe in enhanced and expanded services to the public," he said. "We're opposing it on the basis that those counters are not staffed with United States postal employees, in uniform, under oath and accountable to the people and sworn to protect the sanctity, security and safety of the mail."
Although its members probably wouldn't be as affected as APWU's, the National Association of Letter Carriers union said it also strongly opposes the Staples program.
"Americans value and deserve postal services provided by highly trained, uniformed and accountable employees who work directly for the Postal Service, not for an office-supplies retail chain," Fredric Rolando, NALC's president, said in an email. "Just as the members of the APWU stand with the NALC in our battle to preserve six-day mail delivery service, so do letter carriers stand with our brothers and sisters in this fight against privatization."
The Postal Service already has thousands of retail "partnerships" -- the sort of arrangements that make it possible for you to buy stamps at your local grocery store -- and it recently struck a deal with Amazon to do Sunday delivery. But the Staples program could turn into a far more significant affiliation if both Staples and USPS are satisfied with how it's gone after a year.
Partnerships in the past have been struck one at a time, Reid-DeMeo said. If it's expanded, the Staples program would be the first chain-wide partnership of its kind, available in Staples stores throughout the country. So far, it's in just 82 stores in a handful of markets, including California and Georgia. Such a vast program would siphon business from the post offices that are employing postal employees, Dimondstein said.
Although official pay data for Staples isn't available, the worker survey site Glassdoor.com pegs the average wage of a sales associate at $8.53 an hour, or $1.28 above the federal minimum wage. Many part-time employees don't get benefits.
"We're willing to try some of these programs," Dimondstein said, "but not when it transfers decent-paying, living-wage jobs to non-living wage jobs at Staples."
Related
Popular in the Community