Roman Abramovich was clearly the king of the island with a new 500 foot yacht called Eclipse and a new 300 foot yacht called Luna. Both boats floated in the harbor.
The concentration of wealth, power, talent and gorgeous people all running, sunning, surfing, boating around and suppressing "party pressure" was an intimidating sight to behold on my maiden voyage.
It was the Oscars, Cannes, Venice, Hamptons, St. Tropez and Qatar rolled into one. Thank God I had clocked that travel experience to help me stay afloat in a sea of social sharks who insisted they came here to relax.
Photos taken by Martha Stewart. Continue reading text below.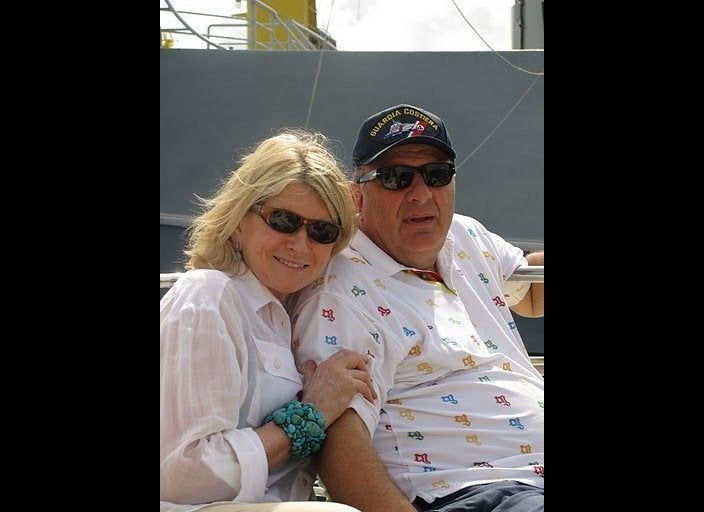 I arrived December 20th, stayed in a ocean view room at the Taiwana, next door to the Isle de France, next door to art mogul Larry Gagosian's home, next door to Brooke and Dan Neidich's home, next door to Samantha and Aby Rosen's home and all on the best beach called Flamands.
Jimmy Choo's Tamara Mellon, Greek documentary film director Angela Ishmailos and I hosted a lunch at hot spot Taiwana for forty. Harvey Weinstein brought his family. Eddie Spencer-Churchill, a descendant of Winston Churchill, was seen swimming to his tender holding a DVD of The King's Speech over his head in a waterproof bag. Additional hot DVDs to score for private screenings were The Social Network, The Fighter, Black Swan, 127 Hours, True Grit, The Kids Are All Right, Blue Valentine and The Town.
Larry Gagosian gave the chicest dinner around his pool. Demi Moore and Ashton Kutcher, Salma Hayek and Francois Henri Pinault, Wendi and Rupert Murdoch, Rula Jebreal and Julian Schnabel, Stephanie Seymour and Peter Brant and Jane and Jimmy Buffet were among the smart 100 who attended. Martha Stewart was seen in the kitchen tasting dinner from Maya's Restaurant.
Photographer bon vivant Jean Pigozzi had a book signing of Catalogue Deraisonne at Christiane Celle's Clic Gallery in Gustavia where billionaires Nat Rothchild, Nicolas Berggruen and Paul Allen bought books. The following night Paul hosted a party on one of his yachts where he played the guitar with his own band.
New Year's Eve was ruled by the Russians. Vivacious Dasha Zhukova and Roman Abramovich owned the night at their $90 million estate on Gouveneur Beach, previously owned by the Rockefellers. At midnight sexy Fergie got a kiss on stage from husband Josh Duhamel and belted out "I Got a Feeling" with The Black Eyed Peas.
I arrived from Erica and L.A. Reid's pre-concert dinner where I chatted with George Lucas about the state of the motion picture academy and the Oscar race, a conversation highlight of my trip.
At Dasha and Roman's orchid filled tent, Will.I.Am and DJ Jus Ske spun pulsating music till dawn for the famous and more famous. Dancing up a storm on the stage with Fergie were Dasha, Demi and Ashton, Salma Hayek, Wendi Murdoch and George Lucas. Spinning on the floor were Rula Jebreal and Julian Schnabel, Stephanie Seymour and Peter Brant, Ellen Degeneres and Portia de Rossi, David Geffen, Lorne Michaels, Larry Gagosian, Russell Simmons, Bob Colacello, Patrick Demarchelier, Shirin and Frederic Fekkai, Susan and John Hess, Sony's Rob Weinsenthal, art collector Tico Mugrabi, columnist Derek Blasberg and candle queen Marjorie Gubelmann.
Ron Perelman had a New Year's birthday party (he was one of the first babies born in January 1st) on his boat with Anna and Graydon Carter, Dorothea and Jon Bon Jovi and Mike Ovitz.
Jean "Johnny" Pigozzi hosted a New Year's Day lunch on his marvelous ex-fishing trawler converted into a yacht, My Amazon Express. Boatmate Martha Stewart helped decorate the tables with small plastic brightly colored ocean animals. Salma Hayek brought her daughter. Brian Grazer brought Chosan Nguyen. Lawrence Bender came alone. Roman Abramovich, David Geffen, Guy Oseary, Demi Moore and Ashton Kutchner, Vivi Nevo, fashion designer Erin Featherstone and Harvey Weinstein wished each other Happy New Year.
Martha Stewart, who has been coming to St. Barths for twenty years then drove me around the entire island at sunset in my black mini cooper convertible. As she negotiated the steep winding roads, which was like skiing in a car, she took photos and matter-of-factually gave a lecture tour only she could deliver. A perfect ending to a perfect holiday vacation.