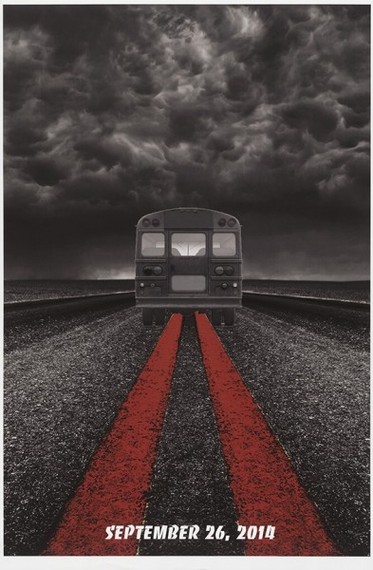 9/26/2014 by Sahar Jalayer, Iran
On September 26, 2104, police stopped several student buses from the Ayotzinapa Rural Teachers' College en route to a protest in Iguala, Mexico. A confrontation ensued, and six students were killed, 25 were wounded, and 43 were abducted by police and later handed over to the Guerreros Unidos Cartel.
Eight weeks after the disappearance of the 43 students, artist and activist Francisco Toledo sent out a call to universities and museums for original poster art in response to the tragedy. Over 700 entries came in from countries such as Iran, Spain, China, Greece, Denmark, Lebanon, Cuba, and Argentina. From those, 43 designs were selected for the "Carteles de Ayotzinapa" exhibition at the Museum of Tolerance in Mexico City.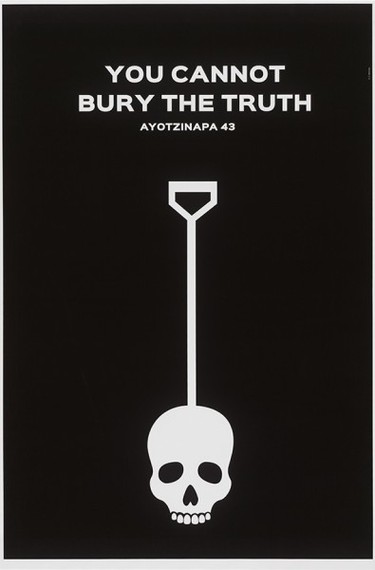 You Cannot Bury the Truth by K. S. Helinska, Poland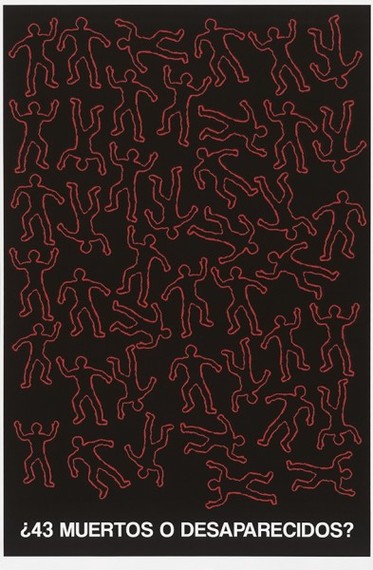 ¿43 Muertos o Desaparecidos? by Daniela Ochoa, Mexico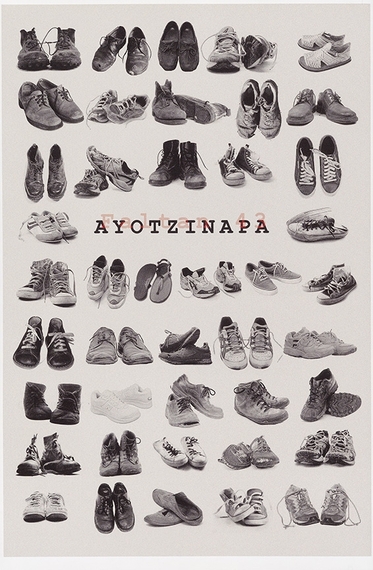 Ayotzinapa Faltan 43 by Tiago Seixas, Portugal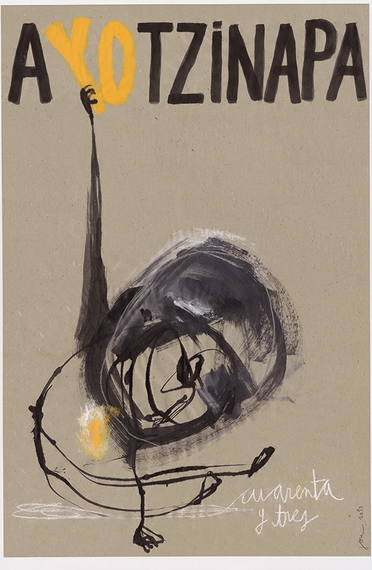 cuarenta y tres by Laia Jou, Spain
These posters journeyed to Los Angeles last week. "Ayotzinapa: A Roar of Silence" is now on view at SPARC in Venice until March 27 and will travel throughout Los Angeles through June 10. SPARC, Art Division, Self Help Graphics, and The Center for the Study of Political Graphics all collaborated for the exhibit, and coordinated a series of protests, screenings, and lectures to memorialize the 43 missing students.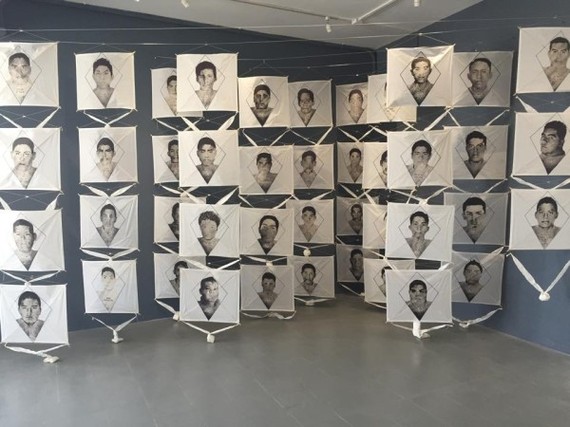 At SPARC, 43 kites bearing the victims' faces will hang beside the posters, along with artist Yolanda Guerra's handmade quilt that has portraits of the missing students embroidered in its squares. In the center a saying reads: "Ayotzinapa: They tried to bury us. They didn't know we were seeds."
There will be a protest walk on March 27 from SPARC to Art Division. On that day, 43 students will be uninstalling the exhibit themselves. All participants will pin an image of one of the missing students to their shirt, and walk, bus, or metro onto the next location, as a procession.
"If we do act as performance piece, others can join. It will be reminiscent of the 43 students on the bus," says visiting SPARC curator Marietta Bernstorff. "It is to keep the memory of the young men alive."
SPARC's mission is to empower communities through public art and provide a space for conscientious dialogue.
"Art is a very powerful tool. It impacts society permanently. Once you see an image, it is there with you forever. It is very important, particularly now when there are young men and women of color being killed by police, and with the upcoming elections," says Bernstorff.
Historically, the political poster has been an effective design tool for enacting social change, evidenced from Soviet propaganda posters of the early twentieth century to Shepard Fairey's 2008 Barack Obama "Hope" poster.
"One line, one image, can really get to the viewer, and that's what's important, to leave the viewer with something to think about," says Bernstorff.
Self Help Graphics will also stage "43: From Ayotzinapa to Ferguson," which will reflect on larger themes of police brutality, incorporating 43 original artworks that respond to either the kidnapping of the Mexican students or the 2014 shooting of Michael Brown in Ferguson.
Popular in the Community