First came the play, then the Oscar-winning movie, followed by the novel, and now the opera: Daniel Catán's Il Postino. Who says the postman rings but twice?
Not the Los Angeles Opera, which, after a year's delay, finally got this ode to Chilean poet Pablo Neruda onstage for its world premiere.
Everything fits, of course - for Hispanic Angelenos, a work in their own language; for the company, its starry eminence, Spanish tenor Plácido Domingo center-stage; for his Mexican-born colleague Catán, whose previous opera, Florencia en el Amazonas, also has had performances here, an opportunity; for the poet's wondrous words with their refreshingly original sensuality set to music of languid lyricism, another. And the list goes on.
Best of all, here's a vehicle tailored to Domingo, who numbers the role as his 134th! (Now, bear in mind, folks, that the most high-achieving tenors never reach even half this many.) Not only is the vocal part Catán wrote for him an expectedly grateful one (not too high, not too taxing) but the character of Neruda -- wise, compassionate, humane, while still capable of whimsy and ardor in his maturity - falls most naturally within this singing actor's sensibility.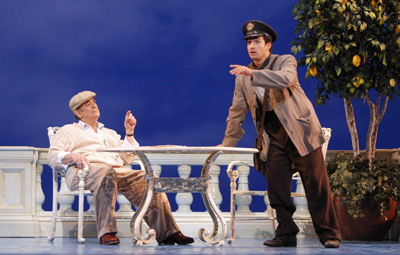 Placido Domingo (seated) as Neruda; Charles Castronovo as the Postman.
The story, if you've forgotten, deals with that period of the poet's exile from Chile, for political reasons, to a small Italian island. There, with his wife, he lives an idyllic, if somewhat solitary life, writing and receiving so much fan-mail that a special postman is hired to hand-deliver his letters, which he does on a bicycle. The two strike up a bond -- the one, a kind counsel and mentor who teaches the art of metaphor; the other, a poor, young stutterer who finds salvation in learning (and a path to romancing his new-found love). Theirs is really the opera's central relationship, bound up in an affection that
grows before our eyes.
What carries the libretto are Neruda's own words, so artfully put together here. And the well-crafted, post-Puccini score -- which, when it turns to long-lined sentimental ballads resembles the film's sound-track -- boasts plenty of stored-up musical memories.
For instance, we can hear Copland-esque rhythmic jauntiness in mailman Mario's funny exchanges with Neruda and out-takes of Britten's Peter Grimes to indicate foreboding, and even hints of Stravinsky's Symphony of Psalms in some choral passages. There's nary an atonal gleam anywhere, although some of the lovely, impassioned arias end strangely up in the air.
Director Ron Daniels kept the action fluid and focused - he even captured Neruda's sung love poem to his wife by having the poet artfully unclothe her, with only her upper back revealed to the audience. Designer Riccardo Hernandez created an encouragingly simple but scenic unit set, framed, at times, in neon, and strategically lit by Jennifer Tipton. Yes, the whole thing made for engaging, accessible, aesthetically satisfying music-theater. Sometimes we don't need provocative, or even controversial.
Domingo, in manner, mind and voice, portrayed Neruda sensitively. Charles Castronovo made an amusingly timid Mario, whose lyric tenor gleamed with increasing intensity as his convictions grew. Both Cristina Gallardo-Domas and Amanda Squitieri gave off an idealized, romantic after-glow as the respective wives. Grant Gershon led orchestra and singers with impressive detailing of the score and held the stage action together seamlessly.
Three days later, the company trotted out its 2004 production of
Le nozze di Figaro, and this time Domingo descended to the pit where he honored Mozart's glorious opera buffa with the vibrant, stimulating call to unearthing the musical emotion that the composer must have always wished for.
Martina Serafin as the Countess; Renata Pokupic as Cherubino.
Yes, once again, it was the same Ian Judge staging, an animated, fluent show that mixes up 18th-century period niceties and '50s culture - a tippling Countess languishes on her bed dialing a big, clunky, corded phone, the men at times wear britches and stockings with their buckled clodhoppers, later choosing modern-day suits. Along the way several servants traipse around with big bellies, apparently made pregnant by the philandering Count who's taking the option of his droit de seigneur.
All of this makes for what today's audiences laugh at lustily, that sit-com mentality with elements of intrigue and tender love thrown in. There's at least one problem with this formula, though: the whole delicious comeuppance of the bullying Count cancels out because, here, the wily valet Figaro rises up to equal status with his boss early on. And that defeats librettist da Ponte's careful working of class divisions within a single manorial household. But Robert Altman, in his movie Gosford Park, could certainly draw the lines clearly and understand the fascinating domestic turmoil of impending social revolution.
The cast, this time, turned in polished, energetic performances without erasing memories of earlier ensembles. In the title role Daniel Okulitch rolled out his finely resonating bass-baritone to pleasing effect, for instance, but was too genuinely gawky and forlorn to match the production's originator, Erwin Schrott, that dynamo of cunning who truly outsmarted the Count with his every utterance and physical expression - all the while hewing to his servant's status.
To the others, an international lot, attention must be paid. Marlis Petersen, as Susanna, went through the rigors of keeping the Count at fingers' length, while urging Figaro to rescue her (but did not project the gorgeously wistful feelings of Deh vieni, non tardar); a wooly-voiced Bo Skovhus made Almaviva a menacing presence; Martina Serafin, every inch his elegant wife, sang with an impressively big, sturdy voice and Renata Pokupic was a pint-sized Cherubino, agile and perky with a light mezzo to match, if not a picture of adolescent wet-dreams gone wild. Valentina Fleer, a vocal find of a Barbarina, stood apart with a lovely peal in her blooming soprano.
Related
Popular in the Community