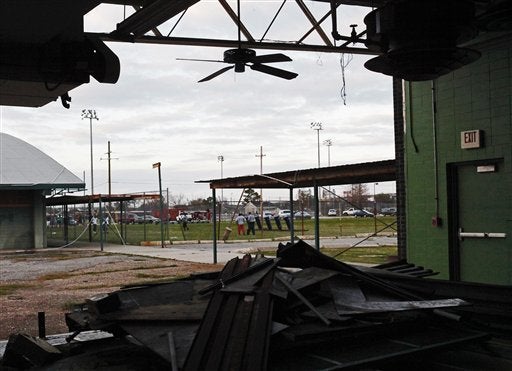 Before Hurricane Katrina, the public school system in New Orleans was notoriously corrupt and under-performing. The state deemed a staggering 64 percent of the city's schools to be "academically unacceptable" in 2005, and even earlier this year the pre-Katrina school board president, Ellenese Brooks-Simms, was sentenced to prison for accepting bribes in return for her support of an algebra software program.
Now, five years after Katrina devastated the city, the previously failing public schools in New Orleans are in the midst of some radical improvements, making Orleans Parish a model for struggling school districts around the nation. In November 2005, the state instituted an experimental Recovery School District, by which the Louisiana legislature took 107 under-performing Orleans Parish public schools under its control and turned them into charter schools. Now, over 75 percent of New Orleans students are in charter schools -- the highest percentage in nation.
Paul Vallas, the outgoing superintendent of the Recovery School District, told Newsweek the city "used Katrina as an opportunity to build -- not rebuild, but build -- a new school system," which he described as "overwhelmingly publicly funded, predominantly privately run."
As a result, the quality of public schools in New Orleans has improved significantly. The new hybrid model, whereby charter schools outnumber traditional public schools two to one, has resulted in a new-found emphasis on innovation. Schools have seen gains on standardized testing scores across the board, the average graduation rate for seniors has gone up from 79 percent in 2005 to 90 percent today, and the percentage of schools deemed "academically unacceptable" has dropped from 64 to 42 percent.
Shannon Jones, executive director of the Cowen Institute for Public Education Issues at Tulane, said that although New Orleans public schools still have a long way to go, she thinks the experimental new system is a drastic improvement.
"A significant amount of changes have been made since the storm," she told HuffPost. "Community engagement and student achievement is up, parental involvement is on the rise, and the new schools are completely open-admission. Kids can now go to any school in the city that they choose, whereas before, you had to go to school based on your neighborhood. It's a real free market that isn't being done elsewhere."
While some have speculated that the improvement in student performance in New Olreans reflects a demographic shift since Katrina, a recent Cowen Institute report suggests that the years after Katrina have seen little change overall in the ethnicity and socioeconomic status of public school students. The vast majority of students -- over 90 percent -- are still African American, compared to 61 percent of the whole city's population, and a slightly higher percentage of students are now eligible for free or reduced lunch based on financial need.
One demographic shift that may have had an effect on the schools is the influx of new teachers. Before Katrina, about 40 percent of public school teachers in New Orleans were veteran teachers, with 20 or more years of experience. But in 2005, the Orleans Parish School Board fired nearly all of its teachers, and many charter schools decided to hire newer teachers with alternative certifications through programs like Teach for America and TeachNOLA.
With a slew of new, optimistic teachers, longer schooldays, better technologies and a state-wide commitment to the improvement of public schools, Jones says the only major downside to the new system is sustainability.
"We're spending more money per child than we actually receive from the state," she said. "We had a large influx of federal money to get schools back open, but now that funding cliff is starting to take effect. How do you sustain these reform efforts after the funds dry up and you just have regular per people state and local money? Do you continue to have a Pre-K? A low student teacher ratio? Extra things they may have offered before, they may not be able to do those anymore."
Fortunately, FEMA announced Wednesday that it will award the Orleans Parish School Board $1.8 billion to help refurbish buildings damaged during Katrina and build state of the art educational facilities for the public school system.
Senator Mary Landrieu (D-La.) had a lukewarm response to the announcement, in light of the five-year lag time.
"While we would have liked to have received the money sooner, it was worth the wait," she said.
Related
Popular in the Community