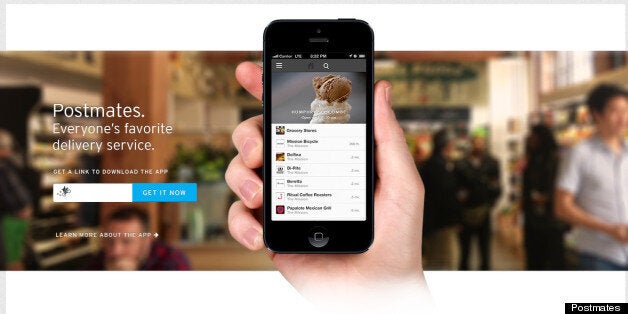 New Yorkers are accustomed to being able to get anything they want, whenever they want it. But a San Francisco startup has decided there's room for improvement when it comes to convenience in the Big Apple.
Today, Postmates officially launched its one-hour delivery service for people living and working in the Flatiron District. The app allows users to select from a list of featured restaurants and stores in their area, and connects them with one of 50 couriers the company is currently contracting with in the area.
Though downloading the app is free, delivery fees start at $5. The company has plans for a rapid roll-out of its services to the rest of the city.
"We're connecting people that want an item delivered with people that have the capability to deliver," said Bastian Lehmann, CEO of Postmates. "We basically match them."
"People really go for that piece of pizza that they like that doesn't deliver," Lehman said. "It's often artisan food that's not easy to get at every street corner."
While the desire to order from restaurants that don't deliver is a key need that Lehmann is looking to fill, the couriers who contract with the company can get their hands on just about anything and bring it to your door in an hour or less, he said. Users can already have a specific product on hold at a store for pick up, they can describe an item to a courier through the app, or they can scroll through inventory available on the app itself.
Lehmann confessed that earlier today, he employed the app to go fetch something he wanted from Bloomingdale's in anticipation of a television appearance.
"I just got from them a pair of blue socks for my shoes because I'm wearing a blue suit for the first time in a year," Lehmann said.
Postmates, for its part, has already launched successfully in San Francisco and Seattle. The question remains whether New Yorkers will pay to have items delivered when many of their most-visited businesses already offer it for free.
Lehmann argued that many New York restaurants don't deliver, and that the app can still compete with businesses that do by being easier and more efficient. Instead of calling the dry cleaners and figuring out a mutually beneficial delivery window, users can avoid the call altogether.
"It works like pressing a button like a remote control. A city that values convenience like New York should enjoy a service like Postmates even more," said Lehmann.
Lehmann noted that his company shares some of the same investors who have put money into Uber, the on-demand car service.
"When they launched, people said, 'Why would I hail a cab that way?'" said Lehmann. "The reality is that two years later, the world looks quite different and most people don't prefer to call somewhere."
Popular in the Community