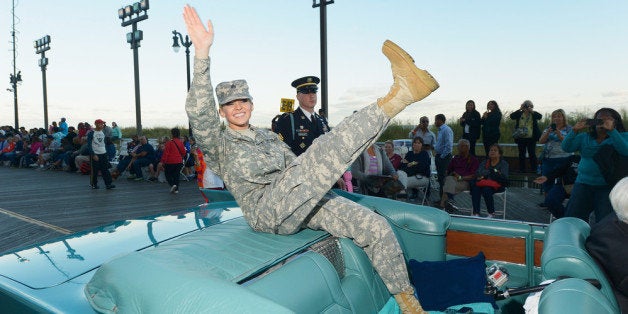 It's been just over a month since Theresa Vail, Miss Kansas, Sgt. Vail, the only Miss America contestant in the military, won the "America's Choice" vote-of-the-people at the Miss America pageant in Atlantic City. It was the first time ever that a small state won the America's Choice as it has consistently gone to larger population states. The honor has had a big impact on Vail's schedule and types of appearances. Usually limited to home state venues, Miss Kansas has been invited to speak and appear nationally. She's in Georgia this week at a Veteran's Defend Your Freedom tour, next week in Kentucky, the following week in...
Because of her personal disclosures about being bullied as a child, she is in particular demand as a speaker to schools and kids on bullying.
And she has to juggle all the out-of-state with her home state responsibilities.
"Any idea I had that life would be calmer after the pageant? That's not happening. I'm busier than I ever thought I could be," Theresa shared when I caught up with her a few days ago for a follow-up interview.
Vail was not a typical contestant. This time last year she'd never imagined entering a pageant. She could take apart an engine (she was also a mechanic for a few years) more easily than she could do hair or make-up. She was an expert marksman, but dance skills? Not so much. It was, overall, a steep learning curve. In Miss America, she competed against women who were the best of the best, many of whom had competed for their state titles two, three or even four times.

We talked a bit about the pageant experience itself: Had it been close to her expectations? Was it helpful or a hindrance to have been in the military? And what about singing opera on national TV? And had she gotten blow-back about showing her tats?
"It was better than my expectations," she explained. "Both at the state level and then with Miss America. I came in with certain expectations that I had to toss because I was wrong." She laughed. "They are amazing women, talented and smart and dedicated. I found so much to respect."
As far as her military training, it was definitely a plus.
The pre-pageant schedule was grueling and we were all sleep deprived. I napped whenever I could, and napping on demand is definitely a military skill. I ate whatever whenever, also a military skill. I'd been through tough physical challenges, so I just hunkered down and knew I'd make it through this one as well.
Vail's pageant naiveté was never more obvious than in her initial choice of archery (bow hunting) as her "talent." While OK at the local level, she was told shortly (very, very shortly) before the state pageant that she needed a different talent (something about dangerous projectiles not being permitted.) With just days to prepare, and with no previous training in voice other than high school choir, she decided to sing opera. What she did not anticipate at that point was that she would 1) win Miss Kansas, and 2) be one of the national talent finalists and thus end up singing an aria on national television.

"You just go out and do it," she said. "No going back at that point. And you're pretty much in shock anyway."
Then we got to the tattoos... which really got way, way too much attention.
"Yes, people tried to get me to cover them up. There were other contestants who had tattoos and did cover them. But that would have been hypocritical for me, and I'm just talking for me. I don't feel that it affected the outcome, but I'd do it again even if it had."
Wrapping up, I asked Vail what she might say to young women who have never considered entering a pageant.
"To young women who have never thought of themselves as 'Miss America' types, I would simply say, 'Look at me.'" Pageants were never on my radar prior to last December," she shared. "I'm a total tomboy but look what I accomplished. Win or lose, they can get scholarship money, so what is there to lose in trying?"
Sitting in the magnificent Boardwalk Hall in Atlantic City last month, listening to Vail pour out her heart in that aria and the standing ovation from the audience, I remember thinking how different the response might have been to archery. Polite applause? If that?
But maybe not. A beautiful young woman, whipping out arrows, looking like a Greek goddess?
There could be hope for archery yet.
For more info on Vail's experience in the Miss Kansas pageant, her feelings about her tats, and more, go to her blog.
Popular in the Community