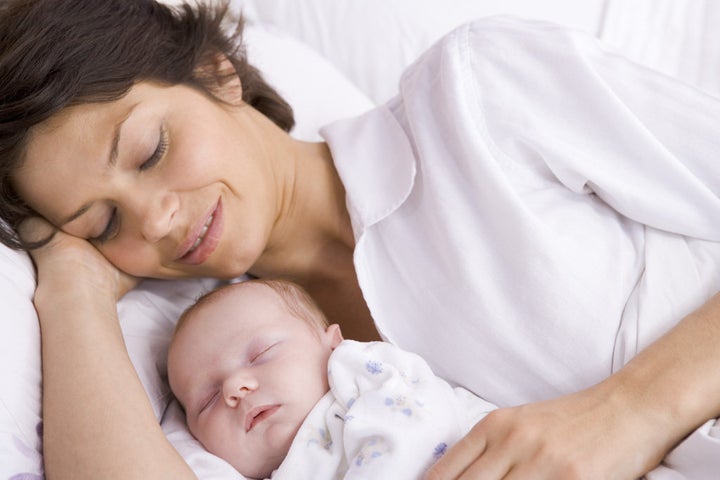 It's probably no surprise to frayed and exhausted new moms that repeated waking from deep sleep and hours of the taped yelps of crying babies are used to train Navy Seals to endure torture. For some new parents, these very same experiences are a challenging nightly reality.
The stress and trauma this creates is clear. Exhaustion and infant crying can push parents to the very edge of the emotional precipice. In fact, they are regularly cited as triggers for many serious complications, including Shaken Baby Syndrome, marital stress, SIDS, over-medication of the infant ... and the increasingly common scourge, post-partum depression (PPD).
Roughly 10-15 percent of new moms (a half-million annually) suffer from PPD. In addition, as many as 25 percent of the husbands in these households also experience some level of depression. And, if left untreated, PPD can last for more than a year and lead to breastfeeding failure, maternal obesity, child neglect/abuse, divorce, even suicide.
Post-partum depression symptoms vary, depending on the individual. In many, feelings of sadness, worthlessness or emotional numbness begin unfolding days or weeks after giving birth. Others experience an anxiety-filled depression, causing them to dwell on perceived inadequacies -- that they are not good mothers or that their babies are not doing well. Though bone tired, they find it impossible to sleep because they can't stop their minds from worrying and ruminating. Sometimes, at the other extreme, mothers feel apathy for things that once brought joy and an overwhelming desire to sleep. Just getting out of bed can be a huge challenge. Even thoughts of abandoning or harming the baby can develop at this time.
The exact cause of PPD remains a mystery. Doctors have long suspected it to be the result of hormonal shifts, but increasingly the main precipitating factors for mild-moderate PPD appear to be a variety of stresses.
Of course, having a baby is quite a stress all on its own, but when other life challenges are piled on top of that (e.g. financial, job, isolation, illness, having twins or a premature baby) a woman's emotional balance can crumble.
PPD can lead to breastfeeding failure, maternal obesity, child neglect/abuse, divorce, even suicide. For that reason, many doctors justifiably recommend anti-depressant or anti-anxiety medication and psychotherapy for women with moderate to severe depression.
Many life challenges are almost impossible to change, however recent research has revealed three sources of stress that are common triggers for PPD and are amenable to a specific highly effective intervention.
1) Exhaustion -- Scientists at Ohio State reported that experiencing extreme fatigue, more than two weeks after the baby's birth, is a strong predictor of developing PPD. Confirming this, a study from Case Western found that, during the first weeks of life, mothers of twins had decreased sleep and triple the PPD risk as mothers of full term infants.
2) Persistent infant crying -- Separate studies from New York's Mt. Sinai Hospital and Brown University showed that severe infant crying (colic) was associated with a two to three times increase in a new mother's risk of PPD.
3) Unsupportive partners -- A study from Reading University in the UK found the top two factors predicting a woman's likelihood of developing PPD were infant crying and the lack of helpful involvement of the spouse.
Fortunately, a new avenue of hope for women with PPD is the rapid benefit The Happiest Baby program can bring them in reducing crying and increasing sleep (mentioned in my last blog on helping babies sleep).
The Happiest Baby program teaches parents how to turn on their baby's "calming reflex" by imitating five key uterine sensations (the Five S's). The Five S's (Swaddle, Side/stomach position, Shushing, Swinging, Sucking) can quickly calm crying -- even colic -- and boost a new baby's sleep. (The critical S's for sleep promotion are swaddling and shushing all night long (e.g. a womb sound CD).
Most babies immediately sleep longer when they are snuggly swaddled and have womb sound played -- as loud as a shower -- all night long. And, the ensuing one to three hours more sleep can measurably improve an exhausted mom's mental wellbeing. (White noise may also help depressed mom's turn off their intrusive thoughts and slip into desperately needed slumber.)
And the benefits extend well past sleep. When new parents learn how to use the Five S's to soothe their infant's intense cries, they can experience a huge boost in their feelings of competence and self-worth. "Yes! I am a good mother!"
Finally, the Five S's help boost the support that mothers receive by encouraging increased father participation. This comes about because dads usually love to do the Five S's. Fathers who learn The Happiest Baby feel empowered and grow more engaged when they successfully use these simple tools. In fact, dads are often the best baby calmers in the family. (Many of the 2000 certified Happiest Baby educators teach classes to fathers. The Department of Health of Massachusetts, for example, is developing a program to expose inner city dads to the Five S's to improve the bonding they have with their babies and reduce the incidence of child abuse.)
The effectiveness of the Five S's has encouraged innovative health care centers, like Duke University and Virtua Health, to incorporate The Happiest Baby approach into their programs to provide relief for new mothers who are experiencing depression.
One PPD sufferer at the Duke University program reported, "We used the white noise CD last night and our son slept for two stretches of 4.5 hours each." Another, the depressed mother of a 2-month old, wrote, "I got six hours of sleep and felt like a new woman. The Five S's definitely work."
For three years, New Jersey's Virtua Health, a multi-hospital group overseeing 8,000 births annually, has included Happiest Baby materials in its PPD program. Depressed new mothers receive a 90-minute class, a Happiest Baby DVD, a womb sound CD and a swaddling blanket.
As described in Spectrum Nursing Magazine, many of these mothers report increased sleep and confidence and they report decreased anxiety, marital stress and urges to harm their babies.
But, The Happiest Baby program should not be used in a vacuum. In addition to the medical interventions mentioned above, other factors that may help in combating PPD -- or staving it off --include:
• A healthy diet
• Seeking the help of friends and family
• Limit visitors during the first few weeks - unless they will be help with the baby or housework.
• Turn your room lights low and avoid TV/computers for 1 hour before bed.
• Keep room slightly cool.
• Reduce distracting lights in your bedroom (or use eye patches).
• Take shifts with your partner to allow each of you to get a larger block of uninterrupted rest and sleep.
• Get regular exercise (walks with the baby can be especially helpful for both of you!)
• Consider using light therapy during the winter.
There are also essentials that a mother dealing with PPD should always remember: many new moms go through this and it gets better; don't judge yourself; postpone non-vital tasks (like writing birth announcements!); avoid caffeine containing foods (e.g. cola, coffee, tea, chocolate, diet supplements); massage your baby a little every day (it helps babies and eases depression); sleep when your baby does (it's easier if you also sleep with white noise); speak to your health-care provider.
Next week, in my final post about children and sleep, I'll discuss a few simple ways to solve some of the biggest sleep challenges parents face from kids four-months to four-years of age.
Dr. Harvey Karp is a world renowned child development expert and America's most read pediatrician. Creator of the bestselling DVDs and books, The Happiest Baby on the Block and The Happiest Toddler on the Block, his work has literally revolutionized our understanding of the needs of young children.
The Happiest Baby teaches how parents can calm even the fussiest babies in minutes...or less...and help any baby sleep an extra one to three hours per night. The Happiest Toddler teaches a new way to communicate with children eight months to five years of age that can quickly prevent 50-90 percent of tantrums and boost a toddler's patience and cooperation in just days!
Dr. Karp's work is taught in hundreds of hospitals, clinics and military bases across the US and has been featured times on shows like Dr. Phil, Larry King Live, The View and Good Morning ... no wonder the NY Times celebrated his work by proclaiming "Roll over Dr. Spock!"