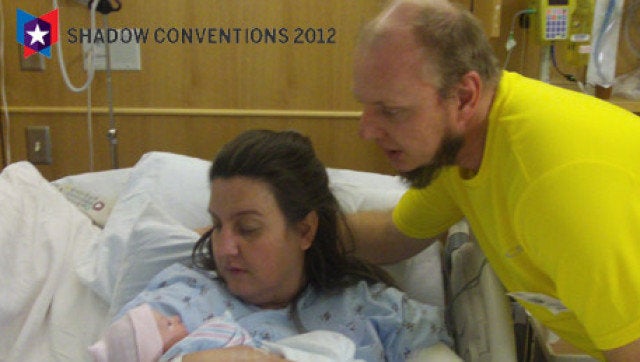 Lindsey Tomlinson could not stop crying. In the four months since her daughter Rachel was born, the new mother had spent numbing hours pacing her double-wide trailer in Snow Camp, N.C., while her husband worked the overnight shift for the local cable company.
She was afraid she would not do right by this child. She had lost custody of her older daughter 12 years earlier, she said, after her ex-husband accused her of being unfit because she suffers from epilepsy. Now those memories haunted her.
"I felt I failed as a mother completely the first time and this time I had to be everything that she needed," she said. When her baby cried, as babies do, "I would be so angry at myself because I was failing again. I would go off the deep end because she was being a normal baby."
Her rock bottom came the night she called the doctor's office seven times, hysterical because she couldn't calm her crying infant. "I screamed and cursed," she remembered, "my anger was out of control. I was so frustrated with everyone who didn't care about her as much as I did, and I told off the pediatrician." Child Protective Services was notified, and Lindsey's fear of losing Rachel looked like it might well come true.
Why? Because "the biggest predictive factor for postpartum depression is a history of depression in general," explained Dr. Samantha Meltzer-Brody, director of the perinatal psychiatry program at the University of North Carolina at Chapel HIll. And the likelihood of all depression increases as income decreases, triggered by the greater instability of an impoverished life.
The result is cyclical. "If Mom is not attached and tuned in, but depressed and checked out instead, that that can lead to neurodevelopmental delays in the baby," Meltzer-Brody said. "It makes her more likely to engage in substance abuse, less likely to follow health and safety guidelines. There is a huge economic effect, because if Mom is miserable she is not going to be able to hold a job. Mothers suffer, so kids suffer, and then the next generation repeats the process over again."
But while much is now known of the devastation of postpartum depression on low-income families, researchers are less certain of how to reverse it. "We need a new model of delivering treatment," said Dr. Katherine Wisner, the director of the Asher Center for Research and Treatment of Depressive Disorders at Northwestern University's Feinberg School of Medicine, and a professor of psychiatry and obstetrics and gynecology there.
The two existing models, she said, are problematic in this population. To meet weekly or more with a therapist for an extended period of time "requires resources," Wisner said. A patient "has to transport herself, arrange childcare," not to mention pay the bill, in a healthcare system that reimburses little mental health care.
"Women who have to take three buses with four kids are not going to go for treatment they can't afford," Wisner said.
On the other hand, the alternative, namely inpatient psychiatric care, is designed for a far more disturbed patient population, and patients often refuse commitment.
In the past few years, the burgeoning field of perinatal psychiatry has begun to experiment with other ways to treat patients. There are a few computer-based psychotherapies, available in home to patients with online access, as well as partnerships between women's health providers and groups like Healthy Start, which is adding a maternal screen for depression to its home visit program.
The University of Pittsburgh, where Wisner worked before leaving for Northwestern this summer, created a psychiatric clinic within its women's hospital, so that "doctors can say 'we can treat you for depression right here, right down the hall.'" she said. "That removes a big barrier. You aren't sending a woman to a completely unfamiliar place, a stigmatized place, at a vulnerable time." Those clinics also provide childcare and often welcome babies into treatment sessions.
Brown University currently has the only "day hospital" for postpartum depression in the United States, where patients can spend the day being treated while their children are also cared for. And one year ago this month, UNC opened the only inpatient unit in this country for PPD, which Meltzer-Brody helms. It has five beds, more than half of which are filled regularly by Medicaid patients.
That last model was introduced in Great Britain 50 years ago, and is widely used in Europe, New Zealand and Australia, but the U.S. has been slow to adopt it. Differences in culture and health care payment models are much of the reason. A lack of data proving that such units are cost effective is another, Meltzer-Brody said. "We are not a huge money-making source for the hospital," she said. "We break even. And eventually we will have data to measure the difference this model of care can make."
For Lindsey, it made all the difference. She spent a week at the UNC unit six months ago, when her daughter was four months old. She arrived through the emergency room and sobbed through the intake process. Over the next seven days, she said, she learned how to put her life and her psyche back together through a mix of psychiatric treatment and practical strategies for taking control of her time and her emotions. She spent time with psychiatrists, and occupational therapists, and yoga instructors, and nurses who would listen to her talk in the middle of the night when she could not sleep. Her daughter did not stay with her, though the clinic is designed to include children, and there are bassinets and gliders on site. She became close with her roommate -- the first time she had realized that there were other women going through the same thing -- and they still speak on Facebook.
One thing her stay could not change was her financial stress, she said -- she and her husband still have nothing left in savings at the end of each month, living as they do on his take-home pay of $3200. And she still worries each night about the numbers she knows by heart: "$750 per month for rent; $250 for diapers and baby expenses; $200 for food; car insurance $82; electricity $170; telephone, $35." But her residential stay did break the back of her depression and teach her skills as simple as breathing and as complex as "helping her face down memories of her own childhood abuse."
Without the clinic, she said, "what have happened is that CPS would have taken my second child, my husband would be at a loss, I would possibly be dead because there was no other way out for me. And then what would have happened to Rachel? They saved our lives."
Related