In the hours and days after giving birth, mothers can be exhausted, emotionally drained, sleep-deprived and still feeling the effects of strong painkillers. Yet it's during this brief window of time, before they leave the hospital with their baby, that they're expected to learn how to care for a newborn, care for themselves and watch for the signs of a serious postpartum complication.
And when a woman returns home, her baby has daily and weekly check-ups with a pediatrician in the first few months of life, but she may have only one check-up with her OB-GYN six weeks after the baby's birth.
In the U.S., mom's postpartum health is an afterthought, and it shows in the country's rising maternal mortality rates. The United States has a higher rate of pregnancy-related deaths ― most occurring after birth ― than any other developed nation.
While the reasons for this are complex and myriad, a recent survey of postpartum nurses sheds light on at least one possible factor contributing to maternal deaths: Health care providers who are usually the last ones to treat a woman before she's discharged from the hospital don't know as much as they should about pregnancy-related deaths.
Survey Reveals Causes For Concern
Organizations like the Association of Women's Health, Obstetric and Neonatal Nurses say that postpartum nurses could play a crucial role in helping women learn the signs of a post-birth complication, and thus in reducing maternal mortality.
But the recent study, published in the American Journal of Maternal/Child Nursing, reveals that the majority of 372 nurses surveyed did not know the current rate of pregnancy-related deaths in the U.S. or that most of these deaths occur after women give birth.
Another worrying finding: Two-thirds of the nurses said they spent less than 10 minutes going over the warning signs of a serious condition with mothers leaving the hospital, and only 72 percent strongly agreed that it was their responsibility to give women information about the warning signs of potential complications.
That final point is concerning, the study authors note, because 95 percent of the surveyed nurses agreed there was a strong link between the education postpartum nurses give their patients, and postpartum illness and death.
Barriers To Post-Birth Education
Signs of an emergency postpartum complication include uncontrollable bleeding, chest pain, trouble breathing, dizziness, fainting or a fast heartbeat. Because health care providers can't predict with certainty which mothers will be affected by a serious complication, it's important that they convey the warning signs to all women they care for.
"Women need to receive clear instructions on what they may be at risk for, what signs to assess for, and what to do if they experience these signs or symptoms that could potentially lead to adverse outcomes," said Patricia Suplee, an obstetric nurse and associate professor at Rutgers University-Camden.
But there are some structural barriers that make communication between nurses and women difficult. Hospital stays have shortened over the years, and postpartum nurses may be assigned more patients than they can comprehensively care for.
If the nurses in charge of communicating life-saving information are too harried or too ill-informed to do so, there's no guarantee that women will know what to do if they encounter the signs of a serious problem.
"From our research over the past few years, we have found that every new mother is not receiving consistent messages from nurses about potential warning signs to watch for post-birth," Suplee said.
Fast Facts On U.S. Maternal Mortality
Since the U.S. Centers for Disease Control and Prevention began tracking pregnancy-related deaths in 1986, the national maternal mortality rate has increased from 7.2 deaths per 100,000 live births in 1987 to 17.3 deaths per 100,000 live births in 2013.
Black women bear a disproportionate burden of these deaths: 43.5 African-American women die for every 100,000 live births, compared to 12.7 deaths per 100,000 births for white women.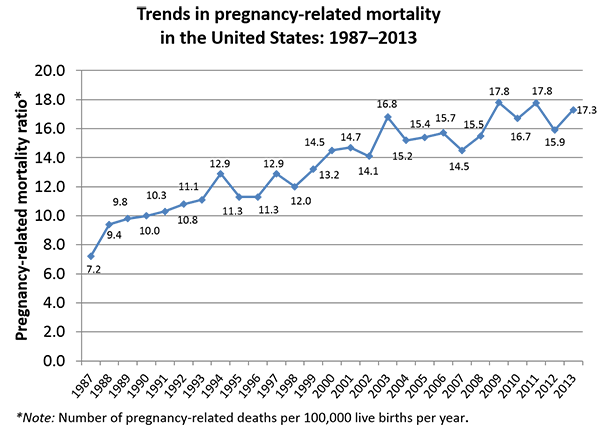 Experts aren't actually sure exactly what's causing this rise in maternal deaths. But American women do have higher rates of high blood pressure, diabetes and chronic heart disease in general than they did 30 years ago — all pre-existing conditions that make pregnancy more risky.
In fact, cardiovascular diseases like heart attack or stroke are among the top causes of pregnancy-related deaths in the U.S., alongside noncardiovascular diseases like autoimmune disease and infection or sepsis.
Nonetheless, the nurses in the recent survey incorrectly identified hemorrhage as the leading cause of maternal death. (Besides postpartum depression and infection, it was one of the top three complications the nurses said they discussed with mothers.) Hemorrhage accounts for only about 11 percent of maternal deaths.
In addition to receiving correct information about post-childbirth complications, women also need enough time to process it. One way to do that is to start shifting the education period from post-birth to pre-birth, said Suplee. Parents may devote most of their time to preparing for parenthood or the birth itself, rather than to self-care during the postpartum period.
"Childbirth educators play a vital role, as do all providers that interact with new mothers," Suplee said. "The amount of information can be overwhelming, but maybe there are better ways to introduce this education so it can be processed."
Related
Before You Go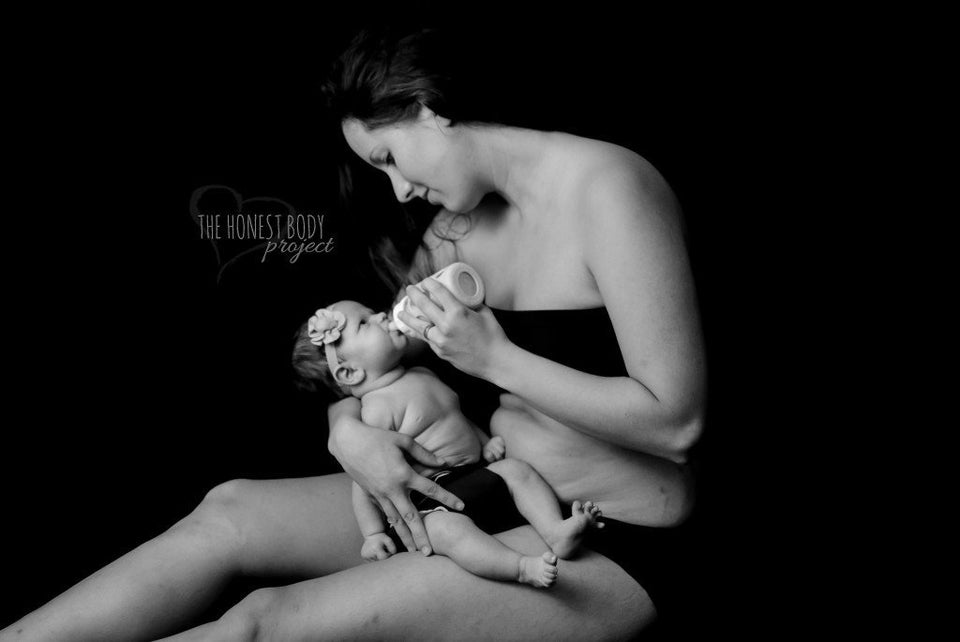 Postpartum Body Project