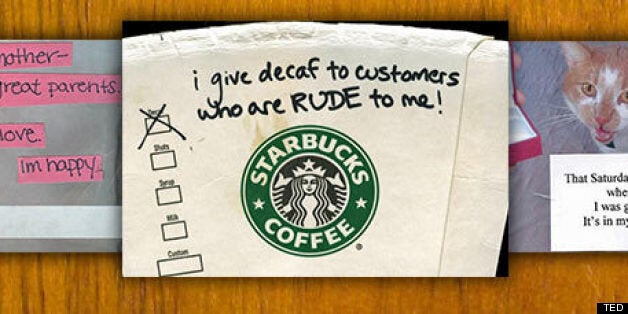 TED and The Huffington Post are excited to bring you TEDWeekends, a curated weekend program that introduces a powerful "idea worth spreading" every Friday, anchored in an exceptional TEDTalk. This week's TEDTalk is accompanied by an original blog post from the featured speaker, along with new op-eds, thoughts and responses from the HuffPost community. Watch the talk above, read the blog post and tell us your thoughts below. Become part of the conversation!
__________________________________________
There are two kinds of secrets, the ones we hide from others, and those we keep from ourselves.
As I write this introduction to my 2012 TED Talk, I am overseas on a speaking tour in Australia and New Zealand sharing secrets. The PostSecret website has received more than 600,000,000 hits. There have been five PostSecret books, the last one reaching #1 on the New York Times bestseller list.
Why are we so fascinated by these secrets?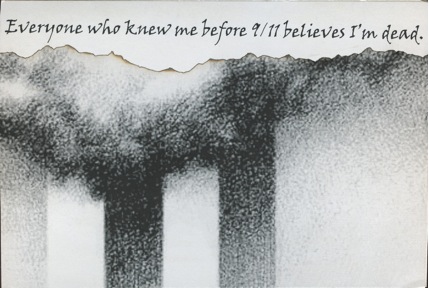 Photo courtesy of Frank Warren.
Sometimes when we think we are keeping a secret, that secret is actually keeping us.
I began collecting and sharing secrets in 2004. I printed 3,000 self-addressed postcards with simple instructions about sharing an artful secret. I passed them out to strangers on the streets of Washington, D.C., not knowing what to expect. But soon secrets began to find their way to my mailbox.
The idea began to spread virally and I began receiving shocking, silly and soulful secrets from around the world. Today, I have received over a half-million secrets and they continue to come. One in my TEDTalk was a surprise marriage proposal. I ended my talk with a poignant secret that was a final song from a grandmother to her granddaughter.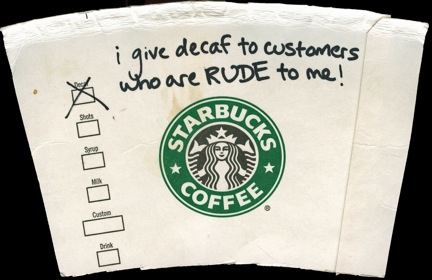 Photo courtesy of Frank Warren.
Secrets can be transformative: Sharing a secret with another person, or just with ourselves, can change who we are.
Two questions I often hear are: Do you think these anonymous secrets are true? And what happens if you get a secret about a serious crime?
I think of each postcard as a work of art, and as self-revelatory art. Secrets can have different layers of truth. Some can be both true and false; others can become true over time depending on our choices.
Sometimes a secret we keep from ourselves only becomes true after we read it on a stranger's postcard. Early in the project I received this email:
"Dear Frank, Do you know that I left my boyfriend of a year and a half because of the postcard that read, 'His temper is so scary, I've lost all my opinions.' It hadn't even occurred to me what was happening, and it took a total stranger writing it down to make me realize what the hell was going on in my life."
I get very few secrets about crimes, but I have been contacted by the FBI about one particular postcard mailed to me. That story ended positively but I need to keep the details secret.
Secrets are the currency of intimacy.
Lately we have been working on a PostSecret play called "PostSecret: Unheard Voices" to bring to life more of the secrets and stories.
So much of this still feels like a mystery to me. The secrets keep coming year after year. I may not have a choice; this could be something that I can't turn off. My wife has this fear that years from now we may be retired somewhere by the beach and secrets will continue to track us down, but part of me hopes the secrets never stop coming.
Because so many people have shared their secrets with me, I will share one of mine with you. It's a secret I never told anyone until I pulled a postcard from my mailbox that described an experience very similar to the childhood humiliation I had kept buried inside for decades.
"When I was in the Fourth Grade, a new kid moved into our neighborhood. He was a charismatic leader who quickly became popular. Soon after, he convinced two of my friends to pin me to the ground and hold open my eyelids. They took turns spitting into my eyes."
Secrets can feel like walls when we hide them inside, but if we can find the courage to share them, we discover we are not alone at all. Our secrets become bridges.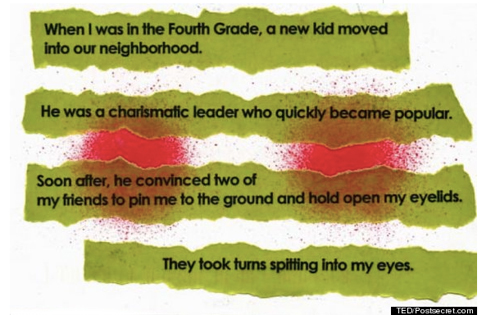 Photo courtesy of Frank Warren.
Click here to see a slideshow of some of the most compelling secrets sent to Postsecret.com.
Ideas are not set in stone. When exposed to thoughtful people, they morph and adapt into their most potent form. TEDWeekends will highlight some of today's most intriguing ideas and allow them to develop in real time through your voice! Tweet #TEDWeekends to share your perspective or email tedweekends@huffingtonpost.com to learn about future weekend's ideas to contribute as a writer.

This story appears in Issue 46 of our weekly iPad magazine, Huffington, in the iTunes App store, available Friday, April 26.
Related
Popular in the Community