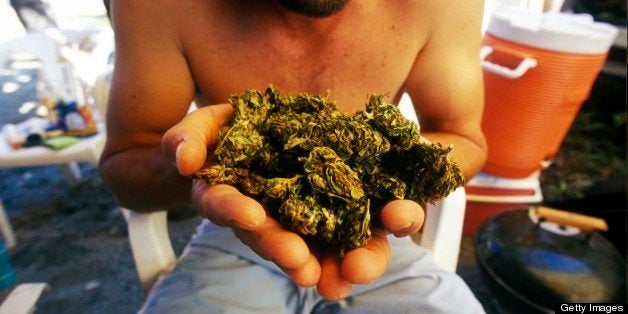 Despite a near-constant flow of customers at its Huntington Beach storefront, Patient Med Aid struggles with many of the most basic business tasks.
It can't accept credit or debit cards for customer transactions. It has to pay vendors in cash. It uses cashier's checks to pay its taxes.
The newly opened medical marijuana dispensary, like many clinics in the controversial industry, has been turned away by numerous banks, which refuse to open accounts or process transactions for cannabis companies.
"I really wish we could have a regular bank account," said Marla James, a medical marijuana activist who serves as the dispensary's patient coordinator. "Then we could buy office supplies without getting a cashier's check."
They also wouldn't have to keep sending customers without cash to an ATM down the street in a Jack in the Box restaurant.
Nineteen states and the District of Columbia have approved to varying degrees the use of marijuana for medicinal purposes. Two states -- Colorado and Washington -- also have legalized recreational use. But since the substance remains illegal under federal law, most major banks, credit unions and credit card companies will not do business with pot proprietors.
That has been a buzz kill for dispensaries, many of which must deal with the risks of running a cash-only business.
The U.S. medical marijuana industry is projected to quadruple to $6 billion by 2018, and private capital, through both business loans and equity investments, is beginning to fill the void left by banks that are unwilling to extend financing. But without access to many basic banking services, budding entrepreneurs are facing hurdles in getting new ventures off the ground.
"The first thing a normal business would do is go out and open a bank account," said Robert Frichtel, managing partner of Medical Marijuana Business Exchange, which helps dispensary owners connect with service providers. "The industry has been effectively cut off from the banking sector. That creates all kinds of problems."
The largest banks in Orange County, including Wells Fargo, Bank of America and Chase Bank, all have policies against providing services to cannabis clinics. Likewise, major credit card companies such as Visa have bans on opening merchant accounts.
"We need to make sure that we are compliant with federal law," said Mary Jane Rogers, a spokeswoman for Chase.
Banks that associate with marijuana businesses could run afoul of a number of laws, including conspiracy and anti-money laundering statutes, said Jim Dowling, an expert in financial regulatory compliance and the former anti-money laundering adviser to the federal Office of National Drug Control Policy.
"They shouldn't be doing any business with medical marijuana companies," he said. "Banks are examined by federal regulators, they have to comply with federal law, and federal law supersedes state law 100 percent of the time."
Institutions that fail to comply could lose their federal insurance or charter to do business, while individual bankers could be indicted. Though the government has not taken action against many individuals to date, Dowling said, "I think they are going to start going after bankers."
Banks may also risk financial losses. In late 2011, U.S. attorneys in California launched a coordinated effort to seize marijuana dispensaries across the state. In the central district, which includes Orange and Los Angeles counties, U.S. attorney P. Greg Parham has filed 30 civil forfeiture actions against pot clinics.
The campaign has driven a wedge between banks and the marijuana industry because financial institutions that hold stakes in these properties do not want to lose the assets, Parham said.
"The word is getting out now and I think many banks are far more vigilant in making sure that they don't have properties or loans that are at risk," Parham said. "Most if not all financial institutions in the state are now very cognizant of the fact that they should not be allowing loans to be made on properties where they know or should know that the person taking out the loan is going to use the property to conduct some type of marijuana business."
It wasn't always this way. For a number of years, experts said, many banks were willing to look the other way with pot businesses. That changed abruptly as the federal crackdown began.
"We saw more and more banks giving either short notice or no notice and canceling their accounts," said Frichtel of Medical Marijuana Business Exchange.
Todd Smith, director of Euclid Medical Center, said his Garden Grove dispensary has been turned down by numerous banks and credit-card processing companies in recent years.
"The feds are trying to make this very difficult," he said.
There are workarounds, however, that allow dispensaries to operate like mainstream retail businesses without the benefit of bank assistance. Many dispensaries have installed private ATMs on site.
And a growing number of clinics are using Square, an inexpensive card-swiping device that allows businesses to accept debit and credit cards through some smartphones and tablet computers.
There are also a handful of service providers looking to fill the void. Guardian Data Systems, which launched last year, uses partnerships with offshore banks to offer credit card processing to high-risk merchants, such as marijuana dispensaries, payday lenders and bail bondsmen.
Some pot clinics are still able to open basic deposit accounts by withholding their business plan or finding a banker that is friendly to the industry. Still, most dispensaries primarily operate on a cash basis.
"This type of business is cash and carry," said Marla James, the activist who works with Patient Med Aid, a cannabis collective.
The collective, which opened a retail storefront in a bright yellow building along Pacific Coast Highway in February, was started to provide mostly older cancer and AIDS patients with access to alternative medicine. About 20 percent of its patients, which already number about 1,300, receive marijuana for free because they cannot afford it, James said.
James, diabetic and legally blind, has used medical marijuana to kick an OxyContin addiction following a bout with flesh-eating bacteria, and to deal with lingering effects after her lower left leg was amputated.
Through her work with the clinic and other organizations, she has become a vocal advocate for the industry.
"This is something I have a personal stake in," she said.
Patient Med Aid has enjoyed considerable growth and even managed to open a depository account with "a small credit union," James said. But it still can't process card transactions.
Dealing in cash creates a variety of problems for dispensaries, including record-keeping and security concerns.
It is not uncommon for dispensaries to have two safes in the back: one for marijuana and one for cash. They can't be stored together, experts said, because then the money will start to smell like pot.
"I've been in several rooms that have a million dollars lying around," said Brendan Kennedy, who has begun investing in the cannabis industry and has met with numerous businesses.
Kennedy, a 40-year-old Yale grad and former banker, recently started Privateer Holdings, one of the country's first private equity firms dedicated to investing in the cannabis industry. The idea for the fund came about when he was an executive with Silicon Valley Bank. His meetings with entrepreneurs in various industries exposed him to the largely untapped but growing cannabis market.
With two partners, Kennedy started the firm and has used his connections to raise about $5 million for what he called "a once-in-a-lifetime opportunity without a lot of competition." He's looking primarily at ancillary businesses that don't actually handle pot. Privateer's first investment was the acquisition of Leafly, a website started in Newport Beach that offers information on marijuana strains.
Frichtel, who has been hearing from well-heeled individuals interested in capitalizing on the market's growth potential, said most investors would rather give loans to cannabis companies than take equity investments, which can be risky in such a volatile industry and have less chance of earning a decent return.
"There is money looking around, trying to figure out how to participate," he said.
Kennedy said most cannabis entrepreneurs have to use their savings or personal credit cards to get companies off the ground. Perhaps the biggest problem he encounters is the lack of access to banking services, which he called critical to the successful growth of the market.
"I cannot emphasize just how big of a problem it is," he said.
Contact the writer: rclough@ocregister.com or 714-796-7922 ___
(c)2013 The Orange County Register (Santa Ana, Calif.)
Distributed by MCT Information Services
Before You Go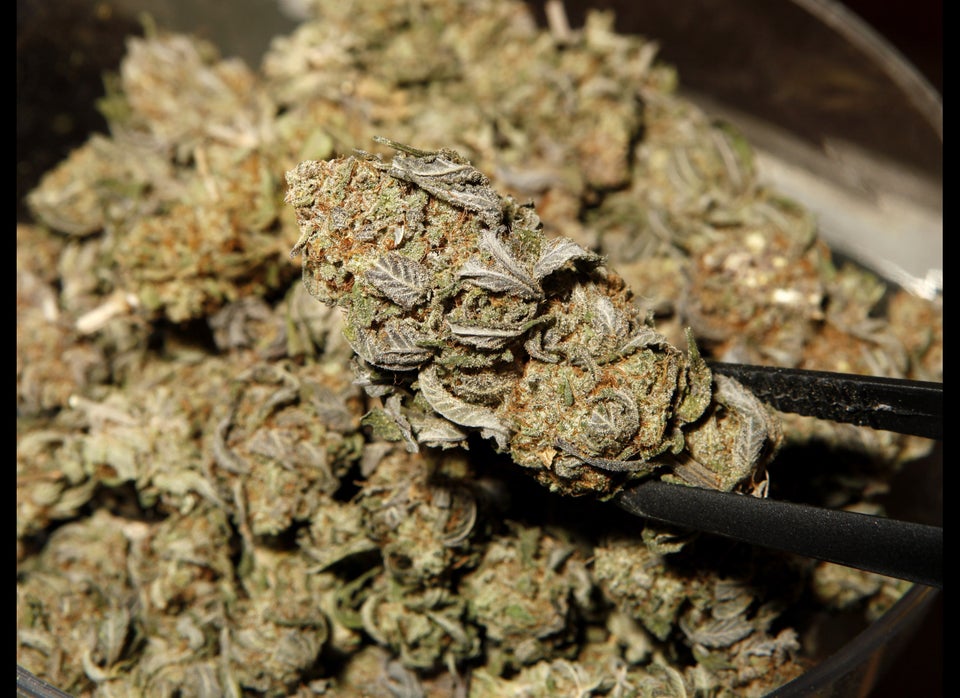 16 Facts About Marijuana And The U.S. Economy
Popular in the Community