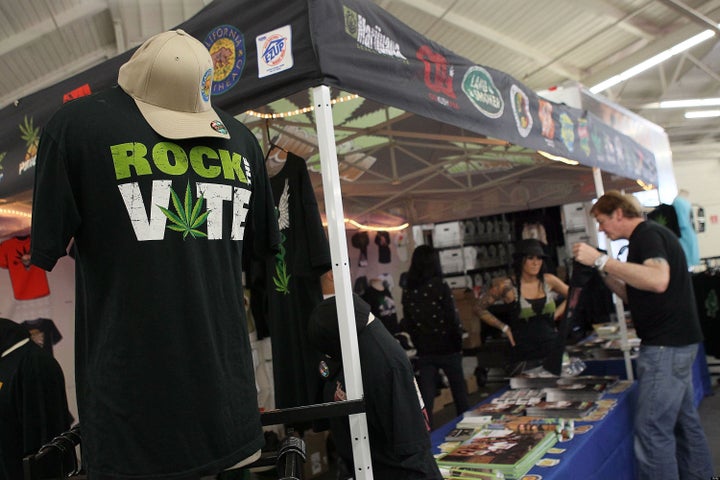 Peter Tosh wants a part in the revival of the marijuana legalization movement, even if it has to come from beyond. The reggae-star's estate released a video in the final days before Tuesday's referendum on pot in California, featuring Tosh's son Dave asking voters to fulfill his father's dream.
"The song 'Legalize It,' from the album of the same name, became an anthem and a rally cry across the globe," says Dave Tosh in a recognizable accent. "On November second, California can help make this dream a reality, vote Yes on proposition 19."
If prop 19 is to have a chance at passage, however, it'll need a big boost from Tosh's fans. A new Field pollhas the measure trailing by seven points among likely voters, 49-42, a reversal of its September finding, when the proposition was leading 49-42. Other recent surveys have also shown a negative trend toward opposition.
If the Northern half of California were left to vote on it alone, the survey finds, it would be cruising to passage. It leads by nine points in the San Francisco Bay area and by four in the rest of Northern California. But everywhere else in California it trails by between nine and 17 points. Women in the survey oppose it by ten points, while men oppose it by only four.
Whites and African Americans are roughly split on the measure, while all other ethnicities oppose it. The most marked difference though is generational and the pattern holds across ethnicities. Voters under 39 favor it 54-38. Gen-Xers in their 40s oppose it 52-39 and are, perhaps not coincidentally, the age group most likely to have teenage kids thinking about smoking pot. Baby boomers aged 50-64 favor it 47-42.
Those 65 and over oppose it most forcefully, 63-29. Republican gubernatorial candidate Meg Whitman is spending roughly $140 million on her election. Much of that spending will go to turnout her base of support, older, conservative voters, the ones most likely to vote no.
UPDATE: A Yes on 19 spokesman notes that the survey, as well as others showing it trailing, was done before the campaign started running its first major ad, featuring a retired California police chief. Watch it:
Calling all HuffPost superfans!
Sign up for membership to become a founding member and help shape HuffPost's next chapter