WASHINGTON -- Protesters spent the night camped out in front of the U.S Department of Veteran Affairs to bring awareness to the 22 veterans who die by suicide a day -- and the possibility that pot could help.
The protesters want the VA to recognize cannabis as a safe alternative to the pharmaceutical drugs that are regularly prescribed to veterans.
"A patient should have the right to choose the best health care to save his life," Brandon Wyatt, an Army veteran who said he served in Iraq in 2003, told The Huffington Post. "Because we hate cannabis so much, we're willing to let 22 veterans die per day? How can you ignore that?"
The VA has acknowledged that anywhere from 18 to 22 veterans die by suicide per day, though those statistics may actually be even more grim than originally thought.
The protest, which took place across from VA headquarters in McPherson Square Park, was spearheaded by a band of veteran support groups and marijuana advocacy organizations including Dopefest, MagicalButter, The Cannaball Run and the National Organization for the Reform of Marijuana Laws.
A giant pill bottle and 22 American flags representing the 22 veteran suicides per day, along with several art projects, tents and booths, were spread across the park.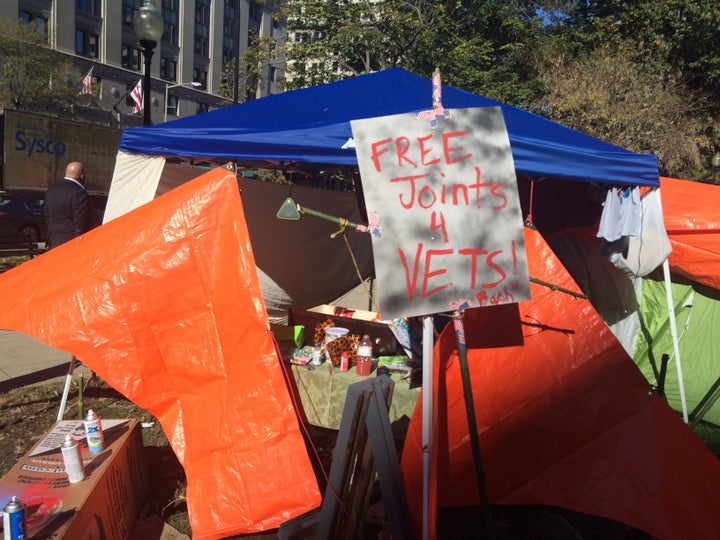 Jose Martinez, who said he served in Afghanistan and lost his arm in 2012, traveled from California to participate in the protest. Martinez, 26, said that once he got back, opiate pills sent him into a period of depression.
"I went from being this statue, this amazing person that was unbeatable to ... [being] wheelchair-bound for life. I hated everybody, I didn't want to be around anybody," Martinez said. "Opiate pills just induced me into all that. I started getting more and more depressed."
According to its website, the VA currently provides two forms of cognitive behavioral therapy to veterans with PTSD to help them understand their trauma and have less fear of their traumatic memories.
A recent study in the Journal of Psychoactive Drugs suggested marijuana was effective for reducing post-traumatic stress symptoms. Patients in the study reported 75 percent reduction in PTSD symptoms when smoking marijuana, though researchers said the issue needs a closer look.
Though some states have legalized marijuana for medical or recreational use, it's still illegal under federal law, meaning VA doctors are reluctant to recommend it to patients.
That could change, however. The Senate on Tuesday approved legislation with a provision that would allow VA doctors to recommend marijuana for patients in states that have legalized it for medical use. The bill needs to merge with legislation that passed the House before it can become law.
"Veterans in medical marijuana states should be treated the same as any other resident, and should be able to discuss marijuana with their doctor and use it if it's medically necessary," Michael Collins of Drug Policy Alliance said in a release Tuesday.
The VA told HuffPost on Thursday that it does not prohibit veterans who utilize marijuana programs from also participating in substance abuse programs that the Veterans Health Administration offers.
"As marijuana use is still a federal offense VA will not provide for use or conduct research with illegal substances regardless of state laws," a spokeswoman for the VA said. "However, patients who participate in a non-VA marijuana program will not be denied access to care for VA clinical programs, but should be assessed for misuse, adverse effects, and withdrawal. While patients participating in State marijuana programs must not be denied VHA services, the decisions to modify treatment plans in those situations need to be made by individual providers in partnership with their patients."
This story has been updated to include a statement from the VA.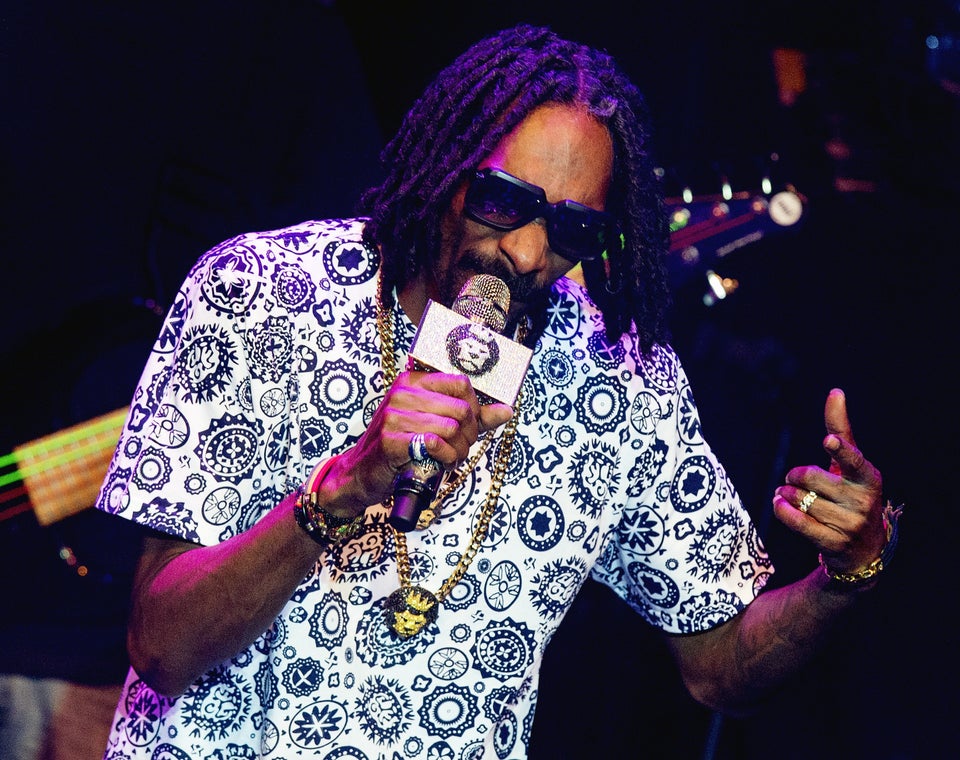 Most Influential People Who've Used Marijuana
Popular in the Community