By Victoria Harrison, Houzz
Don't have space for a guest bed or sofa bed? Enter the Murphy bed, which swings up or folds into a closet or cabinet when not in use. This ingenious item allows you to fit an extra sleeping space into the most spatially challenged area.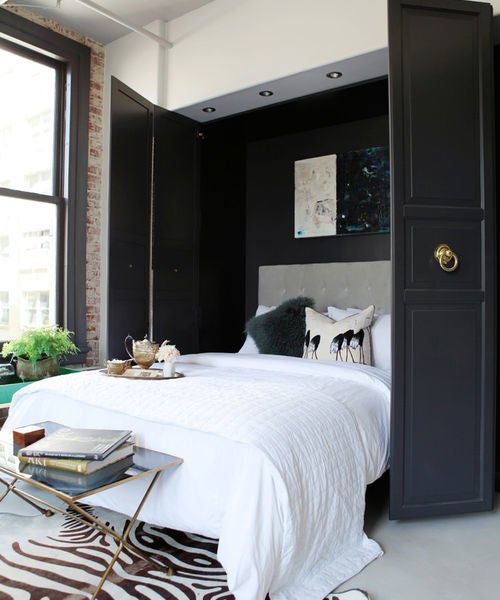 How does one fit a foldout bed into this chic apartment without ruining the contemporary feel? The owners turned the bed into a beautiful feature in its own right. At first glance, this looks like a standard row of cabinets.
But once opened, the doors reveal a double bed that pulls down to convert this one-bedroom loft into a "'two-bedroom" property.
Thanks to an upholstered headboard, a charcoal-painted interior and the inclusion of contemporary art above the bed, this petite sleeping space has the snug, polished feel of a boutique hotel room.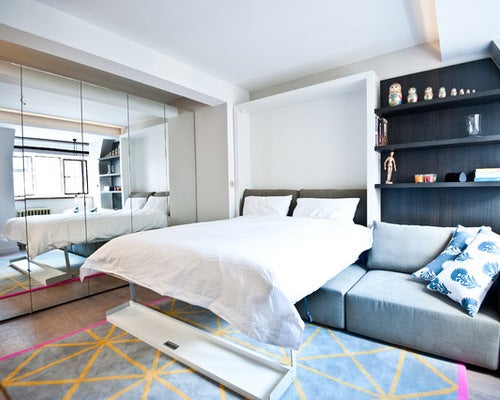 Let It Hover Above the Sofa
Don't have space for a foldout bed and a sofa? Be inspired by this clever London studio. A double bed pulls down from the wall behind the sofa and "floats" just above it to create a sleeping space.
"You just tuck the back cushions down the side, and then it's ready," says Olga Alexeeva of interior design company Black and Milk. "It's nice and high, just right for watching TV. You feel as if you're in a boutique hotel!" The bed, sofa and shelves are a set, which Alexeeva ordered from an Italian manufacturer. "It's not bespoke, but the company was able to modify the shelves to fit with the sloping wall," she says.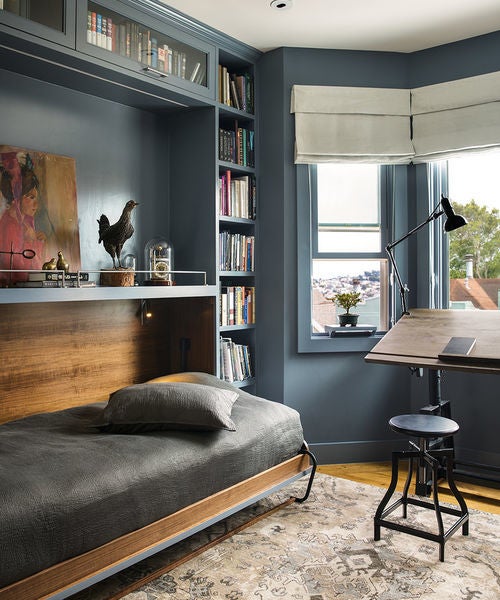 If you're faced with a really tiny room and you don't want a bed to take up the entire space, there are smaller designs available that are perfect for children or solo adults.
As shown here, a small cabinet folds down to expose a single bed. This is a great solution for a compact room, as the bed unfolds very neatly to provide a sleeping space that doesn't take up too much floor area. This makes the room usable for other activities even when the bed is out.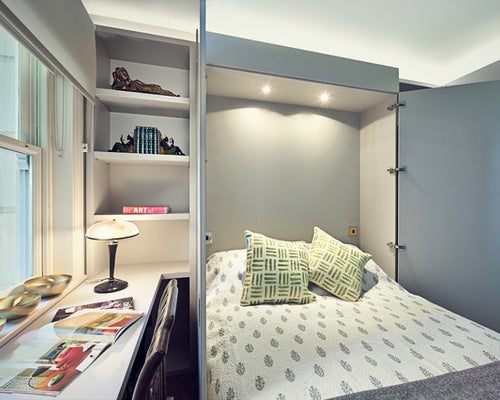 The owners of this home packed plenty of functionality into a relatively compact room thanks to some hardworking furniture. A slim built-in desk and custom shelving ensure that the space can be used as an office or reading room during the day.
At night, the chair stays tucked under the desk, and the cabinet opens to reveal a pull-down double bed with integrated lighting. This design is perfect for a multiuse room or studio apartment.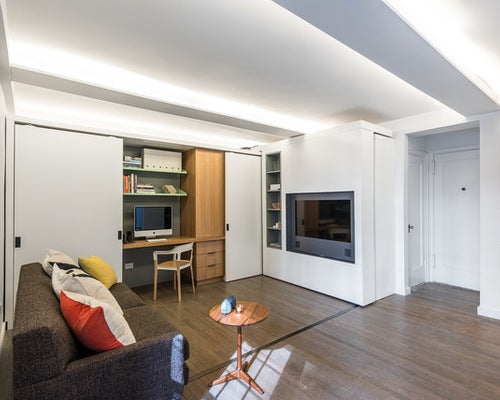 This rather custom solution is something to consider when redesigning a truly tiny studio apartment. The designer created a sliding wall that allows the space to be used as a living room during the day …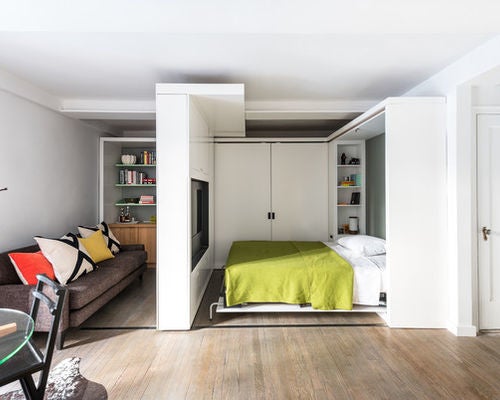 … and a bedroom at night.
A built-in bedside unit with shelves and electrical outlets is tucked into the bed opening, and the TV in the sliding wall swivels so that it can be viewed from either side.
Related
Popular in the Community