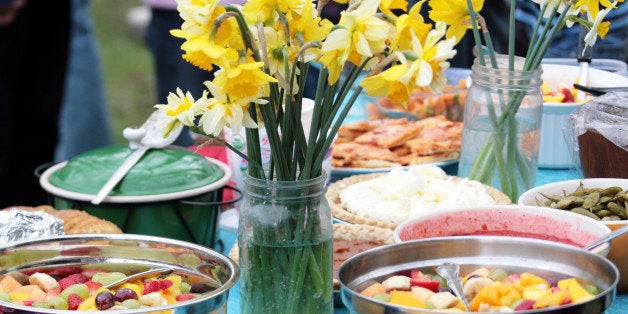 North Carolina native Ashley English is descended from a long line of entertainers. The kind who hosted black tie and evening gown midnight feasts, Sunday suppers, and what she describes as epic holiday meals. Now that English is an adult, it should come as no surprise that she loves to host parties herself. She and her husband Glenn excel at organizing fetes for loved ones throughout the year. Whether it's a summer picnic or a pumpkin-themed party in the fall, guests will find homemade food, crafts, and décor fitting of the season.
It's appropriate, then, that English has written a book all about entertaining. With sixteen potluck parties built around the seasons she offers recipes and ideas for decorating and crafting. In Handmade Gatherings: Recipes and Crafts for Seasonal Celebrations & Potluck Parties, published by Roost Books this spring, English shares all her secrets and a great deal of her warm personality.
A common thread through her previous books on homesteading (how to raise chickens, keep bees, create homemade dairy products... ) has been to slow down and enjoy the process. Her approach with entertaining is no different.
Following is what English had to say about her new book...

You mention hailing from a lineage of culinary and social enthusiasts. The vision of your bridge-playing paternal grandparents in black tie is dear! How do you approach entertaining differently than your parents and grandparents?
I suppose the greatest difference in our entertaining styles is that they followed trends when it comes to food and I follow seasons. What they served at their gatherings was completely related to what was en vogue for dining at the time, whereas what I serve is in relationship to what's available in my garden or at area farmers' markets and orchards.
Your connection to nature is present throughout the book. Who else would have thought of a party to celebrate pollinators! Tell us in your own words how nature informs your ideas for menus and décor.
My childhood was punctuated with massive amounts of outdoor play. From treehouses to dirt bikes, canoeing to beachside frolicking, the time I spent outside left an indelible mark. As an adult, that early exposure to the natural world has engendered both an abiding comfort outdoors as well as a true affinity for and sense of stewardship with nature. When I entertain, I look for cues on how to best pull off a particular gathering from the season and climate I find myself in. I truly believe that food tastes better and decor is more lovely if it's consumed, physically and visually, in season.
How did you choose which parties to include? Any left on the editing table you want to share tidbits about?
Honestly? I chose the ones that seemed like they'd be the most fun to do! This book involved 16 gatherings, and they all actually happened with the folks appearing on the pages. These weren't staged events, with models and props. Each seasonal gathering shown in the book truly occurred, with real world friends and family. As such, I wanted to include only those events that promised to be the most fun. I also kept in mind both the foods that myself and my family like to eat, as well as those my friends would likely be game for cooking, too. Anything too far out of our wheelhouse, or that didn't completely work for my climate (which is the mountains of western NC) was omitted.
Do you have any special stories relating to the making of your book?
It's funny how much my son, who is now 3 1/2, got accustomed to us regularly hosting parties during the writing of the book. The very first gathering we photographed was "Pollinating Ideas", and he was 17 months old at the time. The last was completed when he was 2 1/2. Over those months of writing, we hosted and photographed 16 gatherings, so he became really used to us having get togethers. For a while, he would wake up and say, "What party are we having today?" I love that. I think the gatherings really helped inform and shape his personality at such an early age. He's now quite gregarious and routinely invites everyone over, including strangers we meet on the street!