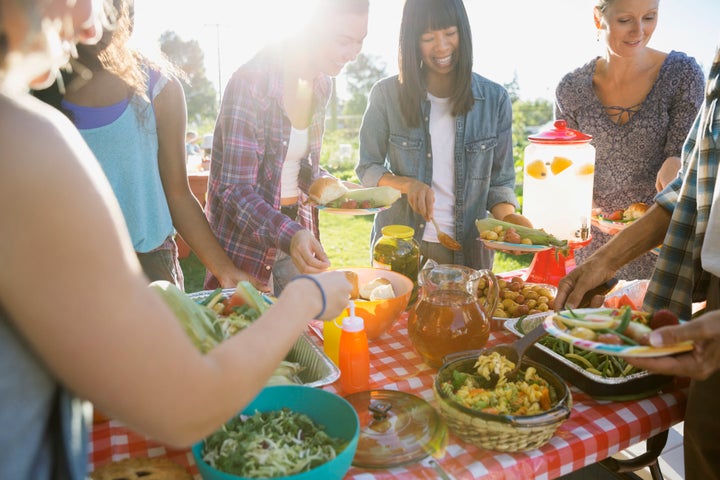 There was a time not too long ago when the word "potluck" conjured images of congealing casseroles with varying levels of warmth piled side-by-side on long tables in musty church basements. For some, this remains the case.
But, newsflash to the uninitiated: Potlucks today appear to be more popular than ever, even if they aren't usually called that anymore.
Instead, we have Friendsgivings and cook-offs, feasts and "fests." And in addition to getting more people back into the kitchen to cook -- something most of us could use some help with -- they could also be helping us eat better.
In the words of Anne Genduso, associate director of consumer communications at No Kid Hungry: "The potluck is back."
Last year, No Kid Hungry launched a national Friendsgiving initiative where participants could host a holiday group dinner and raise money for the anti-hunger non-profit at the same time. A spokeswoman for the program said its inaugural offering was a success.
Of course, to describe a potluck as "trendy" would be a stretch because the concept is definitely not new. As a Straight Dope column noted in 2005, the phenomenon dates all the way back to at least the Middle Ages in Europe, when the owners of inns and taverns would keep their leftovers warm in a pot in order to have something to offer to their guests. Those guests, in turn, were relying on the luck of the pot to get fed.
Jonathan Brumberg-Kraus, a professor at Wheaton College in Norton, Massachusetts, whose work focuses on meals and religion, argues that the concept of a potluck has roots that go back even further, to biblical times.
In the apostle Paul's first letter to the Corinthians in the New Testament, Brumberg-Kraus points out, Paul writes that well-off and poor members of a first-century Christian community were divided based on the quality and amount of food they brought to meals. To help bring the group together, Paul calls for the symbolic offering of bread and wine.
"They don't call it a potluck, but that appears to be what's happening," Brumberg-Kraus told The Huffington Post.
Of course, today's potluck is a little bit different.
Not only are most gatherings agnostic when it comes to faith, but also when it comes to types of diet. This is a place where potlucks excel when compared to a more traditional dinner party -- even if a group of gluten-free, Paleo, vegan and omnivore eaters were to come together for a potluck, if they each brought a dish that adhered to their own personal dietary preferences or requirements, they would each have at least one thing to eat.
"The good thing about that is it encourages people to be much more inclusive and aware," Brumberg-Kraus said. "You want everyone at the meal to feel a part of it and have something to eat."
More often than not, it's going to be something at least somewhat healthy at that, so long as it was homemade. Research has shown that home cooking is key to a healthier diet because meals made at home tend to be healthier than food consumed in restaurants. And yet the number of Americans who regularly cook at home began to decline in 1965 and has failed to improve since the mid-1990s, though low-income families appear to be cooking more than higher-income ones.
According to Cynthia Harriman, director of nutrition strategies at Oldways, a non-profit that promotes healthy eating, preparing a dish for a potluck, and particularly after receiving positive feedback for it, can serve as a confidence booster for people looking to get back into the kitchen.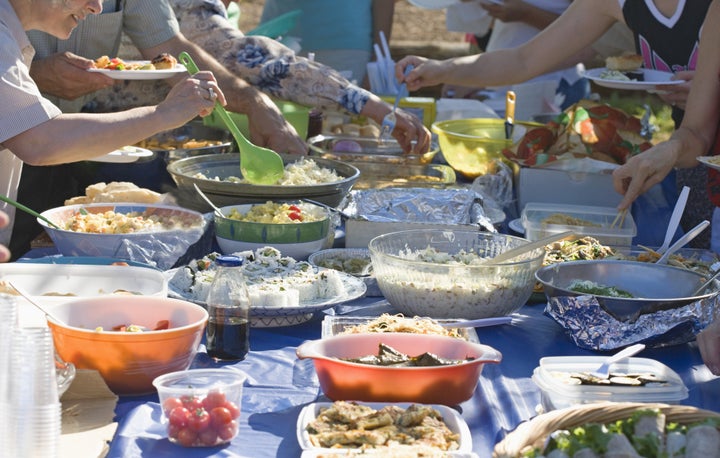 And, because there will be so many dishes to choose from, there's less pressure for hosts and guests alike that other guests will enjoy their dish.
"It takes so many layers of what people perceive as the pressures of cooking a meal literally off the table so that we can relax and say, 'Wait a minute, it's just about getting together with friends and having a good time,'" Harriman said.
The simple act of gathering with others to eat homemade food has real value, Harriman added. And it's something she said the current generation has moved away from.
"Getting together with other people is an important part of eating well," Harriman told HuffPost. "If you eat really healthy food and you're eating it all by yourself or out of the cupholder of your car, that's not necessarily a healthy, sustaining experience for our body."
Ready to plan a potluck of your own? Below are a few tips from this writer:
SO YOU WANNA HOST A POTLUCK?

Consider trying a theme.

Sometimes potluck invitees might find themselves somewhat overwhelmed by the endless possibilities of foods they could bring. A theme -- such as a certain cuisine or recipes from a particular cookbook -- could help everyone feel more confident their dish will be a hit (or at least that they'll be in on the experiment).

Planning is essential. Creating a shared Google doc that your guests can edit is essential. Having guests sign up in advance to bring certain dishes will ensure a balanced meal, especially if you indicate the courses -- salads, main dishes, vegetable sides, etc. -- you want represented at the meal. Alternatively, these

potluck-organizing

apps

could prove helpful. And don't forget to plan ahead for who will require access to the stove top and oven to warm up their dishes.

Make sure there's something for everyone.

On that same Google doc, or perhaps through checking in over e-mail or the phone ahead of the meal, be sure to have your guests indicate any dietary limitations or food allergies and communicate that to fellow guests so you know what to expect.

Don't forget about drinks.

Having both alcoholic and non-alcoholic beverages available for your guests is the primary responsibility of you, the host. But it can also be a good option to offer to any guests who don't feel comfortable cooking. Above all, just make sure no one's glass will be empty.

Take care of those leftovers.

Offering your own takeaway containers to guests can help reduce food waste and allow your guests to get a second taste of dishes that they enjoyed. You can purchase relatively affordable plastic food storage containers or recyclable cardboard takeout containers to send extra food home with your guests.

Above all, don't stress.

Just think, you're only responsible for one dish yourself, so you'll already well ahead of the game when it comes to hosting duties. And these folks probably wouldn't be coming to your home if they didn't enjoy your company in the first place, so go ahead and have fun with it.
Joseph Erbentraut covers promising innovations and challenges in the areas of food and water. In addition, Erbentraut explores the evolving ways Americans are identifying and defining themselves. Follow Erbentraut on Twitter at @robojojo. Tips? Email joseph.erbentraut@huffingtonpost.com.
Do you want to be more mindful about eating healthy foods that'll keep your mind and body at their best? Sign up for our newsletter and join our Eat Well, Feel Great challenge to learn how to fuel your body in the healthiest way possible. We'll deliver tips, challenges and advice to your inbox every day.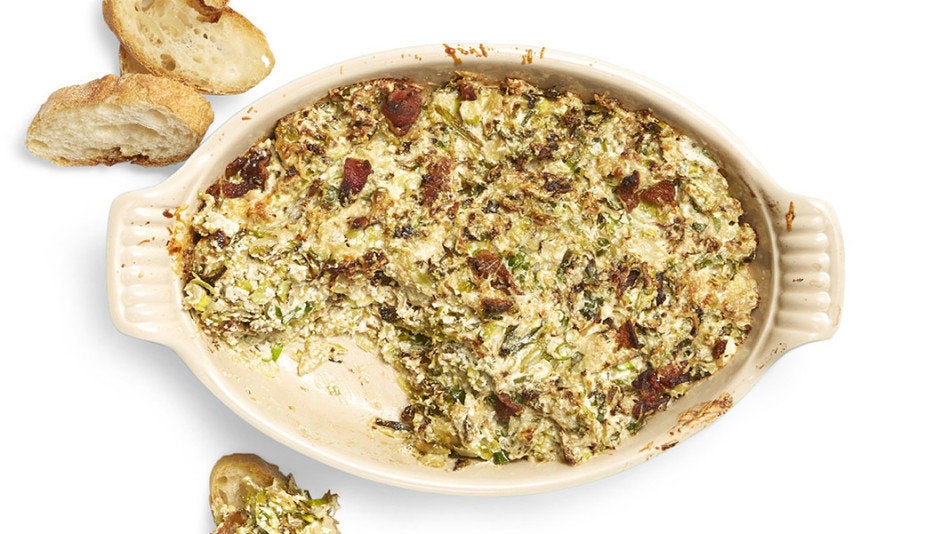 5 Potluck-Perfect Appetizers