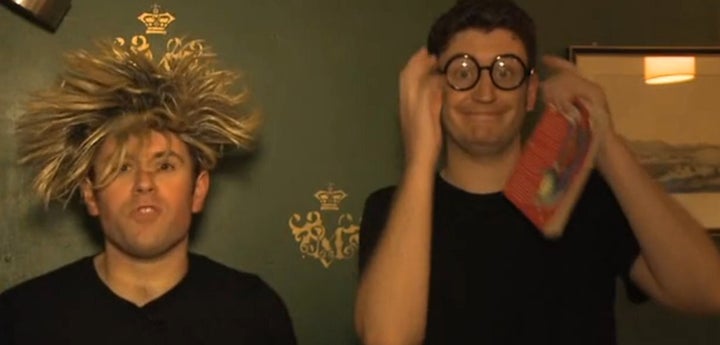 Just when you thought "The Hunger Games" was the new kid in town, here comes a version of "Harry Potter" for the under-10 set. "Potted Potter," a 2-man show from the UK that condenses all 7 Harry Potter books into an "unauthorized" 70 minutes, will make its US debut this June, in a summer off-Broadway run geared to kids who most likely weren't born when the first "Potter" book came out.
This is not, we repeat, not, the Potter parody Darren Criss wrote in the dorms of the University of Michigan, "A Very Potter Musical," which you might have seen or emailed to your friends or written fan fiction about. Unlike that version, which hit a nerve with people around the age Harry and co. would be now, "Potted Potter" has made its mark offline, at matinee shows in London and elsewhere populated by the daytime crowd of kids and their parents.
Reviewing "Potted Potter" in 2011, The Guardian's Michael Hann praised it as a sort of revolutionary throwback to a bygone mold of family entertainment, "a show that works for both adults and children without descending into constant double entendre." (Hann also recounts the story of a heckler at a "Potted Potter" showing whom he estimated to be "5 or 6," around the age of an original hardbook print of the series' last book, "Harry Potter And The Deathly Hallows.")
Written and performed by Daniel Clarkson and Jefferson Turner, the play features on-the-spot costume changes and an interactive Quidditch game, additions to a 5-minute version the duo premiered in 2005. Since then, Clarkson and Turner have launched a modest franchise, performing various incarnations of the show that have given them steady critical success, with Olivier nominations (Britain's version of the Tony) in 2011 and 2012, both in the category of "Best Entertainment & Family Show."
Related
Popular in the Community