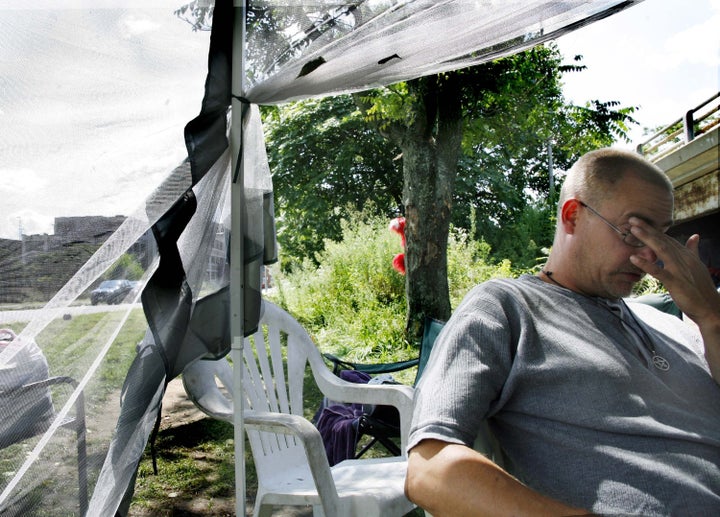 Income fell, the poverty rate rose and the number of uninsured grew by more than half a million from 2007 to 2008, the government announced Thursday morning.
The poverty rate rose from 12.5 percent in 2007 to 13.2 percent in 2008, the highest it's been in 11 years, according to to the Census Bureau's annual Income, Poverty and Health Insurance Coverage report. In 2008, 39.8 million people were in poverty, up from 37.3 million in 2007.
Real median household income fell 3.6 percent to $50,303 from $52,163, ending three years of growth. The decline is similar to those of the previous two recessions, though it's unknown when the current one will end.
"Today's data reflect what we knew to be true about the final year of the Bush administration: The typical American family lost ground, more Americans fell into poverty and fewer had private health insurance," U.S. Commerce Secretary Gary Locke said in a statement. "The numbers underscore two important points: One, there is an urgent need to pass health insurance reform to drive down costs for hard-pressed American families. And two, the Recovery Act was crucial for preventing a struggling economy from falling into depression."
The number of uninsured rose to 46.3 million from 45.7 million. The uninsured rate, up one-tenth of a percent point to 15.4 percent, did not see a statistically significant change because the overall size of the population grew. Survey respondents who had insurance at any time in 2008 are not reflected in the numbers even if they lost insurance last year.
President Obama said that the number of uninsured is probably even higher than reflected in the new data.
"We know through more up-to-date surveys that since the recession intensified last September, the situation has grown worse," Obama said. "Over the last 12 months, it's estimated that the ranks of the uninsured have swelled by nearly 6 million people. Seventeen thousand men and women every single day. And we know that during this period of time, the number of adults who get their coverage at the workplace has dropped by 8 million people. And I don't have to tell you about all the problems plaguing the health care system and the fact that they don't just affect the uninsured."
<0--1524--hh>0--1524--hh>
REAL LIFE. REAL NEWS. REAL VOICES.
Help us tell more of the stories that matter from voices that too often remain unheard.