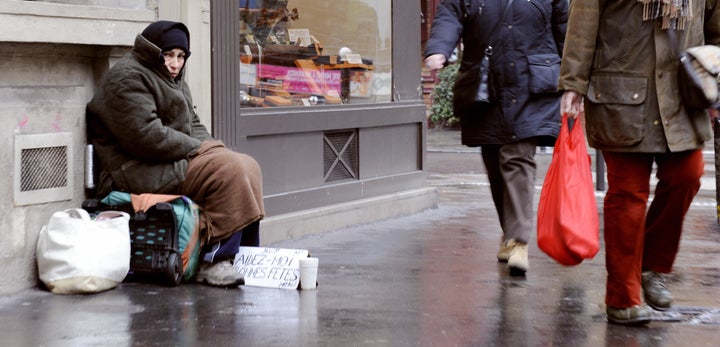 WASHINGTON -- The U.S. poverty rate jumped to 14.3 percent in 2009 -- its highest level since 1994 -- while lawmakers in some of the poorest states consistently voted against key antipoverty measures, an advocacy group said on Monday.
In its annual "Poverty Scorecard", which grades members of Congress on their voting records on poverty-related legislation, the Sargent Shriver National Center on Poverty Law found "there is often a negative correlation between a state's poverty rate and the voting record of its members, meaning the states with the highest poverty rates had delegations with the lowest average scores in voting to fight poverty."
Both senators in Mississippi, where one in five people are living in poverty, received an "F" for their antipoverty voting records in 2009. Sens. Thad Cochran (R-Miss.) and Roger Wicker (R-Miss.) voted against extending unemployment benefits, the Paycheck Fairness Act, an amendment to extend the Temporary Assistance for Needy Families (TANF) jobs program, and ten other poverty-fighting bills that could have provided financial relief to their low-income constituents.
In South Carolina, which had a 17.1 percent poverty rate in 2009, six out of eight lawmakers received grades of "D" or lower on their antipoverty efforts, with Sen. Jim Demint (R-S.C.) earning the lowest possible grade of "F-" for voting down all of the 14 measures on the Center's list.
The "Scorecard" found that a significant percentage of lawmakers with poor voting records on antipoverty measures are from Southern states, including Louisiana, Alabama, Mississippi, South Carolina and Oklahoma, and that several states with higher-than-average poverty rates have Congressional delegates with good records in voting to fight poverty. Every delegate in New Mexico, for instance, earned an "A" for their efforts, despite the state's 18.1 percent poverty rate.
"We publish the Scorecard for the sake of transparency; so that people are able to see what their elected officials are doing to fight poverty," said the Center's Director of Economic Security Dan Lesser in a statement. "Our senators and representatives need to be held accountable for their efforts, or lack thereof, in this fight."
The Census Bureau defined poverty in 2009 as an annual income of less than $21,954 for a family of four and $10,956 for an individual. About 43.6 million Americans lived below the poverty line last year -- the highest number in 51 years -- and the poverty rate for children under 18 jumped to a whopping 20.7 percent.
"With a mind-boggling 44 million Americans living in poverty in 2009; it was imperative that our elected representatives enact measures in 2010 to try to reverse the trend," said Lesser. "Some of them chose to act, while some didn't, and we as voters need to know that."
Support HuffPost
The Stakes Have Never Been Higher
Popular in the Community