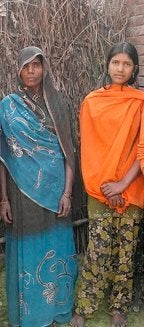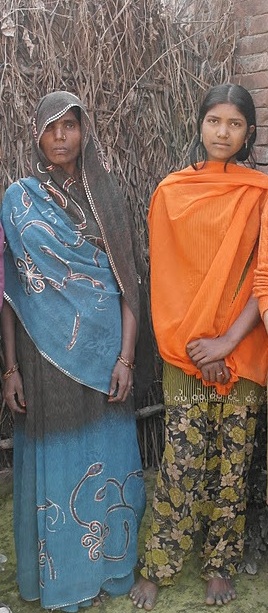 A Mother and her daughter's values clash in rural northern India. Is this what happens to teenagers everywhere, or does living in extreme poverty exacerbate these issues?
"A proper life is to get married, go to the farm and work and then come home and cook for the family." -- Saraswati
"I don't want to get married, ever." -- Shobha
Uttar Pradesh, India: Maybe 42-year-old Saraswati and her 15-year-old daughter, Shobha, just clash in ways that mothers and teenagers do all over the world. Saraswati grew up in rural poverty with only a few years of schooling, married a man her parents chose and has worked hard all her life doing the only work available in remote Godha Village -- manual labor. She had to pull her only daughter, Shobha, out of school last year when the money for fees ran out. Now she watches over the girl like a hawk, fearful that Shobha's virtue could be compromised before Mom has a chance to save up for the funds necessary to marry her off.
Saraswati got her current job raising three goats for Samridhi "because of my poverty status," she admits. "I am one of the poorest of the poor around here." Goat ownership quickly became a family affair: Saraswati's husband Kamlesh made the trek to Rajasthan with the Samridhi team to purchase the very first batch of goats. Saraswati took ownership of three goats, and today they are all thriving under her care.
"My entire family is very supportive of this venture," she says, her thin arms flinging wide as she smiles. "My youngest son wants to take them out grazing every time." Wearing an elegant turquoise sari with brown beading, Saraswati has just returned from a relative's wedding. She dreams of saving up for the high cost of her daughter's upcoming wedding, believing that "a proper life" for her daughter will be "to go to the farm and work and then come home and cook for the family."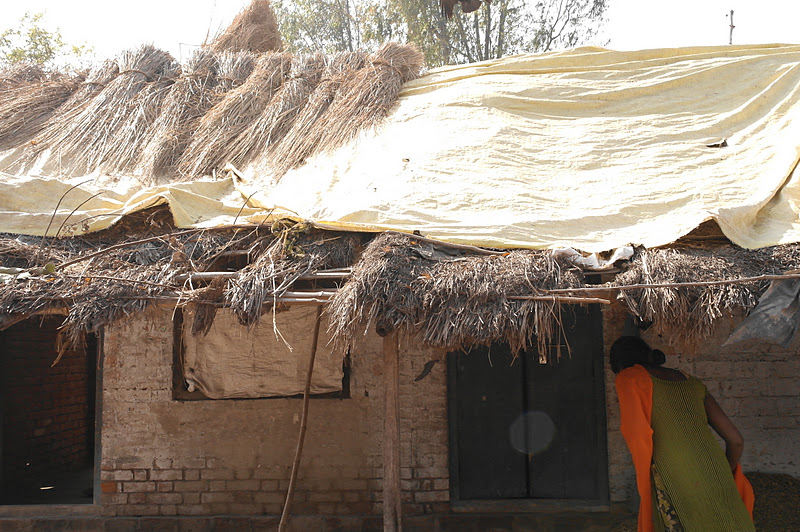 Hanging back in the shadows of the thatch roof, leaning against their brick house with her arms folded, Shobha listens without saying a word. She looks different from the older women in the rural village of Godha, and it's not just because of her youth. She wears pants, while the older women drape themselves in saris. She hangs back shyly at first, but once she opens up, young Shobha has some pretty strong opinions not so common to these parts.
"I don't want to get married, ever," she tells us in a low voice, when her mother ducks inside to make tea. Pulled out of school in the 9th grade, Shobha dreams of going back. "I like to study. I like all subjects." For her, the easiest subject was Sanskrit. If she could, she would go to college, live someplace far beyond this village and do some sort of important work at a desk in an office. She feels she is in a forced position, and has tried to talk with her mother about it, but to no avail. Her mom won't even let her visit with her girlfriends in the neighborhood.
Just then, Saraswati returns with a tray full of cups of tea. "She can have friends if she likes. It's just that I need her home, to help me," Saraswati explains. "Here in the village, if girls walk about too much, people will talk."
Shobha likes to cook, she tells us. Her favorite dish is a type of fried doughnut made for Muslim holidays. She does not take tea, but helps serve the others, slowly shrinking back into herself as the older women talk about their jobs, expenses and health issues. Saraswati says that once she pays for her daughter's wedding and puts her sons through school, she will expand their one-room house, invest in a sewing machine to launch a tailoring business in the village and then buy herself lots of gold jewelry. Laughter bubbles up from the courtyard of the tiny house that feels, to Shobha, like a trap.
As we leave, we wonder what fate will befall the girl with the orange scarf and the fake-diamond earrings, torn as she is between family devotion and worldly ambition. As her mother and the other women of Godha build up their businesses and savings, maybe they will begin to see a way for Shobha to have it all.
Skees visited Gobha Village in northern India with two teams of social entrepreneurs working together to end poverty through jobs creation: Seattle-based Upaya Social Ventures, first funder of and technical advisor to Lucknow-based Samridhi Dairy, turning an ancient rural livelihood on its head by combining fair-wage ultrapoor outreach with a profitable business model. The following video explains how.
Related
Popular in the Community