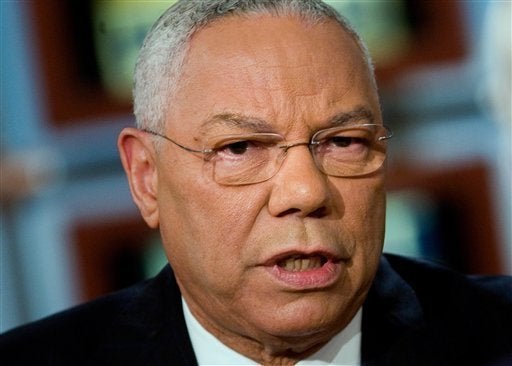 Colin Powell's endorsement of Barack Obama reverberated throughout the world of politics, with lawmakers and pundits across the political spectrum declaring it a huge boost for the Democratic contender.
Former Republican Speaker of the House Newt Gingrich told ABC News, "What that just did in one sound bite... is it eliminated the experience argument."
On the stump today, Joe Biden celebrated the endorsement telling an 11,500-strong rally in Tacoma, Washington that it should put to rest any questions about Obama's readiness to be commander in chief.
"Today we're proud, and I mean this sincerely, very proud to add another critical voice in American public policy and military affairs for the past 25 years to the endormsent list of those who have joined endorsing our ticket, Colin Powell!. Thank you, Colin!"
David Gergen, longtime aide to both Republican and Democratic presidents, called it "the most important endorsement of the campaign."
And an unnamed GOP official told Politico: "This Powell endorsement is the nail in the coffin," said one Republican official, speaking anonymously to offer candid thoughts about the party's nominee. "Not just because of him, but the indictment he laid out of the McCain campaign."
Even Kevin Madden, the telegenic former spokesman for Mitt Romney who's hit the airwaves to support McCain, said:
Endorsements tend to reaffirm what voters already know or like (or dislike) about a candidate's personal and ideological attributes. But the endorsement of Colin Powell is significant because of its timing and the message it sends to swing Democrats and independents...
His endorsement is aimed at easing those doubts about Obama's readiness and experience right at the time voters are making their decision on whom they will support on Election Day.
And Norman J. Orenstein, resident scholar at the American Enterprise Institute, told Politico:
A Powell endorsement now is a huge step to close that sale, to make Obama seem even safer and more attractive as a president.
Susan Eisenhower, the formerly Republican granddaughter of President Eisenhower, who was busy stumping for Obama in southwest Florida today said, "I'd like to associate myself with all the points he made."
But the McCain campaign dismissed the endorsement, with a spokesperson telling WWAY: "John McCain has been endorsed by more than 300 retired generals and admirals. That's over 10 times more than what Senator Obama has received."

Calling all HuffPost superfans!
Sign up for membership to become a founding member and help shape HuffPost's next chapter