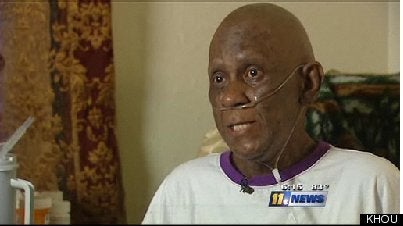 Mable Randon is suffering from the late stages of cancer. She's bound by a wheel chair and only breathing with the help of an electrically-powered oxygen machine. Rucks Russell of KHOU in Houston reports that the local power company sent her a disconnection notice because of late bills. She applied to the Critical Customer Program, a payment plan seemingly tailor-made for people in Randon's condition who depend on electric life support -- but she was denied.
Her provider, Freedom Power, already had the most complaints of any energy company in Texas. The Texas Public Utilities Commission launched an investigation into Randon's case on Wednesday, which will keep the power on for the time being. Texas-based Amegy Bank has set up a charity fund to help her keep her lights on.
Darla Tolliver and her husband, Jim, are just $28,000 away from owning their home after making payments since 2001, reports Claire Galofaro of the Bristol Herald Courier in Virginia. But now, after Jim lost his job, they are three months behind on their mortgage, and fearing foreclosure. "It's like you're in quicksand, and the more you struggle and try to get out, the more you sink" remarked Darla. "My life is in that house...the thought of losing it is unbearable."
Bessie Mae Berger, 97, is homeless. She lives with her two sons in a Chevrolet Suburban, reports Bob Pool of the Los Angeles Times. Her sons, Larry and Charlie Wilkerson, are both unemployed and get by on disability checks and food stamps. A damaged nerve and degenerative arthritis, respectively, forced them out of work years ago. They now panhandle for extra change -- Berger holds a sign reading "I am 97 years old. Homeless. Broke. Need Help Please." Because they insist on living together, they have been repeatedly denied government-subsidized housing, and are running into brick walls navigating government aid programs. "There's a million empty homes here in California, but they can't seem to find one we can live in," said Larry. The Times also has an affecting audio slideshow, showing how the family lives in their own words.
In New Haven, Conn., Baobao Zhang reports in the Yale Daily News that funding for homeless shelters is dwindling just as their demand is increasing in the foreclosure crisis and the colder weather. The crippled economy has increased demand for family shelter by 30 percent, according to a report from New Haven Home Recovery. The non-profit, which has a $200,000 budget gap, is depending on private donations to help operate its two shelters so that it doesn't have to turn homeless people out into the freezing cold. Even under normal budget circumstances the shelters often fill far beyond capacity.
Seymore Frankel, 79, has been showing his dedication to others by volunteering with a food distribution program in Springfield, Mass., for fifteen years, reports local TV station WWLP. As part of Rachel's Table, Frankel has consistently traveled around and collecting donated food from restaurants and grocery stores for churches and homeless organizations. "For many years the community was good to me and after I retired I figured it was about time I try to hep them," he said.

HuffPost readers: Seen a good local story? Heard about a heroic judge, neighbor, or doctor helping people stay in their homes? Tell us about it! Email jmhattem@gmail.com.


Calling all HuffPost superfans!
Sign up for membership to become a founding member and help shape HuffPost's next chapter