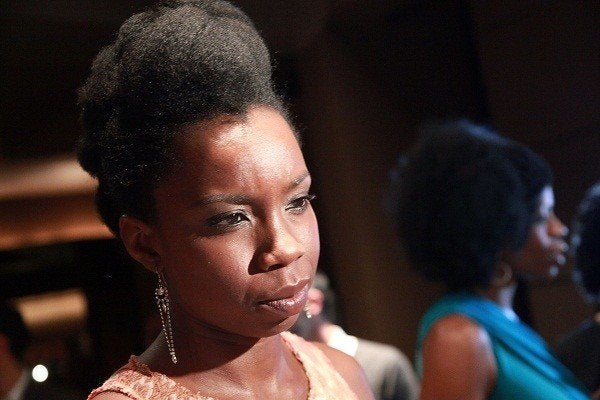 This month, BlackVoices is shining the spotlight on 12 people who are primed to make big waves in 2012.
Known for her breakout role in the newly-released drama "Pariah," actress Adepero Oduye is poised to become one of Hollywood's next generation of rising stars.
Though the 33-year-old Brooklyn, N.Y., native has been noted for her stellar turn as Alike, she admitted that the role was a challenge.
"The most challenging thing about doing this film was that I had to be very open and vulnerable," she told HuffPost BlackVoices. "Depending on the day, depending on the week sometimes you could just feel a little raw. Your body just naturally wants to shut down. So I had to keep pushing myself to keep going further. Keep digging and being more open and being more vulnerable, because that's the story and that's where the character's at. And I'm in service of this story and the character to keep pushing myself to stay open."
Prior to her acting career, Oduye wanted to become a doctor, and was premed at Cornell University. That changed at the age of 19 following her father's unforeseen death. As a result, Oduye views a few parallels between herself and her character Alike, who also is split between living her own life and appeasing her parents.
"It's that thing of, you love your parents, they love you. They have an idea of how they want you to live your life because they think that it's going to make your life better or easier, and you don't want to let them down," she said. "And I think with me, there were expectations. My father had this idea of what I should do and wanted the best for me. And I think it was hard because you don't want to disappoint people. I didn't want to disappoint my father, and it's definitely what Alike was feeling to. I think that's something that many can relate to."
"You look up to your parents and you want them to accept you, and you don't want them to look at you in a negative light. So you do things to make them proud and accept you. The thing about growing up is that you have to find your own voice, and that's where Alike is."
For now, Adepero Oduye is in the process of finding her next juicy role. "I'm just excited to see what happens and what comes my way. Nothing solid as of yet. But we'll see."

Calling all HuffPost superfans!
Sign up for membership to become a founding member and help shape HuffPost's next chapter