"If it's possible, Jeannie and I would like to talk to you and Sean about something tonight. Nothing bad. Happy news." I'd been talking to Sean's mom about various bus drop-offs and pick-ups when she asked.
"Sure, we should be home around 8," I told her.
"Ok, sounds great. See you then," she chirped.
We'd driven to Saratoga earlier in the day and talked about the call. "Now, tell me again, how did she say it?" Sean asked me.
"She just said that they'd been trying to find a time to talk to both of us, but that the four of us never seem to be around at the same time. She said it was happy news," I shrugged. He didn't say anything. The truck was quiet, the cars beside us colorful blurs of motion as we headed south in a driving rain.
"I bet they're getting married," he said without looking at me.
I turned to him, "Really?" It hadn't occurred to me that it would be that, but the look on his face, the way his jaw was set while he looked straight ahead, gave me pause. I leaned back. It might not have been a revelation to hear that his mom was gay, but for her to finally acknowledge it, that was something.
Jan has lived with Jeannie for as long as I've known Sean. As a matter of fact, they sort of came as a package deal, my first time meeting them being a drop-in visit they made at Williamstown. There were stories of trips to Maine and friends in other towns, traditions that they celebrated, but never at home. There were pictures of them in poses with their arms around each other. It had never bothered me, it just was what it was; they were a couple away from us, never with us. Sean's grandparents used to call them, "The girls," anything more was never talked about by anyone.
Sean told me about sitting down with his mom around Christmastime during college. He told her that he wanted her to have anything that would make her happy, that he would love her no matter what. That year, he gave her (as we all did back then, don't judge) a mix tape. One of the songs was Ben Harper's "Mama's Got a Girlfriend Now."
"She didn't get it," he told me, ruefully and crestfallen. Those were the times I had no words, moments when I wished that something I could say or do would fill this gaping wound.
I started to ask him if he was OK, but thought better of it. He watched the cars ahead. The rain came down harder and harder, I imagined it was to fill the quiet and rinse the hurt.
When we got home the girls were amped up, charging around the house with baby blankets draped as capes across their shoulders. Eventually, the sounds from upstairs softened and stopped altogether. We sat in that awkward way you do when someone has something to say. Jeannie watched Jan, Sean watched his lap, Jan looked at the square of sofa between where we were sitting. We waited, Jeannie rocked in her seat and playfully swatted at Jan, "Go ahead." My heart hurt, he'd been right.
Her whole body was charged, her legs bobbing on the cushion, almost like she was trying to shake the announcement out of her mouth. I cannot conjure the words, but I'll never forget her face. As the words tumbled out, "15 years, 30 years, actually, right, Jeannie?" and "seems like it's time," all the layers of why it was that we were having this moment showed in her entire being. The girl they called "Dolly," the high school student who was trying to make sense of what was expected and what she felt, the new mom, the adult daughter.
I looked at Sean, but like Jan, he wasn't making eye contact. Jeannie was quiet. The years that Sean and Jan had between them, the years that Jeannie had been waiting in the wings, the decades Jan had with parents from a generation that never had the tools to absorb this sort of thing, they all collided in the space in front of us.
"I want to tell you. I never -- My mom, my soulmate, I never told her." We were all quiet, the impulse to fill the space palpable. "I remember a friend's parents, they told my folks about their daughter. She was, well, they told her about her." Jan's face scrunched up, the word gay left unspoken, a mixture of bewilderment and resignation.
"Mom was disgusted by it. She said things," shaking her head with her eyes closed, "She just thought it was awful and kept saying that she didn't understand it."
She talked about her mom's last days and how she told her, "I'll be OK, mom. Jeannie and I, we're going to take care of each other." It was, I suppose, an admission of sorts. It wasn't acceptance. It wasn't release. "So, I guess Jeannie and I are," she slowed, deliberately enunciating the next words, a trait that is directly from her father, "getting married." She waited and then looked at us with a face that was a perfect blend of hope and nerves. "We are hoping that you'll come."
Sean was slow to respond. I swept in with words of congratulations and a hug. Sean looked at me, his face inscrutable, then he chimed in with, "Congratulations, that's great." Jeannie said, "It's going to be just family, 10 people. We weren't sure if you'd want them to be there, but the girls could come. We understand you might not want them to be, that it might be confusing."
Sean, perhaps speaking from a place of having been left out, said, "Absolutely. They'll want to be there and we want them there." They stayed for a while longer, relieved to have talked to us, giddy about the wedding and the girls. After they left, we didn't talk about it again until the following night at dinner with the girls.
"Girls, girls we have some news," I said. Their heads snapped, news is exciting. "Nana and Jeannie are going to get married." We waited and watched them. They were quiet. "What do you think?"
Briar was the first to speak, "Wait, they are getting married?" I nodded and explained, "Yes, nothing will really change. They have always loved each other, they just want to make it more official." She look dismayed.
"So they have always been loving each other? But why? Why did they keep this a secret from us?" The ripples of how we try to protect one another, all the while hurting everyone, seems to be one of those inevitable human tragedies. "Well, we've told you about how not everyone thinks it's OK for girls to marry girls, or boys to marry boys, right?" They nodded. "Nana and Jeannie have waited a long time. They didn't mean to keep it a secret from you."
"Can we go to the wedding?" Ave asked quietly. We told her that of course they could. "I feel a little weird," she said. We nodded, "It's OK. It's OK to feel anything that you want." She was quiet. "Zoe's aunt married her aunt. Well, not her aunt, but her aunt married a girl, so she has two aunts."
"That's cool." Ave nodded.
"Which one will be the bride?" Finley wondered.
"They both will, but I don't think that you should expect either of them to wear a fancy dress." I told her.
"Ooh, ooh, ooh, can we be flower girls?" Finley squealed. "Can we wear our fancy dresses?" Avery said.
"Yes, you can be flower girls and you can wear fancy dresses." We said laughing. "One more thing girls, we are all happy about this, but not everyone thinks it's OK for two women to get married. If you ever have questions or if someone says something mean, you can talk to us."
They nodded. We finished dinner, and while not much had changed, in some ways, everything had.
Just a few weeks from now, Nana and Jeannie will get married. Sean will be designing the invitations that are being sent out to a rapidly-expanding list. We won't hear the term "roommate" anymore. We won't stammer at how to describe anything. We are ever more a part of their relationship, without qualifiers or hesitation. The girls will be fanciful, exuberant flower girls. Sean and I will be present as their witnesses at the ceremony. What might have been shocking was not, because when all was said and done, despite not ever putting a name on it, Nana and Jeannie have always loved each other right in front of all of us.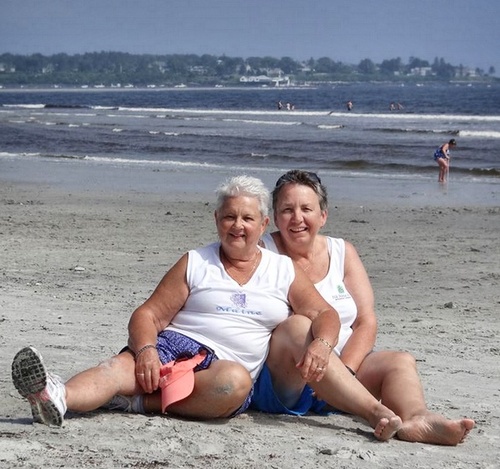 Related