Welcome back to this investigative piece where we examine players who have seen some notable changes in their power profiles -- for better or for worse -- in 2017. We're nearing the end of August, which means we're only a few weeks away from the traditional mid-August trade deadline for many fantasy leagues.
Identifying top power risers and fallers for each week can help you swing the best deals and spot the best pickups before your competition. We'll do the hard work for you, looking at the underlying metrics that influence a hitter's power: fly-ball, pull, hard-hit rates and exit velocity. Consider buying these week 17 power risers and selling these week 17 power fallers.
Editor's note: Get MLB Premium for free through October when you buy an NFL Premium Pass (including Draft Kit + DFS). Whoa. Check out our MLB and NFL Premium tools, and crush your leagues.Sign Up Now!
Power Risers
Stanton may not have gone yard on Thursday night, but he did draw three walks in a Bonds-ian display of respect for his outrageously hot bat. The 27-year-old looks to finally be on pace to reach the 40-homer mark, though he'd do even more if he retained this 12-homers-in-18-games pace. Now, we all know that's extremely unlikely to happen, but the real question becomes just how earned is that 46 percent HR/FB rate that he's been walking around with for much of July?
Well, his 53.1 percent fly-ball rate looks to be in good standing. So do his 49 percent pull rate and 47 percent hard-hit rate. He's barely hitting any line-drives (12.2 percent), which speaks to a more generous uppercut swing in the works (in general). So, while he's not destroying baseballs with a hard-hit rate around 90 percent or anything, he's got all of the power metrics trending around 50 percent at the same time. With his natural strength swinging that sort of bat, streaks like this make perfect sense.
It's a bit ironic that Murphy is included here despite being one of the few Nationals who didn't clear the fence on Thursday, but just bear with me. While Murph has continued to deliver a fantastic batting average in July, he's only hit three homers. This is rather interesting considering he's pulling the ball at a ridiculous 63.3-percent clip with a 50 percent hard-hit rate and 40 percent fly-ball rate over the last two weeks.
Someone with his talent for making solid contact with those rates could be due for an extreme power breakout. I realize this is far from a perfect science, but he's not hitting like a guy who only wants to win the National League batting title. It'll take a lot to pry him from his current owner, but there could actually be more than meets the eye here.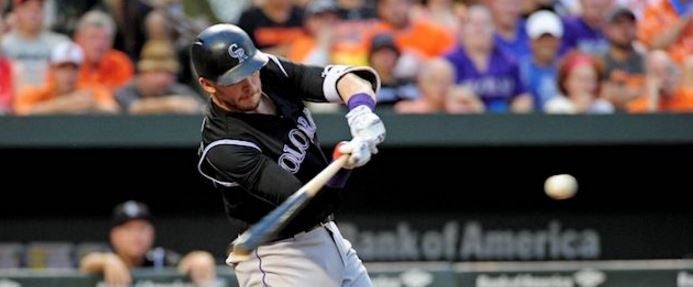 So, Story has hit three doubles, a triple and three homers over his first 12 games of the second half. You want to know if this is something to believe in or not. Well, rest assured, he's still Trevor Story and houses immense power and a strikeout rate above 30 percent (16 K's in 44 second-half at-bats). But, in this neat little sample size of ours, the sophomore has worked with an uncharacteristically-low 25 percent fly-ball rate by pulling the ball 60.7 percent of the time with a gaudy 71.4 percent hard-hit rate.
Interestingly enough, his fly-ball rate has actually been trending downward with every passing month this season -- it sat at 68.6 percent in April! But his hard-hit rates were mired in the low-to-mid 30s, which is still above average, but nowhere near his outstanding 44.9 percent clip from last season. He may be finding his groove here, and most of his fantasy owners seem to be eager to sell him still. Key in on how he looks against a slider. He hit 10 homers against them with a .625 slugging percentage last season, but that mark has plummeted to .297 in '17. His homer on July 19 came off of a slider. I'm in.
Pham is a hot streak worth buying, as his 52.6 percent hard-hit rate in the second half has underscored a fun 28.9 percent line-drive rate, 34.2 percent fly-ball rate and 36.8 percent pull rate. While the fly-ball and pull rates aren't astounding, the overall picture is one of a bat that has established a healthy baseline for itself. I'm not saying he'll rip off hitting streaks left and right, but he should be good for at least five homers a month with these metrics.
While some fantasy owners are deadset in holding onto their precious waiver-wire pickups so that they can sit there and smugly dwell in their own genius (we've all done this, and it does have its own glory to it), there are many others who secretly feel uneasy about owning a rather unproven commodity. And by that, I mean someone who really wasn't on any preseason buzz lists. Pham's vision looks to be impeccably clear at the moment and his metrics reflect a sustainable level of play here.
Power Fallers
Don't look now, but Goldschmidt has cleared the fence since the first game of the second half -- way back on July 14! Yes, there's a little bit of hyperbole in my voice but at the same time, that's two weeks ago now. Sure, he's still hitting over .300, stealing bases and producing at the plate, but we want the power too!
The biggest issue right now is a 70.8 percent ground-ball rate. This has throttled his power overall, as he's hitting fly balls on one out of every four batted balls, with the same rate applying to his pulling pitches. His 37.5 percent hard-hit rate in the second half isn't poor, but you want that gold-caliber bat being swung. He's not Paul Silverschmidt, after all. He should bounce back soon, but those in dire straits who need to win each and every week in the playoff hunt should consider selling him off for a King's ransom.
While I always find it funny when guys who I peg to write about early in the day decide to launch a homer later, Donaldson has still gone deep just twice over the last six-and-a-half weeks. The good (better?) news is that he's now logged an extra-base hit in three of his last four contests, but really he just looks off aside from still having a stellar walk rate.
While his 34.4 percent pull rate and 28.1 percent fly-ball rate aren't ideal, they also aren't total value-suckers. His 15.6 percent hard-hit rate, however, totally is. In fact, his 24 percent hard-hit rate on the month of July is nearly half of his June rate, so the notion of shaking off the rust doesn't even seem to apply here. I realize I said to be happy about some XBHs racking up, but this looks to be a verified sinking ship.
Never mind that the Rays just traded for Lucas Duda -- which surely zaps LoMo's value further -- but the 29-year-old has also gone just 4-for-30 (.133) over his last nine games with just one extra-base hit (a double) and 11 strikeouts. Upset about the Home Run Derby snub, it appeared that he was going to stick it to everyone when he hit two homers in Tampa Bay's first three games in the second half.
Unfortunately, it becomes very difficult to do things like hit a home run when you're only logging a hard-hit rate of 16 percent. His healthy 52 percent fly-ball rate becomes his own worst enemy when the balls are being softly hit, as his 23.1 percent pop-up rate is atrocious. There might be some who aren't looking too hard and will buy him on his seasonal numbers thus far, or perhaps just give 85 cents on the dollar and hope that this is simply a fluke. Perhaps the Derby omission really did weigh on him, but it's more likely that pitchers have just caught up. He's hitting just .206 against four-seamers and has registered one hit on the 152 cutters that he's seen this season (.077 -- he at least hit .143 in '16).
Gyorko has received a few days off lately given his 7-for-44 (.159) stretch to open the second half. This is a guy who hit .300 with 13 homers and 45 RBI in the first half but was also riding a strangely-high BABIP given zero change to his batted-ball profile from 2016. But someone else can wax poetic about his average, we're here to discuss the dingers.
While the 28-year-old has posted decent fly-ball (34.3 percent) and pull (28.6 percent) rates in his last 13 games, a 20 percent hard-hit rate simply isn't going to translate into big flies. What's "neat" is that all of the HH rate that he lost from the first half has simply shifted into "medium contact", so it isn't like he's suddenly hitting weak dribblers -- they're just lacking that extra oomph. It's worth noting that Gyorko has averaged around 124 games played over his Major League career, and it's possible that he's fading a bit with sustained health keeping him in the lineup so often. Put more faith in the stats, but things like that can't be ignored.
More Risers and Fallers
REAL LIFE. REAL NEWS. REAL VOICES.
Help us tell more of the stories that matter from voices that too often remain unheard.
This post was published on the now-closed HuffPost Contributor platform. Contributors control their own work and posted freely to our site. If you need to flag this entry as abusive,
send us an email
.