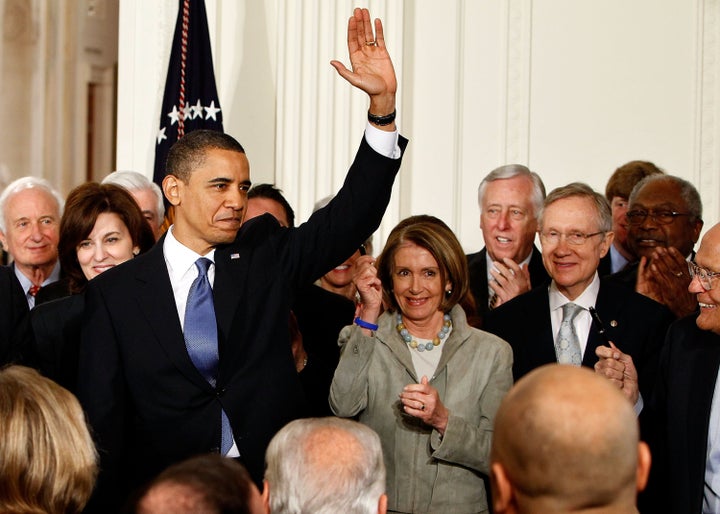 Raúl Grijalva is sitting quietly with a few of his staffers at one end of the bar, a bottle of Bud and a shot of whiskey in front of him, while his fellow Democratic members of the House of Representatives roar in celebration at the other end. It's 1 a.m. Less than two hours earlier, after a 14-month battle, Congress approved comprehensive health care reform.
Joe Crowley, ascendant leader of the New Democrat Coalition, stands behind the bar, passing out beers to his colleagues -- Bart Stupak, Melissa Bean, Steve Driehaus, John Larson. Crowley owns the place, his six-foot-four frame and Tyrannosaurus head towering over the crush of members, staffers, reporters and regulars.
Grijalva is a regular. So much so that for weeks, a cartoon caricature of him hung on a wall by the front door: a shirtless Grijalva, at the beach, admiring a sandcastle he has built with Lynn Woolsey and Debbie Wasserman Schultz. None of them see the menacing gang of senators marching their way. In the unsubtle tradition of political cartoons, the sandcastle spells out PUBLIC OPTION. The cartoon, fittingly, has been taken down before tonight. "We're commiserating and celebrating," says Grijalva, whose mood is leaning heavily toward the former.
The Senate hooligans depicted in the cartoon had co-conspirators. Democrats in both chambers let the sand castle get smashed, each blaming the other. The Democrats celebrating their victory in the bar tonight are of a decidedly conservative variety, the result of a conscious strategy to move the party to the right in order to take back the House and pad the majority. They may be the ones partying, but it's Grijalva and his progressive allies who are picking up the tab.
Since 1995, members of the Congressional Progressive Caucus have collectively given $6.3 million directly to members of the Blue Dog and New Democrat coalitions, according to an analysis by the Huffington Post of data compiled by the Center for Responsive Politics. That's not an overwhelming sum when the average winning campaign nowadays costs more than $1 million, but it represents one-sixth of all giving from one faction within the party to another. It doesn't include the millions that progressives have given to the Democratic Congressional Campaign Committee -- rank-and-file members are supposed to cough up $150,000 every two years (though many miss that mark), committee chairmen $250,000 and up. The DCCC turns around and funnels that money to conservative Democrats in close races. Add to that the millions spent by organized labor and outside groups such as MoveOn.org, and it's clear that progressive donors have become major financial benefactors of the conservative Democrats who battled to undermine their agenda. "That tension exists a lot," George Miller says about the party's demand that progressives fund their intramural rivals. "That tension exists a lot. And it's real."
Democrats play it too safe, says Grijalva. "When I give my dues to the DCCC, or when you contribute to it, you have no distinction as to where your money is going to go. And it goes to front-liners and usually Blue Dogs and [they] usually vote against our issues. And that's a real frustration. And usually, if there's a progressive running, it's the last consideration in terms of support," he says.
The Blue Dog and New Democrat coalitions emerged in the 1990s in the wake of the successful Republican campaign to take control of Congress, and have continuously expanded their membership ever since. The prototypical Blue Dog comes from a socially conservative, rural district; New Democrats are more likely to represent pro-choice bankers from the suburbs. Both groups offer automatic protection against accusations that their members are too liberal.
The money flows almost entirely in one direction: The conservative coalitions have given progressives less than $600,000. While Blue Dogs and New Democrats have each given their fellow travelers $2.4 million in the past 15 years, members of the much larger progressive caucus have helped each other to the tune of just $1.3 million.
Progressives have received very little return on their investment when it comes to important votes. The 34 Democrats who voted against the health care reform bill in March have collectively received $2.1 million from progressive members. More than half of that sum came in the past five years.
Grijalva is piqued that the caucus his fellow progressives helped create has now launched a pep rally in his low-key Tune Inn, which he discovered when he arrived in 2003 after searching for a bar stool safely outside the orbit of Washington's power center. His colleagues don't seem to notice the host's distress. Leaving the bar to shouts of "Crow-ley! Crow-ley!", the Queens congressman out of central casting barely acknowledges Grijalva. Other members give him cursory nods. He stays until after the lights come on -- last call. As the remaining reporters file out, Grijalva says he will begin the fight again tomorrow.
He'll have company. Organized labor, MoveOn.org and progressive members of Congress are increasingly breaking from the orbit of the White House and the Democratic establishment, beginning to take on the administration, build an independent infrastructure and back progressive primary challengers. Unions are working to groom progressive candidates in small, local races and, inside Congress, the progressive caucus -- after years of being treated like the stepchild of the House -- has the potential leadership and organizing vision in place to be ready the next time the nation clamors for a step forward and, in the meantime, to finish what was started on March 21, 2010.
There are two ways to look at Congress. One sees each chamber as a discrete, static body and each bill a challenge to cobble together the coalition needed to get 218 votes. Do it over and over. Put enough points up on the board, cut enough deals and you win. Or, more importantly, you don't lose. It is, in essence, a defensive approach to politics. Done right, it can achieve results.
So far this session, House Speaker Nancy Pelosi (D-Calif.), with the occasional help of President Barack Obama, muscled through a health care reform bill twice, cap-and-trade legislation, Wall Street reform, a $154 billion jobs bill that conservative Blue Dog Democrats hated, and a politically toxic measure to raise the debt ceiling. None of those bills received more than 223 votes.
Yet for all the real accomplishments, many liberals are celebrating less than they are commiserating about a lost opportunity, an opportunity for progressive change that pales in comparison to '33 and '34, '64 and '65, when Democratic majorities redirected the course of the nation. "It is only once in a generation that a people can be lifted above material things," Woodrow Wilson said, perhaps optimistically. "That is why conservative government is in the saddle two-thirds of the time." This generation reformed health care and built on that foundation, but the contemporary Democratic approach relies more on using government money to prop up private institutions, no matter how broken, instead of expanding the public sector. For instance, a public insurance plan -- the "public option" -- was part of the health reform discussion until it came threateningly close to becoming law, at which point it was discarded.
There's another way to look at Congress: It's a dynamic institution. Democrats in Congress and Washington, whether consciously or by drift, have long operated and focused their priorities as if they were talking points engraved in stone. But in a city governed by a jumpy media culture that veers from obsession to ignorance and back on a daily basis, a canny member of Congress is more than a vote on the House floor.
Take the case of Reps. Jared Polis (D-Colo.) and Chellie Pingree (D-Maine). This past January, the health care reform effort was collapsing amidst the rubble of the Senate special election in Massachusetts and Obama was talking publicly about paring reform down to a few essential pieces. Polis had a different idea. In a meeting that Pelosi held for Democratic rookies the week after Scott Brown's surprise victory, he suggested reviving the public option. The Senate had lost its 60-vote supermajority and was in the process of considering the use of the reconciliation procedure, which would require only 50 votes and eliminate the need to placate public option opponents such as Sen. Joe Lieberman.
Adam Green, a former staffer for MoveOn.org and co-founder of the Progressive Change Campaign Committee, got word of Polis's suggestion and offered to help organize outside support. Pingree, a progressive freshman from a state represented by two moderate Republican senators, offered to join, and the legislative pair began circulating a letter calling on the Senate to use reconciliation to pass a public option and finish health care reform. Green's PCCC was joined by Howard Dean's Democracy for America and CREDO Action in pushing for outside support, generating calls into members' offices asking that they sign on. More than a hundred members signed on.
Polis enlisted the support of Sen. Michael Bennet, a freshman Democrat from his home state of Colorado facing pressure from a progressive primary challenger. New York's freshman Sen. Kirsten Gillibrand also signed on. With freshman Sen. Jeff Merkley (D-Oregon) and sophomore Sen. Sherrod Brown (D-Ohio), the four put out a Senate version of the Pingree-Polis letter. and the effort caught fire in the Senate, where more than 40 senators eventually made the commitment.
"The Netroots advocacy effort made an enormous impact. When Chellie Pingree and I launched the letter, we didn't know if we'd have a dozen, two dozen signatures, and that's probably what we would've had, absent a strong Netroots effort," says Polis.
As the number of senators joining the effort expanded, it generated leadership support, with Democratic Sens. Charles Schumer (N.Y.) and Bob Menendez (N.J.) getting behind it. Senate Majority Leader Harry Reid (D-Nev.) was the next to jump on board. "Senator Reid has always and continues to support the public option as a way to drive down costs and create competition," read a statement his office put out on a Friday in late February. "That is why he included the measure in his original health care proposal. If a decision is made to use reconciliation to advance health care, Senator Reid will work with the White House, the House, and members of his caucus in an effort to craft a public option that can overcome procedural obstacles and secure enough votes."
It gave new life to the effort and cemented the policy as a key legislative priority in the future.
"It helped a whole lot," says Rep. James Clyburn (D-S.C.), the man in charge of whipping votes, of the Pingree-Polis letter. "The base getting fired up helped a whole lot. We could feel it out there." Majority Leader Steny Hoyer (D-Md.), reflecting on the letter, agrees. "It added energy to the effort to get to where we wanted to get," he says in an interview in his office the week the House passed the final piece of reform.
The White House didn't appreciate the new energy. A few hours after Reid's office put out a statement in support of the public option, Rahm Emanuel met senior Reid aide Jim Manley and a few reporters from the Washington Post and the New York Times for dinner and drinks at Lola's, a Capitol Hill bar and grill. Seeing Manley, Emanuel offered a response to Reid's gesture with one of his own: a double-bird, an eerie sight given his half-severed right finger.
Though they couldn't save the public option, while the Democratic establishment was lying flat on its back progressives played offense and helped saved reform itself. The organized effort offers a glimpse into the progressive resurgence taking shape independent of the White House, as the movement realizes that Obama will need to be forced to bring about the change he promised.
The most recognizable members of the progressive caucus, the ones who spend more time tending to their committees than organizing, were elected amid the collapse of trust in American institutions during the mid-1970s. Watergate Babies Henry Waxman, Charlie Rangel and George Miller took the House by its bull horns: They upended the seniority system in a historic revolt aimed at breaking the hold on power that Southern Democrats had in the House. But as the fall of Nixon gave way to the rise of Reagan, they were forced to spend more than a decade on the defensive. The most effective Democratic legislator during the period was, not coincidentally, Ted Kennedy, who was renowned for his fine-grained, dynamic understanding of the institution and, more importantly, the personal pressures facing each member. He was always on the offense, even with a Republican in the White House.
The battle to make policy on Capitol Hill changed in 1994, when Newt Gingrich and the Republicans took back control of the House of Representatives for the first time in four decades. Legislating was no longer a priority. Undoing legislation was. And that didn't require intellectual infrastructure. Gingrich attacked the institution itself, wiping out funding for caucus staff, the intellectual infrastructure around which liberals in Congress organized. "It was a big blow," Miller says.
For the next 12 years, Democrats came to Congress to run out the clock. Chastened by the losses of the 1980s and early 1990s, they triangulated, pushing policy positions not because they were good in and of themselves but because they were better than the opposite. They wanted to be in the majority because it was awful to be in the minority. And for those on the most left-wing edges of the party who were uncomfortable with a deliberately incremental political vision, such as Woolsey, Barbara Lee or Maxine Waters, the defensive posture was the best option. Abject and unbending opposition -- to war, nuclear weapons, free trade, tax cuts for the rich, you name it -- had been standard for nearly three decades by the time Democrats finally retook Congress in 2006 and the White House in 2008. "Some people would like to run on a razor-thin majority, but I don't think that's necessarily the case for me," says George Miller. "This is a system that's very dynamic. The idea that somehow you could perfectly fashion that coalition, you're sort of defying history. ... You work with the coalition you have. I think that's the strength of the Speaker. This is our coalition, these are the seats we fought for, these are the people that came here. They have a right to have a say in the outcome here."
Raúl Grijalva and his allies, which include other newcomers like Reps. Donna Edwards (D-Md.) and Keith Ellison (D-Minn.), don't have the same scars. Powered by an emboldened, less institutionalized left, they see Congress as a stagnant body in need of a sharper, clearer vision. But while Congress worked on the most significant pieces of legislation in several generations, the Congressional Progressive Caucus was never able to present itself as an organized negotiating bloc and clearly articulate the demands of the left beyond the public option. Instead, it burned up its energy in a civil war. The fight was personal -- longtime CPC leader Lynn Woolsey simply does not like her new co-chair and the feeling appears to be mutual -- but it was also about competing political visions.
The reactions from Grijalva and Woolsey to the Pingree-Polis initiative are indicative. Grijalva encouraged them and urged each member of the CPC to sign the letter and encouraged the support from outside groups. Woolsey disagreed. "I wouldn't say she was chastising me or anything else, but saying that those [are the] kinds of things the progressive caucus is happy to do together," says Pingree. People who heard about the conversation claim that it wasn't as gentle as Pingree describes it but, either way, the point was clear: Woolsey thinks CPC leadership doesn't need any outside help, whether from freshmen Democrats, online organizations or old-school liberal groups.
Pingree brushed off Woolsey's admonishment. With backing from three outside groups, the PCCC, Howard Dean's Democracy for America and Credo Action, they pushed ahead.
"We were thrilled," says Polis. "Without even knowing that it was going to occur, there was a strong Netroots push by Adam Green and others to raise money for Chellie Pingree and I, and it raised over $25,000 for my reelection campaign and similar numbers for Chellie Pingree." The groups would go on to raise even larger sums for Bennet and Gillibrand on the Senate side. And while the total dollar amounts so far are small, each candidate picked up the names and email addresses of thousands of progressive donors who can be tapped again and again. Bennet and Gillibrand, both of whom had been viewed with suspicion by the Democratic base, were given a boost, with Bennet's opponent left only to argue that Bennet hadn't fought hard enough for it. Stepping up and pushing a progressive priority had proven to be a winning political strategy.
The relative success of the effort was a rebuke to Woolsey. "Politically, we think it's not a question of influence, it's a question of coalition-building," Grijalva says when asked about Woolsey's concern about the influence of outside groups. "Somebody needs to knock on the door, and knock hard sometimes," he says. "This is not an intellectual exercise, this is a political exercise, and you need political backing."
It's not the kind of backing Woolsey is looking for. In June, Amy Isaacs went to see her old friend Woolsey to tell her that she was retiring after a long organizing career that included 20 years at the old-school liberal organization Americans for Democratic Action. Isaacs wanted to introduce her to the succeeding director and to offer help with her agenda. She had no idea what she was in for. Isaacs describes the meeting that ensued as "what has to have been the most bizarre conversation with a member of Congress that I've had in 40 years." Woolsey made it clear that one of her top priorities was making sure that Grijalva didn't win out in his effort to ally the CPC with outside organizations. "Those aren't quite the words she used, but that was certainly the meaning she conveyed. And it was odd. It was very odd," says Isaacs.
Woolsey, a single mother who worked her way off welfare and was elected to Congress in 1992 to represent the super-wealthy Marin and Sonoma counties, doesn't want help from outside groups, but she also doesn't want them praising her rival. When MoveOn.org sent a mass email into districts represented by members of the CPC, asking them to thank Grijalva for his work on the public option, Woolsey lost it. "They just sent out this universal thing and dropped the member's name in it," says Woolsey. "And they've actually apologized to me profusely for doing that. They were chagrined that they would've done that to me. But they just didn't think. It was a mistake. They shouldn't have done it."
Woolsey would rather wage an internal struggle free from interference. "They're outside groups and they belong -- it is not their job to give direction to the progressive caucus, who are working, all 83 of us, at breakneck speed, to get things as progressive as possible," says Woolsey, who doesn't appreciate her door being knocked on. "To go to the most progressive members of the House and tell them they're not progressive enough is not healthy."
HuffPost asks how the co-chair setup has been going.
Woolsey pauses. "It's hard," she finally says. "I think now the progressive caucus might be mature enough that in the next Congress, we should be looking at having a single chair."
"No. I mean, this is my third term. Year six. No, I won't run for it," she says.
The defensive approach starts with candidate recruitment. Its advocates insist that the path toward liberal governance is to elect as many people with D after their name as possible, regardless of their politics. That is the Rahm Emanuel way. In 2006, as chairman of the DCCC, he successfully engineered a stunning takeover of the House. In 2008, after joining the House leadership, he solidified and expanded the majority. He supported challenges to Republicans in right-leaning districts across the country, often by recruiting the most conservative candidates he could find. The base, he figured, would come out anyway, moved in 2006 by anti-war, anti-Bush passion and in 2008 by hope and change. He was right: the strategy was effective in taking back the majority. But now it's run its course, and progressives are looking for more than just numbers.
The static approach was dictated by simple arithmetic -- win 218 seats. As Pelosi finds on a weekly basis, however, finding that number for a particular Democratic legislative item is a challenge, even with more than 250 Democrats in the chamber. The paradox flows directly from the national strategy of encouraging conservatives to run as Democrats to give the party a majority. The entire caucus gets behind the effort -- even progressives, who actively raise money for candidates who then work to undermine their very agenda.
President Obama, as he so often does, embodies both approaches. He ran as a candidate with a community-organizing background and a dynamic approach to politics, promising to shake up Washington and make the impossible possible. An ever-present and pessimistic "they" haunted his stump speeches, warning that Washington couldn't change, that the power structures were too entrenched. He would prove them wrong. As president, however, he chose instead to work with the institution exactly as he found it, charging Emanuel with accomplishing what was possible. When his economic advisers told him a stimulus of greater than a trillion dollars was needed to fill the hole created by the financial collapse, Emanuel said it wouldn't be possible. So it wasn't attempted, and unemployment soared to 10 percent.
Obama came to office with a list of 12 million supporters ready and willing to help drive his agenda, an army that could have transformed the political reality of Washington. It was never marshaled to the cause of the public option. Obama let it languish and has refused to share it with members of Congress.
Without access to the list, Democrats are left to raise money the way they have for decades. Interest groups with business before Congress shovel money to high-powered members, who then funnel it to vulnerable Democrats and the DCCC.
A significant amount of the money flowing from progressives to conservatives comes from the members of the caucus who chair committees -- George Miller, John Conyers, Barney Frank, Henry Waxman, Louise Slaughter, and formerly Charlie Rangel -- members from safe districts who have risen to positions of power, and who by virtue of their gavels easily rake in the cash, much more than they need for themselves. Keeping those gavels is a matter of keeping the majority, no matter its political makeup.
"Progressive and moderate and conservative Democrats all together have been trying to make sure that we have the majority, and in the districts that are the most up-for-grabs, our candidates tend to be more conservative," says Waxman, chairman of the Energy and Commerce Committee. "So you see a trend for everybody to give to those seats where we have an opportunity to win or we have to have the backing to hold onto it. So that explains why you see progressives giving to Blue Dogs and Blue Dogs giving to Blue Dogs."
After all, what could possibly hurt the progressive agenda more than losing the majority? A former Democratic staffer who came to the Hill in 2001 says padding the majority is a worthwhile endeavor.
"Anybody who actually says [we'd be better with a smaller, more progressive majority] may or may not have experienced the minority and doesn't know how terrible it is living in that world," he says. "It's a shit world to live in. On the House side, to be in the minority, you get nothing. You get absolutely nothing. No legislation gets enacted. You have less staff. You have less resources. You have hundreds or thousands of well meaning young progressives out of work. It's a terror -- it's an absolute terror."
Outside groups also face existential pressure to maintain a majority, especially given an increasingly rightward tilt in the Republican Party - a Speaker John Boehner probably wouldn't have the president of the Sierra Club or EMILY's List in his Outlook contacts.
But a thumbnail description of where a person, especially a new candidate, sits on the political spectrum -- insofar as it's even an accurate depiction of a political ideology -- is not always the determining factor when it comes to winning elections. "There are a lot of places where there's a formula to winning that has nothing to do with ideology, and you just have to be a good campaigner and a good politician. ... There are some pretty liberal members in Republican districts, and they don't have any problem doing what they want to do," says Tom Matzzie, a political consultant and former senior official with MoveOn.org. "It's a big project. You need to recruit starting with city councils and school boards and state legislatures or also find some really talented people. [Freshman Rep.] Tom Perriello [D-Va.] is a very talented person."
Schumer, every bit Emanuel's political match if not more, led an even more stunning takeover of the Senate in 2006 and, after the next cycle, improbably expanded it to a (brief) filibuster-proof 60. Schumer didn't need to depend on conservatives, even in swing states. Newcomers such as Sherrod Brown, Jeff Merkley, Amy Klobuchar (Minn.) and Al Franken (Minn.) have all championed progressives causes.
There are examples of conservative voters electing populist, liberal-leaning candidates in the House, too. Perriello, who won a 2008 race in rural Virginia, is probably the most visible example, the subject of a recent New Yorker profile. Niki Tsongas and Carol Shea-Porter are two more. Then there's Alan Grayson, the outspoken freshman from a Orlando-based swing district. In 2009, he helped pass a bill that would open up the Federal Reserve to a historic audit that could end up changing the makeup of the institution. That bill had been introduced every year for more than two decades by Rep. Ron Paul, a libertarian-leaning Republican with a large following off the Hill but not much of one on it.
Grayson was key, but it's not like Paul was one vote short and Grayson's election put it over the top. Instead, Grayson changed the dynamic. He made an assault on the Fed a central goal throughout the year, using his Financial Services Committee hearing time to question Fed Chairman Ben Bernanke and his underlings in revealing exchanges that were viewed millions of times on YouTube. Grayson worked his colleagues one-on-one, explaining the importance of an audit. As the crucial vote approached, an alliance of bloggers, progressive economists and labor unions backed his bill against a combined Fed and Treasury effort to water it down.
He won. Even if it's weakened in the Senate -- or even if it doesn't pass at all -- the dynamic nature of Congress in particular and politics in general means that the outcome is different for the fight having been waged at all. The Fed still feels and reacts to the pressure. For instance, shortly after Senate Banking Committee Chairman Chris Dodd came out with a financial regulatory overhaul that stripped the Fed of all its consumer protection authority, the Fed unexpectedly put out tougher rules for credit card issuers than Congress had even wanted when it passed its crackdown in the spring.
Shea-Porter survived a close race in 2008 and is expected to be reelected in 2010. The longer she holds her seat while sticking to her progressive politics, the more comfortable her district will get. Washington Republicans never expected to have a tough time retaking Grayson's seat, but the party's top eight recruits have declined to take him on as he has amassed a huge war chest courtesy of progressive online donors. And despite voting his conscience, against the advice of D.C. consultants, Perriello stands as good a chance as any Democrat in a GOP district of holding his seat.
Walking the line in a conservative district isn't easy and has required burn-out levels of commitment from Periello, Grayson, Tsongas and Shea-Porter to tending to the needs of their districts. But they have shown that they can find success, and likely reelection, by clearly asserting their politics, instead of trying to explain it away. "Part of the problem is that we often take this "What's The Matter With Kansas?" approach that assumes that people are reactionary and stupid and that we just need to convince them that they're going to make more money under our plan," says Perriello. "But the fact is people are good, decent, smart people and we should treat them that way. ... People don't have to agree with you on every issue but they do have to believe that you are genuinely doing what you believe is right."
The DCCC has company in retreat. EMILY's List, for example, and the DCCC, have similar goals: The former wants as big a pro-choice majority as possible, the latter as big a Democratic majority as possible. They care, essentially, about nothing else.
Darcy Burner got the EMILY's List education on how to be a candidate. The DCCC does candidate trainings, too, as do the American Federation of State, County and Municipal Employees and Wellstone Action. The EMILY's List and DCCC classes are lessons in how to sound conservative. "They handed out unedited Third Way talking points," says Burner. Third Way is the intellectual source of centrist Democratic talking points. She ran as a progressive, against Washington, D.C. pressure, and lost in 2006 and 2008. Besides pushing them right, the EMILY's List trainer told the class that all this stuff they were hearing about raising money online was largely a myth, that the way to do it was to hit big donors, organize high-dollar fundraisers and otherwise bang the phones. "Everyone in the room turned to look at me," recalls Burner. "I had just raised $125,000 over a weekend in August, all of it online."
Melissa Bean, a New Democrat from Illinois with a clear pro-business bent, is the prototypical Emily's List candidate. Over the course of her career, Bean has received $243,000 from EMILY's List, far more than from any other single source (though, collectively speaking, nobody gives more to Bean than Wall Street does). Bean has received $130,000 from progressives, making her their 11th most popular conservative Democrat.
Bean won her suburban Chicago seat in 2004 from the ultraconservative Republican Phil Crane, founding chairman of the Republican Study Committee and the longest-serving Republican in the House at the time of his defeat. Toppling Crane was no small victory for Democrats across the spectrum.
Aside from no Phil Crane, what do those two groups get for their massive investment in Melissa Bean? EMILY's List gets a pro-choice stalwart. Progressives got yes votes on health care, cap and trade, and financial regulatory reform -- but not quite the regulatory reform they wanted.
Bean is a case of House dynamism in effect -- a Grayson or a Polis in reverse. Though just one member and in just her third term, she's able to use her solid grasp of financial issues and genuine intellect to carve out a leading role -- often doing the handiwork of Wall Street. Crane, meanwhile, would have been merely one more Republican vote against financial regulatory reform.
In the fall, Bean, as chair of the New Democrats' financial services task force, led a bloc of New Dems in a revolt against a sweeping financial reform bill as it was about to come to the House floor for amendments and a final vote. Progressives wanted to allow states to pass tougher laws to protect consumers from abusive bank practices -- things like inactivity fees and excessive overdrafts. Bean threatened to take down the entire bill unless party leadership allowed a vote on her "national standard" amendment, which would allow state attorneys general to prosecute nationally chartered banks but not to enforce state laws that might be tougher than the national law.
Bean, confident in her support, deftly navigated the rabbit warren of committees and power centers in Congress. She faced off with Treasury department officials in Nancy Pelosi's office, negotiating a compromise that disappointed consumer advocates but gave bank lobbyists a "glimmer of hope."
She'd outmaneuvered progressive Democrats, who in the Financial Services Committee had likewise threatened to tank the entire bill if her amendment was included. She pulled her amendment in committee but secured a promise from committee chairman Barney Frank (D-Mass.) that she could have a vote on the amendment when the bill reached the floor. The promise gave her leverage in the negotiations in the speaker's office, and the resulting compromise was added to a catch-all "manager's amendment" that was easily approved.
To the Bean camp, a candidate in a red district like hers simply can't afford the luxury of being progressive on financial reform. And donors know it. "She is terrifically progressive about some things, not as progressive as I like about other things, but I understand why," says Matt Flamm, a Bean campaign volunteer and candidate for state representative in Bean's district. "When it comes to choice, when it comes to gay rights, 100 percent. When it comes to fiscal issues, she is more conservative than I am. If she weren't, she couldn't get elected."
"This is incredibly hostile territory," Flamm says of the district.
The problem with perpetually electing candidates like Bean, though, is that progressive candidates are left to fend for themselves, battling Blue Dogs in primaries who have financial backing from Blue Dogs already in Congress. With the cash advantage, the Blue Dog cruises through the primary, which should be progressive terrain. Once ensconced as the Democratic candidate, progressives move in and, at the direction of the party, funnel money their way.
There's a distinct bias in favor of anointing Blue Dogs, even when progressives have shown they can compete. Doug Tudor, a progressive and a veteran, ran unsuccessfully to unseat Florida Republican Adam Putnam in 2008, winning 43 percent of the vote on a shoestring budget. Putnam retired to run for statewide office in 2010, so Tudor jumped back in the race. So did Lori Edwards, a Blue Dog and a state representative. "Calls to the DCCC were never returned," says Tudor, "but within three or four months they had picked this Blue Dog, Lori Edwards. And she's a fine lady, a good public servant or whatever, but she's certainly not awe-inspiring, and is not going to get your grass roots and your voters excited about going to the polls. They get behind her, and Debbie Wasserman Schultz is hosting fundraisers, and fire-breathing liberals -- self-proclaimed fire-breathing liberal -- [Robert] Wexler is sending out fundraising letters for her, a Blue Dog."
Wasserman Schultz is a DCCC vice-chairwoman and is expected to take over for Rep. Chris Van Hollen (D-Md.) next session. She says Edwards has the best shot of winning and has a base of support as a local elected official in the district. Van Hollen says that it was his understanding that she had the backing of local Democrats, but that he'd look into why the DCCC weighed in on an open primary to back a Blue Dog.
Tudor says no one from the DCCC came down and talked to him or the local Democratic county chairs. "They never once came down here and talked to -- not only to me, but to the chairwomen of the local Democratic executive committees. The county chair people, I have three counties, all of them are Tudor supporters. Perhaps they did talk to the state party, but she didn't talk to the counties," he says. "So they're not talking to the people on the ground and [instead] they're talking to Debbie Wasserman Schultz who's sitting in a D-plus-17 seat or some shit."
Beyond Wexler, a CPC member from Florida who retired in 2010, and Wasserman Schultz, Edwards is already benefiting from Blue Dog backing. The AFL-CIO has backed her. The state's president says that Tudor may more closely reflect the union's politics, but the DCCC endorsement "absolutely" tilted the decision in her favor, making her the most viable candidate. So far, FEC filings show Blue Dogs have given her more than $20,000 while Tudor has gotten almost nothing from progressive members. He had hoped to pick up some cash from an online fundraiser hosted by Nadler and planned for March 13. Nadler, who says he thinks progressives in Congress should do more for the ones trying to get there, had arranged to help five candidates, including Tudor, raise money online, in coordination with Howie Klein's Blue America PAC. The day before the fundraiser, it was canceled.
If Democratic leaders are right that Edwards can pick up the seat, the fight will shift to the House floor, where she will need to be whipped hard to back Democratic legislation after explicitly running against the Democratic agenda.
There is a growing sense that the key to building a progressive party establishment is to stop trying to fix the Democratic Party from within and instead build new institutions. Several progressive members, including Grijalva, Ellison, Edwards, Pingree, Polis and Nadler say in interviews that they are willing to go against the DCCC and back progressive candidates in primary contests where there is no incumbent Democrat. "There should be some members on the inside who do that," Pingree says of supporting progressive challengers. "I've talked to people like Donna Edwards a little bit -- we're freshmen, so we're not a part of the old system as much."
Until they do, however, it'll be the job of outside groups. "People get so immediately panic-stricken about our majority numbers that the caucus will make a front-line list based on who's most vulnerable, no longer who votes with you. And they just start throwing money in that direction," says Pingree.
The newest arrival on the scene, the Progressive Change Campaign Committee, positions itself as the progressive alternative to the DCCC and tries to help candidates who aren't versed in fundraising and the ins-and-outs of a contemporary campaign. The administration, which met regularly with progressive groups -- such as the powerful labor-backed coalition Health Care for America Now -- and approved and disapproved of strategy, often in blunt terms, created a power vacuum that the PCCC has filled. The PCCC now claims a membership of more than 400,000, largely thanks to its activism around the public option and willingness to operate outside of the White House orbit.
They drew blood first, after a disastrous foray into the race for Rahm Emanuel's old congressional seat, in a Virginia primary in March. Scott Robinson argues that the way to win the seat was for the local party apparatus to "lock down the base" while he campaigned to the right. "You come around the left flank. I come around the right flank. And guess what? We're gonna win," he promises. Of course, it's not the local party that will vote in the House; it's the candidate. Progressive Krystal Ball makes the opposite case, that voters were anti-incumbent and the only way to unseat Republican Rob Wittman was by firing up the base. She was on track, she says, to recruit enough volunteers to knock on every door in the district. The PCCC sent a staffer to Virginia to help with field organizing and raised more than $30,000 for her from more than 3,000 small online donors. That's 3,000 people she can continue to tap for contributions. After several caucuses, Ball had 71 delegates locked up, to Robinson's 23. With Ball 30 short of the 101 needed to win, Robinson dropped out.
Throughout the health care fight, the blogosphere attempted to make the connection between financial backing of progressives and support for the public option. Jane Hamsher's FireDogLake, along with DailyKos, OpenLeft and other blogs, rewarded the growing number of progressives who insisted they'd vote against any bill that didn't include a public option tied to Medicare rates. That number eventually rose above 60, but it was meaningless, perhaps ironically for its large size. Nobody in power believed that progressives would take down health care -- and they were right. Grijalva and Dennis Kucinich both offered to return any money donated to encourage them to oppose health care reform without a public option, but the rest took the money and ran.
The blogosphere didn't have the power to keep the progressives in line in the end. A new project will work on building an online infrastructure to make the threat of retaliation or the promise of support more real. Prodding progressive Bill Halter into an Arkansas primary challenge to public option opponent Blanche Lincoln has been the effort's biggest success. "We spent months trying to get everybody behind him to secure the money that could tempt him into the race. We knew that that was critical. And that just needs to happen on an ongoing basis," says Hamsher. "At one time we talked about having monthly parties for members of Congress in liberal electorate groups. And then it sort of broke down -- [SEIU President] Andy [Stern] and I had, last year --and then it broke down into, 'Well, we don't want to challenge the White House,' and that sort of ended that. But that coalition is happening again because the labor unions and MoveOn were so profoundly let down by the alliances that they made."
As long as the progressive movement is funneling money to conservatives, the key to future successes is turning grassroots support on the left into serious money -- and spending it electing progressives. And it's only possible if there are other people like Doug Kahn. Kahn is a big Democratic donor and heir to the Annenberg fortune who is sitting out this cycle even though he has donated more than $200,000 to Democratic and DCCC candidates in recent years. "The people who are really liberal, like me, are disgusted. And the ones I've talked to are just saying, 'Forget this'. They're throwing their hands up. They're not going to give money," says Kahn.
In 2008, says Kahn, he asked the DCCC to list candidates who had an outside shot of beating a Republican and weren't currently getting much party backing. He jumped in and gave the maximum contributions. In 2010, he says, he'll spend his money in a different way. "Anger is a real motivator," says Kahn.
The Florida donor plans to spend $100,000 between two districts currently held by Blue Dogs. He'll come in during the last few weeks and spend money educating Democratic voters about the Blue Dogs' record. "I'm convinced that if they know what the voting records of some of these people are -- that is, Blue Dogs -- a significant percentage, a percentage that could beat the Blue Dog, will simply not vote. I might be wrong about that, but I'm going to try it out," says Kahn.
Kahn says he doesn't yet know which districts he'll attack and has no interest in working to defeat a Blue Dog who is already going to lose. He wants Blue Dogs on the edge and he wants to push them off. The purpose, he says, is not to teach those particular dogs a lesson, but "to move the Blue Dogs who are in the House to have some fear of Democratic voters."
Kahn's plan is to donate the money to Howie Klein's Blue America PAC, which is devoted to funding progressive primary candidates, but he's determined to go forward even if the PAC backs out. Following an interview, Kahn emails a reporter: "I want you to understand my commitment to spend the money I was talking about isn't dependent on future events. It's just that I don't know what Howie and his colleagues are going to do this fall and how they'll feel about the election. I expect to spend the $100,000 through their 527, but allow the (remote) possibility that they won't want to do that, in which case I'll do it independently."
The revenge being plotted by Kahn is an extreme response, but it's merely the sharpest expression of donor dismay. In 2006, MoveOn and Big Labor heavily backed Jason Altmire in his western Pennsylvania race. "He was elected with the support of independent groups and he would not have won in 2006 without them," says Matzzie. He followed Altmire's race closely when he was the Washington director of MoveOn because he grew up in Altmire's district. Collectively, MoveOn and the AFL-CIO raised more than a million dollars for Altimire in 2006, the bulk of his money. Progressives in the House, meanwhile, have given him more than $50,000. He turned around and cast a crucial vote against health care reform.
"Certainly, on health care, we had no inclination he was going to do this," says Matzzie. "I can't imagine what he'd have to do [to win back support]. This is a once-in-a-100-years vote."
A similar dynamic is playing out across the country, where Democrats who voted no have found that there is a limit to progressive support. Congressmen like Michael Arcuri, Larry Kissell and Tim Holden have been told, either explicitly or implicitly, by labor and progressive groups, that they are cutting off funds.
Some have already been abandoned. In November, staffers for Suzanne Kosmas were meeting in her Orlando office with representatives of the local AFL-CIO, telling them why she was still undecided on her vote. At the same moment, Kosmas herself was in her Washington office telling Orlando Sentinel reporters why she was voting no.
"After her health care vote, we sort of put her on legislative time-out, as some of our teachers put it," says Stacy Stepanovich, president of the local AFL-CIO. Mike Williams, president of the statewide union, supported the decision. "There will be no more free passes," he says.
Beginning in the 2008 cycle, he says, the union began focusing more on small, local races. In 2010, he says, more than half of its resources will go toward candidates down-ticket. "One of the issues and problems that organized labor has had over the years is concentrating at the top and not the bottom of the ticket, at the local level," he says.
The time-out seems to have made made an impression on Kosmas, who came back better behaved. She flipped and voted yes on the final health care bill. The union plans to meet on April 10 to decide if she has sufficiently rehabilitated herself to remove the dunce cap.
At the center of this effort sits Raúl Grijalva. He might not be the most powerful progressive member of Congress, but he, Edwards and Ellison have made organizing their main focus and present the most promising vision of a more effective congressional political strategy. They were the engine behind the effort to rally around the public option. (Which, at the very least, distracted critics from other liberal components of the bill.) He is a first-generation American who didn't learn English until the fifth grade. "Growing up, you were made to believe that the fact that you spoke another language or you came from another culture, that there was a bad stigma to that," he says. "I watched my parents go through a lot of stuff, not all of it good, to take care of their family, and it can't help but shape your values."
Grijalva's start in politics came when he volunteered with the farm-workers union in the early '70s, where he met legendary labor leader Dolores Huerta, who is often described, in a fairly sexist way, as the female Cesar Chavez. Their friendship lasts. In the run-up to the final health care vote, Huerta was in Washington, D.C., cracking heads: she gave two hold-out congressmen from California -- Dennis Cardoza and Jim Costa -- a stern lecture, she says. Both came around.
"Raúl is the kind of person that, when you first meet him, you always think that it's the guy that's standing next to him is the politician," says Huerta, who is based in Arizona, where Grijalva's politics were forged.
Like the resident of the White House, Grijalva began as a community organizer, the type of experience that teaches much about how power operates and the art of a specific kind of compromise. "I'm very proud of being a progressive, but I'm also a pragmatist," Grijalva says. "I understand that you take your victory and you build on it. And I think sometimes we on the left tend to think an issue to death as opposed to do an issue. We learned that through the civil rights movement, the farm workers movement, how you get this contract and you work on it. Community organizing, OK, you get the street lights in the neighborhood, then you move to the bigger things: the schools, no health services. But you give everybody a taste of what a victory feels like, and then you get much more help after that."'
Eve Shapiro is a pediatrician in Tucson and a member of the Physicians for a National Health Program, a national group that supports universal health coverage or "single payer," as it is known in the jargon. Grijalva, if he had his druthers, would be a single-payer booster as well. But by last summer, he'd shifted to the public option. He persuaded Shapiro that his strategy made sense because it was achievable, but he also persuaded her that supporting the public option did not mean giving up on single payer.
"As long as people see it as a work in progress, and that's how Grijalva saw it, that's why we felt comfortable in supporting what he was going to do," she says.
The work on the ground, Grijalva says, instills in him the idea that he is representing the progressive community, he says. Asked why he and Woolsey can't agree on whether to work with outside groups, he says: "I don't know, I think it's a question of backgrounds. I, Keith [Ellison], Donna Edwards and some of the other people that have come in, we realize that a big reason that we're here is because of the support we have from progressives in the base, and we grew up with that. Maybe that's it."
It was a Sunday in the middle of October when Pelosi and Woolsey boarded the Speaker's military plane in San Francisco bound for Washington, D.C., where the battle over the House health care bill was entering its final stage. For the past few weeks, the progressive caucus, with the express approval of Pelosi and House leadership, had been canvassing House Democrats to see if there was enough support in the party for a health care bill with what had come to be known as the "robust" public option.
Woolsey took a seat with Pelosi, perhaps the most powerful liberal Speaker of the House in American history. They swapped intelligence on the flight back, a journey that may prove to mark the height of progressive ascension in a generation. The two went over Woolsey's survey results: He's not voting for it. She told you that? Don't believe it. By the time the aircraft touched down, it was clear that the robust public option was a handful of votes shy.
"We compared notes, and it was very clear that the robust public option totally had as much support as most plans have around here before they go to the whip operation, but we didn't have the 218 that we needed. But usually, outside of the whip organization, you don't need to go and get 218 votes," recalls Woolsey. "That's why there's a whip organization."
The whip office would only be brought in to deliver the bad news. Run by Clyburn, it would get involved later in the week. Clyburn met with Woolsey and Grijalva to go over the survey document. With 47 "no" votes out of 256 Democrats, that left them nine short. It's not going to happen, Clyburn told them. The whip list was quickly leaked to the press.
"I don't know who did it. But they blame the progressives," says Woolsey, who, along with leadership, blames Grijalva for leaking the document.
"We were the only ones in the room. But it was a very big mistake, however that happened," she says.
Clyburn called Grijalva into his office and asked if he had been the leaker. After initially denying it, he copped to the breach. Though it was widely assumed in the Capitol that Grijalva was the guilty party, he talked about it openly for the first time for this story. "It didn't help," Grijalva says, pausing to reflect on his decision. "It didn't help. It was some level of desperation ... and frustration."
It had worked out better before. Earlier that year, he had leaked to DailyKos blogger Joan McCarter, a smaller, CPC-driven public option whip count of progressives who had committed to voting against any bill that didn't include a robust public plan. That leak paid off, as the blogosphere pressured those who weren't on the list to sign up.
This one backfired. The caucus had lost the trust of leadership and the push for the public option had been dealt a major blow. "That was the end of it. Because no longer were we team players," says Woolsey.
Clyburn still feels burned. "It had a very negative impact on the effort," he says. "That was a low point in this whole process."
"We're much more protective of our whip [sheet] after that. We've started telling people what the numbers are, rather than showing them," Clyburn says. "I can't see myself doing that again."
Last Halloween, Howard Dean stuck up for conservative Democrats like Bean at the annual Democratic fundraiser in Illinois' 10th District, which is currently represented by Republican Senate candidate Mark Kirk. "After Dean spoke," Democratic activist Matt Flamm writes in an email to friends, "I asked him the following question: 'The cities have remained Democratic, and rural areas have remained Republican. The suburbs are the place where real change is taking place. Here in the Chicago suburbs, we've elected Melissa Bean, Bill Foster, and Debbie Halvorson, and we will elect a Democratic congressperson in the 10th District next year." Attendees applauded. "Is this true across the country, and why? What do Democrats need to do to appeal to suburban voters?'
"Dean said this is true across the country," Flamm writes. "Suburban voters are intelligent and generally well educated. They are progressive on social issues like abortion and gay marriage. But they are fiscally conservative. Dean said that when people have made a little money and move to the suburbs, they want to hang on to it. Democrats need to establish themselves as the party of fiscal responsibility."
Dean pointed to New York's 23rd District, where moderate Democrat Scott Murphy was in the midst of a come-from-behind campaign victory against a conservative Republican. Murphy was one of the Blue Dogs who gave Democratic leadership a headache before the health care vote, though he ultimately supported the bill. Dean was asked: "What is the point of electing conservative Democrats just to get numbers if they aren't going to vote with Speaker Pelosi?"
"Dean said that the Blue Dogs and other moderate Democrats had, in his opinion, made the health care bill better in several ways," Flamm writes, describing the conservative policies and compromises that they raised during the debate. "Dean said these are points that should have been raised by Republicans in a functioning two-party system. In their absence, the moderate Democrats have done us all a service."
The first sign that Blue Dogs would have their way came last summer, on the House Energy and Commerce Committee, when Henry Waxman agreed to their demand for a "weak" public option, where rates could not be tied to Medicare. Progressives reacted furiously, and sent a letter announcing that more than 50 progressive Democrats would vote against the bill. After several weeks during which the Blue Dogs were hailed by the media for successfully leveraging the size of their bloc to get what they wanted, it seemed progressives might be able to do the same. But they didn't; when it came time to vote, the "robust" public option had not been revived, and all but two CPC members voted for it.
Then came the abortion issue. Bart Stupak, a New Democrat from Michigan, successfully led a gang of 40 pro-life Democrats who threatened to block the health care bill in November if they were not given an opportunity to have a floor vote on an amendment to restrict funding for abortion. HuffPost asked Stupak how he got his way while the progressives failed to get theirs.
"You have to pick your fights at the right time," says Stupak, pointing out that Pelosi knew from a previous appropriations fight in July that he would be willing to block a bill. "You can't be crying wolf all the time because you lose your wolfiness. You lose your credibility. So I'm not going to lose my credibility. So you use it at certain times when it's appropriate."
Despite the much-ballyhooed efforts of New Dems and Blue Dogs to impede Democratic legislation, Barney Frank disagrees that moderates have more power within the Democratic caucus.
"They are able to put the brakes on to some extent, but we're driving the car," he says. Frank regards the agenda of House Democrats as essentially a progressive one, and in his view, to think of Blue Dogs and New Dems as more "effective" than progressives is to miss the point.
"The progressive caucus is behind these things coming up at all," he says. "You take that for granted. We have had basically liberal bills in health care, financial regulatory reform -- we got an independent consumer agency. ... Your definition of effectiveness is for people being able to modify the basics, but you forget about the people who got the basic thing through. Can you not see that? You start when the movie's four-fifths over."
Political statistician Nate Silver rejects the notion that progressives -- one group out of about a dozen involved in health care negotiations -- could have leveraged their bargaining position much better than they did. "The influence of any one group in what is essentially a 10- or 12-way negotiation is liable to be fairly limited, no matter how wisely they select their strategy," writes Silver, "and to suggest otherwise probably reflects a certain amount of self-importance."
Frank does acknowledge that the more conservative caucuses are good at what they do.
"Well, they're effective," he says. "It's easy to be effective if you're in the middle, but if you're in the center -- how are they effective if they're threatening not to vote for bills if they're too liberal? What's our tactic? We threaten not to vote for the bill?"
The question Frank poses -- "What's our tactic?" -- is the one that progressives inside and outside of Congress are mulling. Mike Lux, founder of Progressive Strategies and a former Clinton administration official who works closely with both the blogosphere and the White House, says that the options extend beyond a binary choice for or against a final bill. In other words, look at Congress dynamically.
At the end of each day of work in the Senate, Lyndon Johnson would tramp across the Capitol to spend a few hours with his mentor, House Speaker Sam Rayburn (D-Texas). Johnson assiduously cultivated the relationship and used it to his benefit back in the upper chamber. If a senator crossed Johnson on one vote, a separate bill that the senator had championed could be bottled in the House. The reverse was also true: Take care of Johnson and he'd take care of you on the House side.
"Everyone has something they want. Every Blue Dog has a business back home that wants something," says Lux. Joe Lieberman, for instance, is well-known to be very close with the insurer Aetna. There are all manner of legislative favors that Aetna wants that are entirely separate from the health care bill. Members of the progressive caucus hold the gavel on every one of these committees: Financial Services, Energy and Commerce, Education and Labor, and Rules; they chair powerful subcommittees on Appropriations, Ways and Means and Transportation and Infrastructure; three are members of House leadership and one former member is Speaker of the House. They collectively dominate the flow of money and path of legislation that makes or breaks a congressional career. So there are things that can be done.
But rather than an asset, the number of progressive committee chairmen can be viewed as an obstacle to cohesive action.
"I think one of the problems the caucus has, ironically, is how powerful its members are and how close they are to leadership," says Robert Borosage, chairman of the American Progressive Caucus Policy Foundation and co-director of the Campaign for America's Future. "Whereas if you're the Blue Dogs, you can operate collectively because of the lack of power in your leadership."
There has also been precious little attention paid to the endgame. "A lot of us had this notion in mind that, at the end of the day, we might pass the less controversial stuff through the regular legislative process but that we would have to use reconciliation to get, for example, a public option. Looking back on it, I realize we never got any type of commitment whatsoever about going to reconciliation," says Lux. "We have to get better, very early on in these fights, at getting our most powerful negotiators -- which I think is both inside of Congress and the Senate, and labor leaders, and the key players who've got some juice -- and really sit down and say, 'We know some compromises are going to be made, but can we just have a conversation about where you think this is going, where are we going to stand united and [where are we going to] maybe have to not be together in the end? ... Any time I tried to have those conversations, they'd say, 'Are you kidding? We've just got to get out of the Finance Committee this week.' They're focused on the short-term goal."
That stands in stark contrast to the strategy employed by the most successful interest groups: PhRMA and the for-profit hospitals. Both wanted a few things from the legislation: more customers and better profit margins; no drug-price negotiations or reimportation; no public option. The groups cut deals early in the process and held tough. (In a letter to the Huffington Post, the hospitals' top lobbyist says that there was no deal on the public option.)
Those "backroom deals" propelled Tea Party darling Scott Brown to victory in a January special election in Massachusetts. The days following the election were perilous. A bloc of Blue Dogs was threatening to come out publicly against using reconciliation, which could have been the end of reform. Hoyer kept them from going public, while Pelosi beat back the incrementalist faction in the administration -- and made no secret of her joy in doing so. Her derisive moniker for the Emanuel-preferred strategy -- "Kiddie Care" -- turned up in the New York Times and Politico on the same day. During an interview in her office with progressive media before the final vote, she celebrated the victory in the strategy war. "My biggest fight was against those who want do something incremental versus those who want to do something comprehensive. We have won that," she says. "In our midst, there's the small bill crowd -- here and there," she says, gesturing out the window behind her, where Pennsylvania Avenue stretches to the White House.
In March, Stupak and his gang of pro-life dissidents eventually came around to a compromise on abortion and voted in favor of the bill. The votes he delivered did not put the bill above 216; it was already there. When Rep. Zach Space (D-Ohio) announced the day before the vote he'd be opposing it, Republicans and other Hill observers saw it as a sign that Pelosi had the votes and was now releasing vulnerable members. But the Stupak group was made up of public option supporters. With him back on board, Pelosi now had at least the 216 votes for a reconciliation package with a public option in it. But she didn't want 216. She wanted more.
As the voting process began on that Sunday evening, the lights in the House chamber dimmed and projectors displayed individual members' votes on the wall above reporters' heads in the press galleries. Several anxious faces peered upward from the floor, but not Pelosi's -- she made her rounds, hugging Democrats and signing copies of the bill before the tally even neared 216 (After all, a vote on the "rule" to proceed to the bill succeeded with 224). She spent several minutes in a friendly conversation with Stupak.
Both knew the bill was in the can. "We knew who the 219 were," says Hoyer. Having Stupak on board gave cover to the members deciding the vote based on politics. Several Democrats, such as Rick Boucher of Virginia, had not announced their intentions and refused to reveal them until the last minute. Boucher was one of several members who voted only after 216 yeas had already piled up. (His spokeswoman says he released a statement the moment the vote began announcing his opposition.) But letting some Democrats retreat makes it harder for the ones who had the courage to stand and fight. Immediately after the vote, and repeatedly since, the National Republican Congressional Committee has used Boucher's vote to blast his neighbor Perriello, whose energetic defense of health care reform during 21 town halls in August was the counterattack the administration had desperately needed. "Boucher: Perriello's Obamacare vote will hurt seniors," reads a typical missive from the NRCC. Perriello must now defend his vote not only from GOP attacks, but from Democratic ones.
Both Clyburn and Hoyer say that they probably could have whipped enough votes to offset the loss of Stupak. "I think we could have," Clyburn says, who also adds they had the votes for the public option. "But I would much rather have 219 than try to eke out 216." Hoyer agrees. "I think we could've done it," he says, but getting that 216 would've forced more Blue Dogs to take a hard vote, something leadership would rather avoid. "We would've had to get more marginal members, the Blue Dog and other caucuses -- I guess the Blue Dogs primarily."
Stupak, as savvy a vote-counter as anybody in the House, saw it, too. "Speakers never bring a bill to the floor unless they have the votes. And they always have a few in reserve," Stupak explained to the Catholic News Agency in a post-vote interview. "I had a number of members who thanked us after, because they could vote no."
The public option died so that Rick Boucher could vote no. Progressives inside and outside of Congress have no intention of letting that happen again.
"MoveOn members have contributed countless hours and dollars to help elect a Democratic majority only to be deeply disappointed by those elected officials who rode that wave into office and then promptly forgot who got them there," says Ilyse Hogue, MoveOn's campaign director. "We've learned over the last year that when it comes to taking the hard votes to do what's right for our country and stand up to corporate interests, not all Democrats are created equal. 2010 is going to be about supporting courage and abandoning the Dems who abandoned the folks who got them into office."
Grijalva, too, says he wants better Democrats. "Polis is a good example, Shea-Porter is a good example, Tsongas is a good example of progressive people who had to fight their way in. And I think we have the capacity to really help those people. Help them get in and then keep them," says Grijalva. It's just like with streetlights and health clinics. "If you didn't back away from your issues and you win, I think that just strengthens you."
Support HuffPost
The Stakes Have Never Been Higher
Popular in the Community