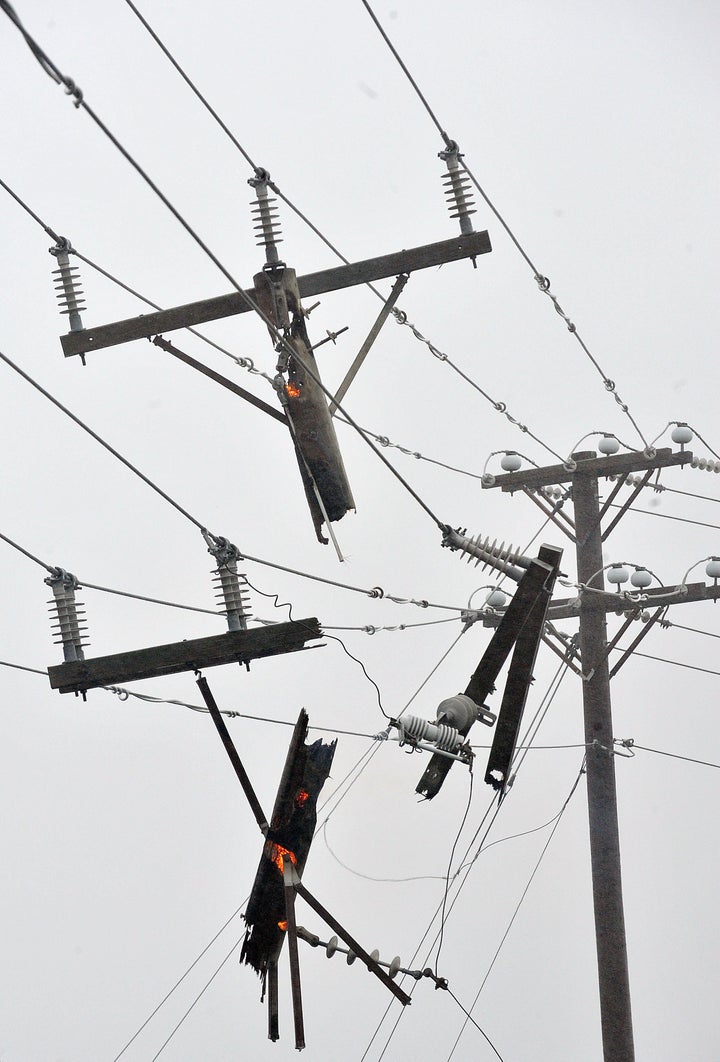 For most Americans, most of the time, electricity is a given. We rely on electricity to power our lives at work, at school and at home. We rely on it so much, it comes as quite a shock when we are deprived of it. Lights go out in a storm? We are frightened as we search for that misplaced flashlight or a candle and matches. The situation is worse during rare regional blackouts when too much demand for power overwhelms local transmission capacity. And even in our highly developed country, natural disasters such as Hurricane Katrina can strike out an entire power system as happened for a prolonged period in New Orleans, in 2005. Americans, who have so much access to energy that we tend to waste it, may not realize that 1 in 5 people on the planet have no access to electricity at all.
Recalling the Aftermath of Hurricane Katrina: Life without Power
Three months after Hurricane Katrina, Jim Amoss, Editor of the New Orleans Times- Picayune, reported to the Washington Post on November 27, 2005, as follows:
President Bush flew into New Orleans shortly after Hurricane Katrina devastated the city. His staff had to fire up giant generators to bathe St. Louis Cathedral and Jackson Square in floodlights, as a backdrop for his promise that he would "do what it takes" to rebuild New Orleans. "


There is no way to imagine America without New Orleans," he said, "and this great city will rise again." Then the lights went out, and the president left. Vast swaths of the city have been in darkness ever since.
The immediate impacts of the loss of electricity in the wake of Katrina were almost as devastating as the storm itself. Reports from the Methodist Hospital indicated that people were dying of dehydration and exhaustion while the staff worked unendingly in horrendous conditions compounded by staggering heat and humidity. Patients requiring ventilators were kept alive with hand-powered resuscitation bags. The sewage system and water purification failed without power, disrupting sewage treatment and contaminating water. Research institutions like Tulane Medical School lost valuable specimens as refrigeration stopped with the flow of electricity. Gradually, after great suffering and loss of life, electricity and signs of life returned to New Orleans. But this disaster is a glimpse into the daily reality for many areas of the world that have yet to attain the power we may take for granted in the United States and other developed nations.
Today 1 in 5 people worldwide lack access to electricity
There are 1.3 billion people worldwide who have no daily access to electricity, even though we have the technology to make electricity from the most common commodities on earth.
Electricity can power lighting to extend the working day. It powers the engines of industry and keeps us warm and cool in climates that are far from temperate. Electricity can provide transportation, water purification and sewage treatment. Electricity can save lives with medical devices like respirators and dialysis machines. Electricity powers information technology that allows the spread of vital information across the planet. Access to modern energy is the key to better health care, education, and financial independence, and yet 1 in 5 people worldwide do not currently have electricity.
Fortunately for the ecosystem, we don't need to compromise efforts to tackle pollution and climate change in order to bring sustainable power to the world. Our planet has plentiful sunshine, wind, water and geothermal energy. Such abundant and clean sources of energy, coupled with investment in infrastructure, and continued research and development, can replace dirty fossil fuels and increasingly controversial nuclear power. In the developed world, we can also do our part by taking advantage of tremendous gains in efficiency and conservation that allow us to do more with less.
As world leaders prepare to gather in Rio de Janeiro for the June 2012 UN Conference on Sustainable Development (Rio+20 Earth Summit) human rights activists are working to make Sustainable Energy a top priority of the Rio Earth Summit.
Music for Relief, the non-profit organization founded by modern alternative rock band Linkin Park, launched Power the World in November 2011 to help people whose health, safety, education and livelihoods are compromised because they don't have access to clean, modern energy. Power the World supports UN Secretary-General Ban Ki-moon's Sustainable Energy for All initiative. Together, these groups are working to raise awareness and funds for sustainable energy projects in North America, Asia, and Africa in 2012.
How to Help Power the World
You don't have to be a world leader to join the movement to bring power to those who still lack electricity. Here is what you can do now:
1) Sign the Pledge: go to Powertheworld.org to digitally sign a pledge in support of Sustainable Energy For All. The goal is to achieve 1 million signatures from supporters across 40 countries. Please sign the pledge and then share it with your community.
2) Now that you've signed the pledge, tell us why you signed it by tweeting and posting on Facebook about what you would miss most without power, and include #whatiwouldmiss.
If you are reading this on an computer screen right now, be thankful that you have power, and join the movement to improve access to sustainable, clean energy. Together we can combat pollution and climate change even as we power the world.
Calling all HuffPost superfans!
Sign up for membership to become a founding member and help shape HuffPost's next chapter