October is National Pizza month, and if there's one thing our economic slump has not stopped, it's America's love of pizza.
In honor of National Pizza Month, I thought you might enjoy some facts about the pie made famous by the Neapolitans.
Americans eat approximately 100 acres of pizza EACH DAY, or about 350 slices per second.
Pizza is a30+ BILLION per year industry. There are approximately 69,000 pizzerias in the United States. Approximately 3 BILLION pizzas are sold in the U.S. each year. (Source: Blumenfeld and Associates.)
Pizzerias represent 17% of all restaurants. (Source: Food Industry News.)
Pizza accounts for more that 10% of all food service sales. (Source: Food Industry News.)
93% of Americans eat AT LEAST one pizza per month. (Source: Bolla Wines.)
66.66% of Americans order pizza for a casual evening with friends. (Source: Bolla Wines.)
Each man, woman and child in America eats and average of 46 slices, (23 pounds), of pizza per year. (Source: Packaged Facts, New York.)
Italian food ranks as the most popular ethnic food in America. (Source: National Restaurant Association.)
According to a recent Gallup Poll, children between the ages of 3 and 11 prefer PIZZA over all other foods for lunch and dinner.
A study done by a U.S. Department of Agriculture statistician and home economist found that in a three-day survey period, 42% of children between the ages of 6 and 11 had eaten pizza. (Source: Smithsonian Magazine.)
94% of the population of the U.S. eats pizza. (Source: Parade Magazine.)
All those statistics go to show the power of the pie. And with all that impressive information, I was wondering just how many people make their own pizza at home.
So far, I have not been successful in finding out that information. But as someone who has always made pizza from scratch, I can tell you that it is simpler than you might think.
Flour, water, yeast and salt, (economical ingredients) begin the life of the pie. It takes too much time to make you say? What about all that rising? You can forget all that because Fleischmann's (one of my sponsors) has come to allay your fears with a new pizza crust yeast that requires no rising.
Mix it into flour, water and salt and form a dough. You can do this in a bowl or in a mixer. Then pat or roll it out with your hands and top it with whatever you like. Bake.
It is that simple, and in about 30 minutes, start to finish, you can be enjoying pizza from your own kitchen instead of a frozen variety bought from the supermarket or delivered to your home for a hefty price.
Pizza Crust Yeast Dough
Makes Two 9-inch pizza crusts

4 to 4 1/2 cups unbleached all purpose flour
2 teaspoons fine sea salt
1 package Fleischmann's pizza crust yeast
1 3/4 cups warm (115°F) water
1 tablespoon extra virgin olive oil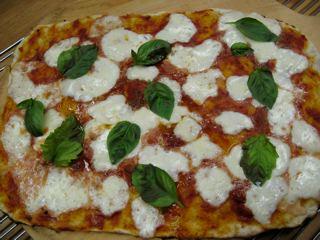 Preheat the oven to 400F
Combine 4 cups of flour, salt and yeast in a large bowl or food processor.
Add the water and olive oil through the feed tube until a ball of dough forms. If more flour is needed add it a little at a time until the dough comes away from the sides of the bowl

Knead the dough a couple of times until you have a soft ball of dough that is slightly tacky but not sticking to your hands. Divide the dough in half and roll each half out on a floured surface into a 9 inch diameter. Place the dough on a lightly greased baking sheet or pizza pan.