The drawing for the second largest Powerball prize in the game's history took place on Wednesday night and the winning numbers were: 6, 7, 16, 23, 26 and the Powerball number 4.
The jackpot was set at $700 million, a few hundred million shy of last year's record-setting $1.586-billion prize that went to three people from California, Florida and Tennessee. 
While chances of bringing home the jackpot ― either as a $443.3 million lump sum or the full amount paid out in 30 payments over 29 years ― were about 1 in 292 million, players had better odds of winning smaller prizes.  
Players had a 1 in 11.7 million chance of their ticket numbers matching the numbers on all five regular balls drawn and winning $1 million, and a one in 38 chance of matching the red Powerball drawn and winning $4, according to ABC News.
With tickets priced at just $2, the low-risk-high-reward factor draws in millions of hopeful players. In New York state on Wednesday, people were spending more than $1 million an hour purchasing Powerball tickets.
"Powerball fever has once again arrived in New York State, and we are excited for all our players," Gweneth Dean, director of the state's Division of the Lottery, told The New York Daily News.
It's one of 44 states that participate in the game, as well as Washington, D.C., Puerto Rico and the U.S. Virgin Islands. While 50 percent of lottery revenue goes to winners, the other half is allocated to participating states, which spend about 29 percent of it on education, an assessment by Fortune found last year.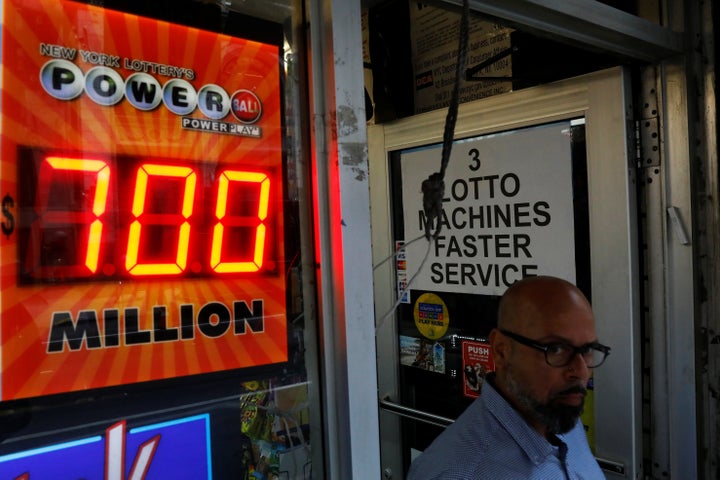 But in the long-run, the revenue may not make a real dent in state spending. Studies of how states spend lottery money have found that after a few years of participating, states begin using lottery money to replace traditional funding sources, not booster them. 
And that money is coming from those with the least to spare; Powerball ticket purchases come overwhelmingly from low-income communities, other studies have found.
UPDATE: This story was updated to include the winning numbers.
REAL LIFE. REAL NEWS. REAL VOICES.
Help us tell more of the stories that matter from voices that too often remain unheard.
BEFORE YOU GO
PHOTO GALLERY
14 Ridiculous Ways To Spend A $1.5B Powerball jackpot