Imagine that you are arriving to a job interview at a tech company. As you wait, you take a look around you, and notice beautiful, thought-provoking works of art displayed on the walls, plus sculptures in the public and outdoor spaces. Imagine working for a manufacturing firm, when one day you receive an announcement of an exciting new art contest for employees. Or, attending your national insurance firm's annual meeting, knowing that you'll soon be able to take the stage for a company-wide battle of the bands and sing and perform your heart out. In these three examples, you would actually be at Microsoft, Ford, or Aetna, respectively, but in reality it could be any one of thousands of businesses that are harnessing the power of the arts...because it is good for business.
You may be more likely to seek out companies like this for employment, or stay with a company for years because of various employee development opportunities through the arts. Or as a consumer you may just notice these companies first over competitors. This is a win-win for all--both companies and employees benefit from arts partnerships.
Last year I had the pleasure of touring the magnificent John Michael Kohler Arts Center, as well as visiting the Kohler manufacturing facilities and showroom in Sheboygan and Kohler, Wisconsin. During my visit, I learned directly from Herb Kohler of the impressive Arts/Industry program, a partnership between the Arts Center and Kohler Company, which makes the facilities and technologies of the Kohler Company's Pottery, Iron and Brass foundries, and Enamel Shop available to artists from around the world. In residencies of 2 to 6 months, artists are able to explore new ways of thinking and working and to create bodies of work that are not possible in their own studios. More than 500 artists have been involved over the last forty years since 1974.
The Arts/Industry program is having a remarkable effect on Kohler and the region. The artists' involvement in the factory and the community energizes the associates, and a creative synergy develops not only with the designers but also with engineers, slip casters, and enameling specialists. The cross-pollination has led to innovative ideas regarding products. Kohler is a name synonymous with bathroom and kitchen fixtures. But its internationally acclaimed arts partnership is getting plenty of attention too, not only for artist opportunities, but also for helping the company to stay at the forefront of its industry.
Kohler is just one of many such partnerships. In 2012, Americans for the Arts launched The pARTnership Movement campaign to help business leaders understand how the arts can build competitive advantage. The arts can help recruit talent, advance corporate objectives, develop a wider consumer-base, engage employees, and build stronger communities by contributing to the economy and quality of life.
Over the years, more and more businesses have stood out for the extraordinary, powerful ways that they enrich their workplaces and communities by partnering with the arts. These businesses provide the arts skills-based volunteers, board members, exhibition and performance spaces, marketing support, and financial and in-kind support. They also incorporate meaningful arts-related programs into their employee, customer, and community relations activities. The breadth of arts and business partnerships is impressive and definitely worth celebrating--but sadly, too much under the radar.
To get these stories above the radar, Americans for the Arts, through its Business Committee for the Arts (BCA) program, each year recognizes 10 such businesses--as well as a company and an individual, for its Hall of Fame Award and Leadership Award--that have shown exceptional long-term commitment to supporting the arts. Incidentally, Kohler Company is a 2011 BCA Hall of Fame honoree.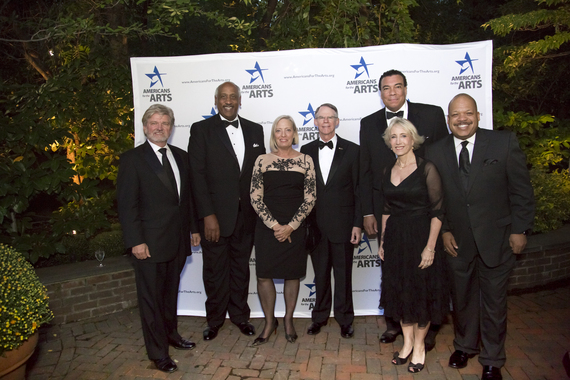 Robert L. Lynch, President and CEO of Americans for the Arts (left) with members of the Americans for the Arts Board of Directors and the BCA Executive Board at the BCA 10 gala (from left to right) Edgar Smith, Deborah Jordy, Michael Spring, Robert Lamb, III, Julie Muraco, and Floyd W. Green, III. Photo by Rana Faure at Americans for the Arts' BCA 10 gala, courtesy of Americans for the Arts.
Even just one awardee provides a great example. It may come as a surprise that AutoZone, the Memphis-based automotive parts and accessories retailer, is not only engrossed in carborators and fan belts, but also supports many arts and culture endeavors through unique funding programs, civic leadership, and employee engagement.
AutoZone has been a key partner in Opera Memphis's 30 Days of Opera, a public-outreach initiative that aims to integrate opera into everyday life. 30 Days of Opera features "pop-up" recitals, master classes, and other operatic performances. Since its launch in 2012, the program has reached more than 50,000 people at over 80 locations throughout the greater Memphis region.
In 2013 and 2014, AutoZone commissioned Opera Memphis to create two iterations of "AutoZone: The Opera" for the company's national conference. The opera featured a cast of characters lamenting their car problems--and ultimately receiving the outstanding AutoZone customer service for which the company is known. It is a clever example of a company utilizing the performing arts to help the opera reach and engage new audiences, as well as engage employees and reinforce the strong corporate culture and commitment to customer satisfaction in a creative and memorable way.
In addition to Opera Memphis, AutoZone also provides annual funding to ArtsMemphis, a United Arts Fund, and dozens of local arts and culture organizations through a grant program called ArtsZone. The program helps support emerging arts programs and events, including Indie Memphis Film Festival; outreach and mentoring programs for underserved youth, including the New Ballet Ensemble; accessible, community-building endeavors, including the Levitt Shell Music Series; and minority arts growth, including the Hattiloo Theatre. All this is good for residents, good for tourism, and good for business.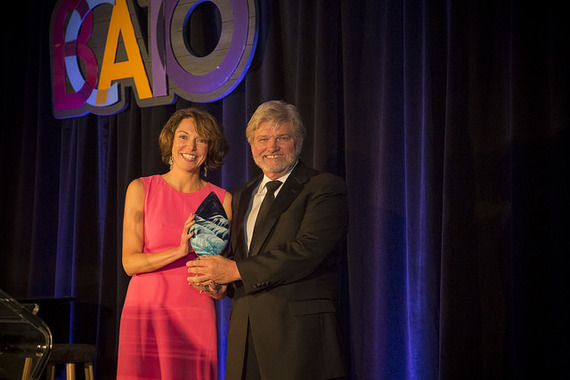 Jenny Turner Koltnow, Director, Communications & Community Relations, Customer Satisfaction, AutoZone, Inc (left) with Robert L. Lynch. Photo by Rana Faure at Americans for the Arts' BCA 10 gala, courtesy of Americans for the Arts.
A thriving arts community is a key component to creating and sustaining an economically strong, authentic, and dynamic community, and businesses would be well-served to follow the lead of our BCA 10 honorees. I invite you to read our success stories and essay series on partnerships that span all industries. As employees, we want to live and work in a vibrant community. We want to be inspired to be creative and innovative. As community members, we want to know that local companies are actively expanding the reach and audience of arts and culture institutions, ensuring access for diverse and multicultural audiences.
Calling all HuffPost superfans!
Sign up for membership to become a founding member and help shape HuffPost's next chapter