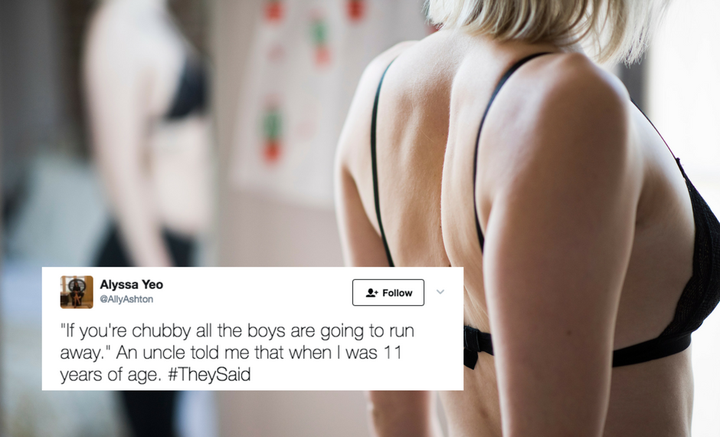 Most women don't forget the very first time they were body-shamed.
Founder and CEO of the athletic wear company Oiselle Sally Bergesen definitely remembers one of the first times she was body-shamed. "'Keep eating like that and you're going to be a butterball.' My Dad when I was 12," Bergesen tweeted on May 25.
In the same tweet, Bergesen asked followers to share their personal stories of being body-shamed with the hashtag #TheySaid.
The hashtag quickly gained momentum with hundreds of Twitter users sharing their body-shaming experiences. Some women shared stories of family members commenting on their weight gain, while others shared being body-shamed for being too skinny.
Scroll below to read some of the #TheySaid tweets. (Story continues below.)
An hour after Bergesen tweeted the #TheySaid hashtag, she created a new one: #SheReplied. The new hashtag was meant as a way to share responses to the body-shaming comments women experienced.
"To be honest, those types of comments have been shown to be really harmful to me and others," Bergesen tweeted as an example.
Soon enough, more Twitter users started replying to the #SheReplied hashtag with their own awesome response to body-shaming comments.
Another Twitter user's response touched on why it's so important to not blindly congratulate people for being skinny: "Skinny isn't always healthy. Please ask me if I'm OK," she tweeted.