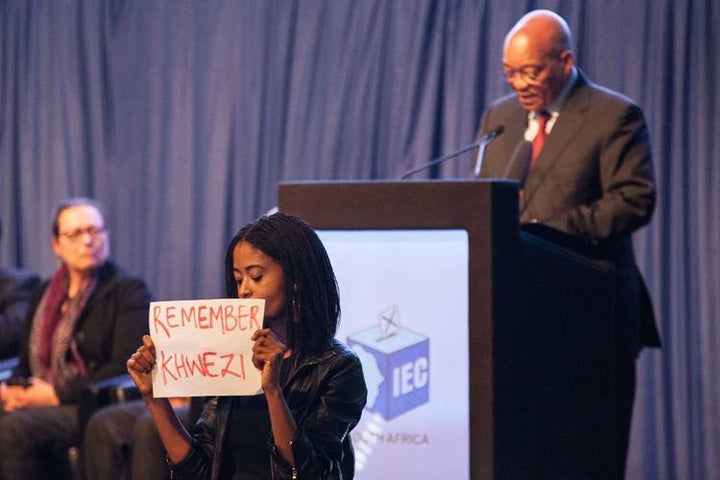 If her name isn't familiar, it's not surprising. Fezekile was better known to South Africans and the world as Khwezi. This was the name that she was compelled to adopt after repeated death threats after she accused South Africa's president Jacob Zuma of rape also in 2005. The case went to trial and Zuma prevailed. The story of Fezekile's courage and subsequent vilification is worth repeating.
When she was 10 years old, Fezekile lost her father, an anti-Apartheid hero and friend and comrade of Jacob Zuma whom Fezekile called 'uncle' from the time she was a child. Fezekile grew up to become a hero in her own right as an AIDS activist living with HIV.
When she was 31, she was invited to spend the night in the Zuma household. As she slept, according to the story she told the court, Zuma came into her bedroom. He forced himself on her and, despite the fact that he knew she was HIV positive, had unprotected sex with her.
Famously, Jacob Zuma testified in court that he showered immediately afterwards to prevent contracting HIV—a claim that got almost more attention than the rape itself, dealing a blow to national efforts to disseminate accurate scientific education on HIV prevention. (From that time until today, the South African political cartoonist Zapiro has drawn Zuma with a shower head coming out of the top of his head.)
At trial, President Zuma argued that the sex was consensual. He explained that Fezekile was wearing a traditional Khanga wrap and was therefore "asking for it." Fezekile was raked over the coals during the trial, interrogated about her sexual history, and thereafter persecuted to the extent that she and her mother had to go into exile. What's worse, the whole spectacle made women even more unwilling to report rapes—a crime that was already troublingly under-reported.
There were those who believed that despite the fact that he was exonerated, Jacob Zuma could not possible be re-elected after the sordid courtroom revelations so attentively followed by the South African people. But he was easily re-elected and the woman known only as Khwezi—in fear for her life—lost her home, her country, and her name.
Today, the U.S. public is treated to shocking daily reports from woman after woman of sexual assault incidents at the hands of Donald Trump, a major party candidate for the nation's highest office.
For every one of these stories highlighted in all their sordid details in every conceivable media outlet, there are thousands of other stories of groping and grabbing and rape being shared out of the limelight, in conversations and social media.
Just as happened in South Africa, women who have been violated in the past and present are stung by the memories. They understand what it takes to come forward even when their abusers are not famous and powerful. And they know, too, that this is something that can't be washed off in a long shower and forgotten.
Calling all HuffPost superfans!
Sign up for membership to become a founding member and help shape HuffPost's next chapter
BEFORE YOU GO