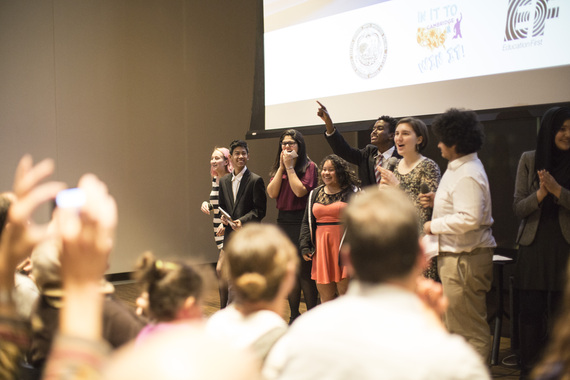 The writer (fifth from left) celebrates winning the Glocal Challenge and a trip to Iceland to study the future of energy in Cambridge, Mass. last December
Imagine a world where your cell phone, lights and car are powered by your footsteps.
Numerous reports show that the world's current energy consumption isn't sustainable, yet people don't seem to want to change their lifestyles to figure out a better solution. Our generation is facing a daunting task: How can we implement clean energy in our cities and towns in a way that least intrudes on peoples' lives?
This year we looked at the future of energy - due in large part to my hometown's involvement in the Georgetown Energy Prize, which challenges cities and towns to drastically reduce municipal energy use for the chance to win $5 million USD. My team and I decided to use kinetic energy as a way to answer this question. Our main reason was that kinetic energy is versatile, and we could easily install this technology under floor tiles in our school and on the streets of Massachusetts Avenue in Cambridge. The many students and pedestrians who walk the floors of both locations every day make our proposed application of this cutting-edge technology feasible.
Last fall, our team spent eight weeks brainstorming, revising and heatedly debating the idea of installing kinetic energy tiles throughout our school and city until we developed our final pitch for the competition. We planned to install two rows of kinetic energy tiles onto the main entrances of our school because they experienced high amounts of traffic in the morning, at lunch, and at the end of the school day, and Mass. Ave is one of the busiest, most pedestrian friendly streets in our City. We sat down with our principal and explained that not only would the tiles save the school district money in the long run, but they could also lessen the carbon footprint produced by Cambridge's school buildings.
Out of dozens of great ideas, our kinetic energy tile proposal won - which meant that not only would the City of Cambridge work with us to implement our project idea and provide us with seed money, but we would also travel to Reykjavik, Iceland with EF Tours on a scholarship to the EF Global Student Leaders Summit to explore energy production and best practices in clean energy.
This past March, we traveled to Iceland where we learned about its natural beauty and energy production methods. At the Summit, we heard inspiring words from world-renowned speakers including the former U.S. Secretary of Energy Steven Chu and the President of Iceland Ólafur Ragnar Grímsson. We had the pleasure of talking with Cambridge native and current U.S. Ambassador to Iceland Robert Barber about our Glocal Challenge project and how we want to make our school and city examples in clean energy. He told us that we, too, are ambassadors and we should continue to be leaders in our community.
We learned how Iceland implements geothermal and hydroelectric power in order to preserve its unique environment, and that we have the potential to do so too in the United States. We had the chance to meet with other teenagers across the U.S. and Iceland - and now we're all united in tackling the issue of climate change and energy sustainability across the globe.
After a week of learning and making new friends, we were excited to get back to Cambridge to implement our kinetic energy ideas, but on the last night, we were awestruck by a dance floor - and not just any dance floor - but a kinetic energy tiled dance floor! There were games, such as two sides competing to create the most energy by stepping on the tiles, and one that took a picture once we generated enough energy.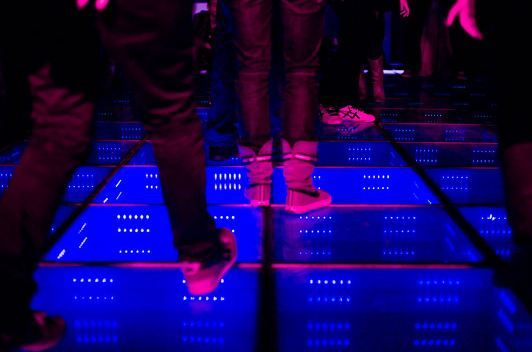 Students at the EF Global Student Leaders Summit in Reykjavik, Iceland create renewable energy by dancing on kinetic tiles
We were amazed to see this similar idea in action, and it provided the perfect inspiration to implement these tiles in our high school and on the streets of Cambridge - with that inspiration being the fact that people can implement clean energy in their lives in fairly simple ways; and that perhaps the most powerful projects will be the ones that no one even recognizes are directly underfoot.
Hassan Gudal, a junior at Cambridge Rindge & Latin High School, collaborated with his teammates Maroua Ouadani, Nitant Rimal, Hayley Swope and Ginely Baltodano (the "Power Saviors") on this post.
This post is part of a series produced by The Huffington Post and EF Educational Tours about the recent EF Global Student Leaders Summit, which explored the future of energy in Iceland. The Summit Series combines educational travel with a two-day leadership conference, and asks students to tackle global challenges in places where those challenges are notably present or well-addressed. To view all posts in this series, visit here.
Calling all HuffPost superfans!
Sign up for membership to become a founding member and help shape HuffPost's next chapter