Naturi Naughton is a self-defined hopeless romantic. She blushes with delight as she describes her upcoming Valentine's Day plans. "My boyfriend said he's gonna do something he's never done for anyone before. He texted me, 'It's going to be an amazing day so just be ready.'" She tells me she loves surprises, that he has wow-ed with her roses, chocolate covered strawberries, and fun museum dates. She says the key to keeping it fresh in relationships, as well as life, is enjoying simplicity and bringing creativity even in the simplest aspects.
Naturi's character in hit series, Power, Tasha, allows Naturi to nurture the creativity she values. The 6.9M multi-platform viewers per episode watch Tasha endure more than many would be willing to take on in a relationship. Naturi, herself laughs that she wishes she could give Tasha some advice when it comes to her life and relationships. "Tasha is a ride or die. She definitely fights for her man and her family." Naturi admires and respects those traits. "But I wish I could tell her, 'Girl, you have to focus on you!'"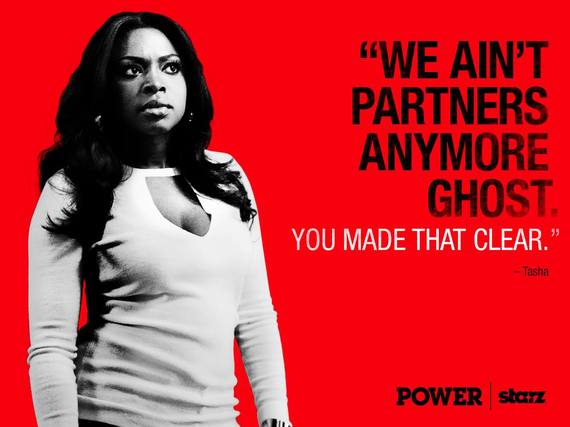 Naturi lives the advice she shares. Despite her many accolades as an actress, some fans still reminisce about her 3LW girl-group days. When that era ended chaotically, she needed time off to rebuild and refocus on herself and she took it. "It wasn't easy...I took time to figure out who I am and I think that was pivotal. I had to ask myself, what do I want to be and where do I want to go? Because, you know, life can lead you in many directions." She reflects on her time studying at Seton Hall, in her hometown of Jersey, when at one point, she considered being a lawyer. Stepping back and evaluating what her real purpose gave her the confidence to know, "I'm really made for this."
And she's proving that she was right to trust that feeling. Power earned 3 nominations for the 47th NAACP Image Awards, including her own for Outstanding Supporting Actress in a Drama Series. It will be honored at the 33rd Annual PalelyFest this March and is the #1 most watched franchise for STARZ. The highly anticipated season 3 is currently in production and will premiere this summer. What keeps it so hot and keeps the viewership growing? "Power is word of mouth. We are getting buzz because somebody's sister, brother, mama, friend is telling them to watch the show. With Power, we've connected with people," Naturi smiles humbly about the show's success.
She also shares the leading role of Tasha has inevitably contributed to the show's hotness, as well as the many other hit shows with leading ladies of color. "We've always been hot people. Y'all just figured it out. Women of color are complex. We are beautiful in all of our hues, shapes and lips and noses. Our uniqueness makes these shows pop off." And the secret sauce for Power specifically? "Courtney Kemp, the show's writer, writes characters that are strong, smart, goal-oriented. Tasha is as hood as she is strategic. It's an age when women are feeling empowered and are writing and portraying characters that show all of our beautiful complexities."
Naturi, herself, is playing a part in uplifting and empowering young women. She frequently does workshops with teenage girls. Most recently, she did a summit called Uniquely You in DC and she regularly works with Black Girls Rock. "Young girls don't always have the guidance to let them know they can be beautiful and successful while speaking intelligently, using their brains and carrying themselves like a lady."
She thinks the most important thing for a young girl to do is "to maintain a sense of self." She wants to tell young girls, "You are valuable, not just through your body, but also through your mind." I sit backstage during a taping of season 3 episode and I want to tell Tasha that too.
Naturi comments on the upcoming season, "We will finally see Tasha start to be vulnerable. She is a woman, she's human and she's taken a lot of stuff (while waiting for Ghost) to get his act together. She has to figure out her own life." Naturi happily accepts that she herself loves love and is also a ride-or-die, but she thinks women and girls of all ages should always prioritize loving themselves. Unlike Tasha, Naturi is firm on that point. "Never put a man, or anything, so far ahead of yourself that you lose yourself."
Calling all HuffPost superfans!
Sign up for membership to become a founding member and help shape HuffPost's next chapter