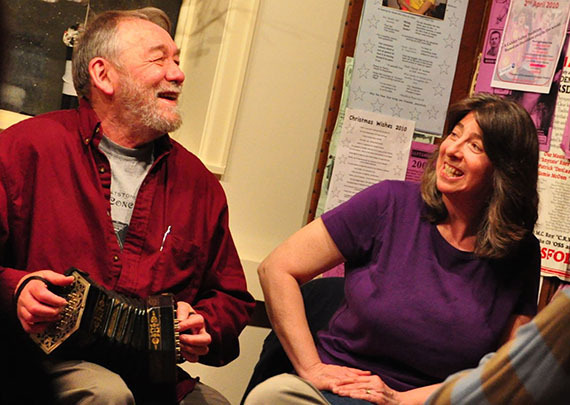 John Roberts and Debra Cowan. Used by Permission of Debra Cowan.
I love all kinds of folk groups, but have a special soft spot for duos. When three or more people are singing and playing, I hear subtle and complex textures, and harmony comes vertically, in chords. But with two voices or instruments, it's easier to hear what each is doing separately as well as the sum total: melodies and countermelodies, synchronic and diachronic, horizontal and vertical. Which is all to say, some pretty cool duo recordings have crossed under my lintel of late.
One of my very favorite singers has always done a lot of his performing as part of a duo: John Roberts, originally English and long a resident of upstate New York, has been singing in famous duos since the late 1960s. His most recent such pairing is with Debra Cowan, another favorite of mine, whose skills complement his beautifully. Their album Ballads Long and Short: The Best of Every Sort contains fourteen folksongs in sparkling settings, many of which could be considered folk classics. But both Roberts and Cowan have been around the block a time or two, and know how to find unusual variants, craft their own versions and add surprising elements, so each piece is delightfully fresh even to a seasoned (i.e. crotchety) folk listener like me. Roberts's voice is famously gruff and growly, but wonderfully controlled as well, while Cowan's is a clear, warm alto. Together, they sing with conviction, commitment and feeling.
There are a good selection of "Ballads Long and Short" on the disc, including "The Tailor's Britches," a banjo-driven comic tale; a rousing American version of the Gypsy Laddie ballad known as "Gypsum Davy;" and a hair-raising unaccompanied version of the classic tale of incest and suicide known as "The Bonny Hind." There are also a variety of lyric songs, such as "Drive Dull Care Away," sung unaccompanied with both vocal lines beautifully audible; ""Garners Gay," sung with Roberts's concertina providing tasteful counterpoint; and "Bold Riley," performed in the lyrical style popularized by the Oyster Band. Finally, there are a few contemporary songs written in the traditional style, including John Conolly and Bill Meek's "The Broadside Man," from which the album gets its title; "Anderson's Coast," a song about Australian history by John Warner; and "Combing the Mane," a very funny parody by the great Sid Kipper. Probably the definitive contribution of this album is the duo's version of "When Fortune Turns the Wheel," a tribute to the late, great singer Louisa Jo Killen, lovingly delivered in unaccompanied harmony. There's plenty to love on this album, and nothing to complain about--the best of every sort, indeed!
If Roberts and Cowan are an Englishman and an American who perform mostly English material, The Farwells flip that script; they're an English woman (Becca Wintle) and an American woman (Debra Clifford) who perform almost exclusively American old-time songs and tunes. Clifford is a member of the Old Buck String Band and The Lonesome Sisters, which should tell you what to expect here. In the time-honored tradition of Grayson and Whitter, The Delmore Brothers and (more to the point) Samantha Bumgarner and Eva Davis, the Farwells combine close harmony singing with guitar, mandolin, clawhammer banjo and fiddle -- just about everything you want to hear on an old-time album. Their CD The Farwells is a very satisfying disc that sounds like an old friend. It presents mostly classic old songs you might know from scratchy old 78s or field recordings, like the murder ballad "Little Sadie," the lyric lament "Sugar Baby," and the sad love lyric "Pretty Saro." They also dig deep into West Virginia tradition, presenting fiddle tunes from Ward Jarvis ("Pretty Little Indian") and Edden Hammons ("High Up On Tug," "Biddy"). Perhaps my favorite of the pieces here is "Hang Me," a great old song with a long history: recently popularized by Star Wars star Oscar Isaac in the movie Inside Llewyn Davis, it was first recorded under the title "I've Been All Around This World" by Justus Begley in 1937. (That recording, by the way, was made by Alan Lomax, and is in the archive where I work, the American Folklife Center at the Library of Congress. It can be heard here.) The Farwells' version is closer to Isaac's: forlorn, mournful and sweet, but with the added appeal of close harmony and two instruments -- a lovely rendition that does justice to a long tradition. (Hmmm, this reminds me that Llewyn Davis's whole problem was that his partner had died, leaving him as a reluctant solo act--which just goes to show you -- it's all about the duo!)
The Farwells perform two songs that appear on their album.
A lot of the same compliments can be paid to Jesse Milnes and Emily Miller, a great old-time duo from West Virginia whose first album Jesse Milnes and Emily Miller is Volume II in the Deep End Sessions series. The Deep End concept is simple: bring musicians in for a residency and concert, and have them record their sets in a living room space, as close to live as possible, around a minimal selection of good mics. The resulting live-in-the-studio recording is sweet and spontaneous, but also impressively polished. It's designed to look like an old country LP, and delivers on that promise with grace and simplicity: clean, clear voices, muscular fiddling, tasteful guitar.
It's interesting that both members of this duo play fiddle and guitar and sing. It limits their sound in certain ways, but it there's still a lot of variety here. In addition to old-time, you can hear some pronounced Western swing and 1950s country influences (which is not surprising since they also play with the Sweetback Sisters), as well as some bluegrass, blues and other roots. They have very different guitar styles, with Miller favoring a solid country rhythm style and Milnes a more complex pattern in which he alternates picking the tune and providing rhythm for Miller's fiddling or singing. A highlight of the album is Milnes's solo guitar tune "Angelina Baker," which shows his impressive ability to pick the melody and play rhythm and bass lines along the way. Miller's mastery of Appalachian vocal style is highlighted on "Hungry Faint and Poor," an unaccompanied song from the repertoire of Kentucky's Addie Graham, on which the bent notes and subtle microtones seem to directly affect your heart. Other beautiful vocal performances include the unaccompanied harmony duet "Hiram Herbert," Milnes's lead on "Roving Gambler" (which also features tasty guitar, fiddle and harmonies), and Miller's lead on the Ola Belle Reed classic "Undone in Sorrow." Milnes and Miller each composed one song for the album, both of them amusing confections in the Western Swing style. Both also provide muscular fiddling on a slew of tunes, a lot of them from West Virginia sources like Melvin Wine, Burl and Edden Hammons and Jesse's dad, Gerry Milnes. It's an immensely listenable set full of skill, craftsmanship and genuine love.
Another nice feature of this album is the booklet of notes, which gives fun background on a lot of the songs and tunes. For "Puncheon Floor," for example, Milnes not only defines what kind of floor that is, he gives two traditional West Virginia verses about puncheon floors that made me desperately wish he'd set them to the tune and sung them as a song! The booklet, which goes into some depth about each piece as well as the circumstances of the recording, adds an endearing element of nerdiness which I (obviously) share and it makes me love the album that much more.
Related
Popular in the Community