The new survey, conducted by the Democratic-affiliated firm Public Policy Polling (PPP), gives Warren a slight edge over Brown (46 to 44 percent) among likely voters. The two-point gap between the candidates falls well within the survey's 3.5 percent margin of error.
The results come as something of a surprise, given that two live-interviewer polls conducted in late August showed Brown comfortably ahead. A survey conducted by the MassINC Polling Group for Boston radio station WBUR found Brown ahead among likely voters by nine points (44 to 35 percent), while a Boston Globe/University of New Hampshire poll had brown leading among all adults by 19 points (48 to 29 percent).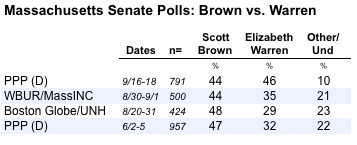 A closer look shows most of the variation among the polls occurs in Warren's share of the vote. Brown's support on the new PPP poll is the same as that measured by the WBUR poll two weeks ago (44 percent). Brown's numbers were only slightly higher on the Boston Globe and PPP polls (48 and 47 percent, respectively), differences that could be explained by random sampling error alone.
Candidates typically gain support when they announce their candidacy, but Warren's gains in the PPP poll are quite large. The percentage of respondents able to rate Warren jumped from 38 to 60 percent since PPP last surveyed Massachusetts voters in June. Warren's favorable rating has nearly doubled, growing from 21 to 40 percent since June.
The big jump in Scott Brown's disapproval rating on PPP's tracking -- up from 36 to 46 percent since June -- may be more surprising. The other recent polls probed Brown's personal favorability, rather than his job performance. Their favorability questions also explicitly offered respondents the option to say they "don't know enough" about Brown to rate him. As summarized in the table below, both surveys found slightly higher positives and much lower negatives. Brown's unfavorable ratings were just 25 and 26 percent, respectively, on the recent WBUR and Boston Globe polls.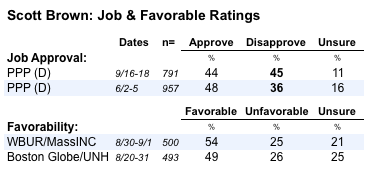 While Warren's announcement alone is unlikely to have increased Brown's negatives, the incumbent may well be suffering from the recently declining public perceptions of Congress as a whole. Recent surveys have shown sharp declines in approval for both Republicans and Democrats in Congress and results that match all-time lows for the Congress as a whole.
The timing of the new survey may be a more valid concern. PPP began interviewing just two days after Warren announced her candidacy. Declarations of candidacy typically generate a momentary wave of favorable news coverage. That combination may have produced gains for Warren that will not persist. It will take more surveys in the coming months to confirm whether the Brown-Warren race will remain as competitive at this latest PPP survey suggests.
Popular in the Community