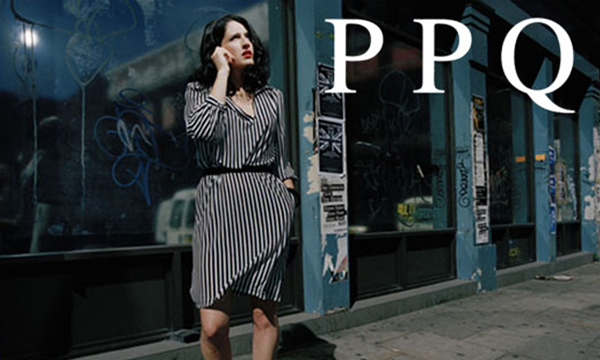 Credited for setting off the drainpipe jeans trend among London's music and fashion folk, duo Amy Molyneaux and Percy Parker of PPQ (Pretty Personal Question) are always one step ahead. Since starting the label in 1992, the pair has accumulated a fan base of fashion forward It girls, including Kirsten Dunst, Sienna Miller and Alexa Chung. Despite being around for over a decade, there's still a verve and tongue-in-cheek energy palpable in each of PPQ's collections that keeps their hip fans loyal to the brand.
On the day I meet the duo at Molyneaux's Belsize Park flat, she is down with the flu but this doesn't seem to dampen her otherwise genial mood. Parker, on the other hand is a little bit more reserved but is surprisingly funny, demonstrating his expert tea-making skills.
A club promoter in a former life, Parker's interest in fashion stemmed from his love of old school Soho tailors, where he had his clothing customised. Meanwhile, Molyneaux always had an ongoing relationship with design having studied fashion at Central Lancashire University before joining PPQ. Together, they started a fashion label, bought, opened and closed a factory in Nottingham, begged investors for money when they were in the midst of closing shop, started a music label and threw some of the city's best parties.
Of all their shared experiences, one really stood out. "We bought this factory in Nottingham and felt absolutely overwhelmed when we found yourselves in charge of the livelihood of 30 people. It was amazing because we were providing work for so many locals but we found it terrifying as well," Molyneaux says. Parker adds, "We couldn't just go, 'Sorry, we don't have any money' on pay day, we had to make sure we could pay our staff's wages every month."
Over the years, they've mastered the business side of design but they've also ensured that the brand has legs. With collaborations with everyone from Peaches Geldof to Girls Aloud, PPQ have cultivated a brand that keeps the press and the paps on their toes.
Drawing on their shared love of music, after all Parker was a former DJ and promoter and Molyneaux was a fan of his club nights, PPQ also ran a music label, 1-2-3-4 Records, which launched bands such as Trafalgar and The Bishops. The pair also host an annual 1-day music festival called 1234 Shoreditch held in September.
The multitaskers' advice is to "just do it all." Molyneaux says that people expect designers to act a certain way and follow a certain path but she and Parker argue that it is "best to follow your own path and not be afraid. Just go out and do it."